Outspoken KiwiSaver opponent Bruce Sheppard says national sovereignty threatened by architecture of savings programme. Your view?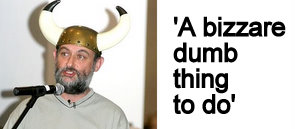 Outspoken KiwiSaver opponent Bruce Sheppard says the savings scheme threatens NZ's national sovereignty. Your view?
Interest.co.nz's Personal Finance Editor Amanda Morrall interviewed former Shareholders' Association Chairman Bruce Sheppard about KiwiSaver.
Here's raw Q&A.
Q)What do you make of the exponential growth in KiwiSaver funds?
A) My problem with KiwiSaver is unchanged from when it was first birthed. It is in essence a massive subsidy of the fund management industry. It is a massive incentive for investors to surrender their reason and their capacity to think to fund managers and it is having the perverse effect of reducing the liquidity of the stock market because passive funds (which is what these are) soak up equities and don't sell them. And as those passive funds soak up the available free float of liquidity, and as mum and dad investors say `I don't have to invest in shares any more because I've got a KiwiSaver account', so they stop participating, then the liquidity declines further. What happens is the risk premium attached to equity rises because of the lack of liquidity in the market and that means our price-earnings fall, which means then that our good companies increasingly become even more attractive take-over targets which is a bizarre dumb thing to do.
Q) But is there not an argument that KiwiSaver will benefit the average person by forcing them to save for retirement when they might not otherwise have done?
A) The average person who has no discipline and spends every dollar they earn and doesn't think needs to have some element of force or compulsion or incentive applied to them. For them it works?
Q)Isn't that the majority of the population?
A) I think that's a sad indictment. The real issue is what's the best way for them to save and what's the best risk profile. In my experience over the last 20 years of having watched financial planners as a profession and fund managers as an industry. The best summary of a fund manager's job description I got was from a fund manager himself who when asked to describe, said "yes, I manage peoples' money until it's all gone.''
If you say to a person if you have the discipline to save $500 a month and put it into a bank term deposit and not touch it, my bet is that your discipline at $500, CPI adjusted, for 40 years, putting that money in the bank and having the interest compound each month would probably add up to a number that would be greater than 85% of the same savings plan with a fund manager. There might be 15% of managed fund plans that could beat than over 40 years.
Q) What about inflation?
A) Over 20 years, there would be one in five or less fund managers that have a nominal balance in their account of more than the amount that someone would have if they ran an equivalent savings programme with term deposits. Why is that to you think because 20 year is long enough to aggregate out the ups and downs of the vagaries of the market? It's because they charge too f..ing much. So what happens is the risk premium that they earn through playing with your money is consumed by their fees. And that is the truism of this sh..t. If you look at the disaggregated numbers of KiwiSaver and look at the underlying real return since inception you'll find the return rate is less than net of tax rate on term deposits.
If you simply say there is NZ$10 million under management now and of that x amount is accumulated profit. And on average the funds built up in this manner then you plotted the date from which the money was deposited, then calculated a return based on term deposits rate on that money and compared it with the end outcome that's there now, you'd find the return is less than having had the Government put the money in the bank with a term deposit.''
Q) What about the argument that it's good for the national economy?
A) I've just answered that by saying it's sucking savings out of direct productive investment and recycling it back into direct investment through a fund manager who clips their ticket. But that isn't the problem. The problem is once that has happened the liquidity in the market is removed and given these fringe KiwiSaver funds only invest in listed companies. The declining liquidity in the stock market is actually a risk to our national sovereignty.
Q)What do you make of John Key's pledge to have KiwiSavers benefit from the potential sale of SOEs?
A) You mean the fund managers who have the money that's come from KiwiSavers? What Key is actually saying is the institutions are going to get first dibs at it and not ma's and pa's. He obviously doesn't understand the market, or he does, but he chooses to be disingenuous.
But again in terms of why I don't like KiwiSaver, it is a subsidy to the fund management industry. If I had a KiwiSaver account I could personally could have a KiwiSaver account that I could self-manage I would great it with relish.
Q) Aren't there self-managing accounts?
A) No, I don't want to pay fees. I've always said if a KiwiSaver accounts get to NZ$250,000 the owner should be able to draw all that money out and manage it themselves with a mixture of term deposits, direct equity investments or whatever, not property. They should be capable of doing that. The other really big flaw in the KiwiSaver model is what happens when these buggers retire? What was the purpose of giving all this money away. The purpose of giving all this money away was to provide a nest egg for these old bastards to be able to have an income when they retire right. Hello, when they turn 65 they don't get an income, they get a lumpsum.
Q) Won't that be sorted out with an eventual annuities plan?
A) Just think about it. It's a major issue in Australia. They're not using the money to buy an annuity or have  income. They are using it to buy beach houses, boats or BMWs. So you're not solving the problem. So all of the people who have been investing in KiwiSaver in the belief that when they turned 65 they have lump sum could do with it what they will be might have their asset force-ably migrated into having to purchase an annuity.
Would any prudent person set aside money for the rest of their lives to end up getting to age 65 or 70 and being forced to use their NZ$300,000 or $400,000 capital to buy an NZ$30,000 annuity? Annuities are the dumbest investment ever invented!
A) So what's the solution?
Q) The only way you can make an annuity work is this: the members account is held sacrosanct, and they're allowed to draw off their own account on an actuarial basis and the amount that is consistent with life expectancy and if they live beyond their life expectancy there is an insurance premium paid that allows that to continue on. If they live shorter the balance in their account get reallocated to their dependents. That legislation doesn't exist yet and I'm not going to put one brass cent of my money into a KiwiSaver account that some bastard in Government allows a fund manager to play with until I hit 65 and then force me to buy an annuity.
A)Surely, you're in the minority thinking this way?
Q) Yes, but the big macro-economic effect is this; the concentration of capital in the hands of a few fund managers which creates an economic moral hazard if they abuse that power. In the short term and long-term it reduces liquidity in the market because they take stock out of the market and they take buyers out of the market. That increases the buy/sell spreads and reduces the liquidity and that makes companies subject to foreign take-overs that have different markets and different capitalisation rates to us. What does this do to our small economy over the next 10 years? Fuel a revolving door.
For more on Bruce Sheppard's take on why KiwiSaver is a compounding dead weight, click here.
Sheppard is on the Financial Markets Authority establishment board, but said he was speaking on his own behalf.