Retirement Commission lashes out at Government for not addressing impending funding crunch with New Zealand Superannuation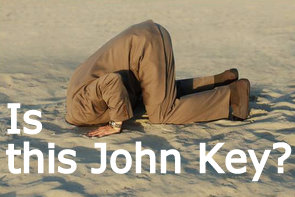 By Amanda Morrall
Retirement Commissioner Diana Crossan accused politicians of having their "heads in the sand" when it comes to financing New Zealander's retirement following a decision to keep the age of retirement at 65.
After months of waiting for a response on recommendations from the Commission on how to extend the shelf-life of New Zealand Superannuation given impending challenges created by a crush of Baby Boomers set to retire, Crossan said she was sorely dissapointed by their response to retain the status quo.
"The Government has said the status quo should remain, but something needs to change to keep New Zealand Super affordable in the long term. Politicians appear to have their heads in the sand about the issue of the raising the age of eligibility.''
"If the Government doesn't think raising the age of eligibility is the solution, I'm interested to hear what their alternative solution is," Crossan said.
"Let the people decide"
Prime Minister John Key said he did not think he had his head in the sand.
"The Retirement Commissioner is proposing that the age of entitlement is raised from 2020 through to 2033. Bluntly, I've got a lot of things to consider between here and 2020, not the least of them being some of the strong economic issues that we're dealing with," Key said.
"My view is that we don't need to raise the age of retirement. I've given a very strong commitment to the public of New Zealand, let them decide what they think is best," he said.
The Retirement Commission, in its three-yearly Retirement Income Policy Review had recommended the age of eligibility be gradually raised from 65 to 67 starting in 2020 with the end point of 67 being reached in 2033.
It also suggested that NZS rates be adjusted each year by the average of the percetnage change in consumer prices and earnings, subject to no less than price inflation in any year.
As a protection against elderly who may be at risk of hardship having to wait till 67 for support, the commission proposed a transitional means-tested benefit to alleviate financial difficulties.
The Government, which originally pledged a response end of March, rejected all three key recommendations.
Crossan said Government's failure to deal now with the looming problem of too many people drawing down on too little funds was putting at risks the retirement futures of today's 45-year olds and younger Kiwis.
"Why wait until we have to raise the age suddenly in 10 years time? We can't keep ignoring this issue.''
NZ Super a "giant Ponzi" scheme
ACT New Zealand finance spokesman Roger Douglas called on the government to heed Crossan's advice, equating New Zealand Super to a giant "Ponzi scheme."
"New Zealand super is, in reality, a giant Ponzi scheme requiring ever increasing numbers at the bottom to pay for those at the top.  Demographics show a decreasing number of workers to every superannuitant from 4.5 workers today to 2.2 workers by 2036.''
Douglas said longer life expectancy (a 40% increase since the time NZ Super was introduced) meant urgent changes were necessary.

"We need to radically rethink New Zealand Super so that future generations do not face ever-increasing taxes to fund an unsustainable scheme.  The best way to do that is to remove politicians from the equation, allowing individuals to make their own provisions for their retirement.

Although Key has suggested there are more pressing issues to attend to (and that he would let the public decide on the issue) Douglas accused Key of being out of touch with Kiwis.
"Most New Zealanders realise that an age increase is inevitable."
As a percentage of GDP, New Zealand Superannuation costs are expected to double by 2050, from its present 4% to 8%, although some dispute those projections.
"If the Government doesn't think raising the age of eligibility is the solution, I'm interested to hear what their alternative solution is," Crossan said.
Labour Party leader Phil Goff didn't offer any solutions.
Goff said raising the retirement age from 65 to 67 was not part of its consideration, while it readies itself for the release of an economic package on Thursday.

Labour has talked previously about resuming contributions to the Cullen Fund, while broadening the tax base to find the revenue that could meet the costs of superannuation.
NZ out of step with other OECD countries
Crossan said the Review is based on thorough research, and the recommendation to raise the age of eligibility is comparable with changes made by governments in most developed countries, including the United States, United Kingdom and Australia.
In the last few decades life expectancy has seen a near-continuous increase, signaling for governments with social safety nets a serious problem about how to sustain them in the face of a rapidly greying population.
An Organisation for Economic Cooperation and Development (OECD) report released earlier this year on public pension schemes suggested cash-strapped governments worldwide would be forced to raise the age of retirement, and potentially narrow eligibility to those who need it most. See Amanda Morrall article on OECD report here.
The OECD, in its Pensions at a Glance 2011 report,  forecasts a necessary and growing role for private pensions to compensate for 'reductions in public benefits that are already in the pipeline or are likely to be required.'' It further underscores the need to encourage and accommodate older workers as part of a global solution.
"The public sector role's in providing incomes in old age will remain very important but will diminish. Working longer and private pensions will inevitably have to fill the gap.''
While Government has signalled policy shifts to encourage more New Zealanders working past the age of retirement (see the Ministry of Social Development report here)  it has continually ruled out a change in retirement age, as have previous governments worried about the repercussion with the voting public.(For more see Alex Tarrant article here).
The number of New Zealanders turning 65 in the year to June 2012 expected to be 18% higher than in the preceding 12-month period. Between seven and ten per cent of New Zealand's labour force is projected to be aged 65 and over by 2051, up from three to four percent currently.
Government has suggested the extra tax revenues generated from Kiwis working past age 65 will help offset pressures on the New Zealand Superannuation.
New Zealanders' earnings from paid employment are projected to rise from just over NZ$1 billion now to about NZ$10 billion in 2051, in 2006 dollars.
That increase in projected income would mean tax revenues from over 65s in paid work would increase from NZ$200 million now to about NZ$1.8 billion in 2051.
(Updates with reaction from Prime Minister John Key and Labour Party leader Phil Goff).