A quarter of New Zealanders would burn through their savings within a month if their main source of income was lost, a MasterCard survey suggests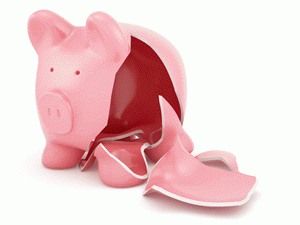 A quarter of New Zealanders have such meagre savings they'd be gone within a month if their main source of income dried up, according to a MasterCard survey.
MasterCard says that although New Zealand's savings culture is improving, with almost 9 in 10 people, or 89%, intending to save more or a similar amount in the coming six months as they did in the previous six months, just 26% of survey respondents believe their savings wouldn't last a month if their main source of income disappeared.
"New Zealanders have always been savvy money managers but it is surprising that, even in a post-recessionary environment, a quarter of Kiwis don't think their savings would even see them through the month if their income stream dried up," said Albert Naffah, MasterCard's New Zealand country manager.
MasterCard said its survey showed that on average New Zealanders could last for four months on savings if their main source of income dried up.
"Across the Asia-Pacific region, Kiwis had a lower ranking in terms of the number of months that their savings would last - well below the regional five month average," said Naffah.
In terms of the next six months, 46% of respondents to MasterCard's survey plan to save more than 10% of their income. Naffah suggested this could mainly be attributed to KiwiSaver, and a rising awareness of the importance of saving.
"Kiwis are also taking a more positive outlook when it comes to their reasons for saving, with fewer now putting money aside for precautionary measures (46%). Instead, the key reasons for saving include retirement (44%) in top spot, buying or renovating (33%), international travel (31%), or to fund investments (28%)," said Naffah.
"But while retirement was the top priority for savers, less than a third (31%) of Kiwis have calculated the amount they will need to retire - ranking New Zealand 11th in the Asia-Pacific. However even without this forward planning, Kiwis are still expecting to retire at an average age of 65, if they have sufficient financial support. This is possibly due to KiwiSaver helping Kiwis to put aside part of their earnings now, rather than having to consciously save for their retirement."
A large majority of those surveyed, 94%, believe they have a good understanding of how to budget day-to-day finances, 79% said they were good at tracking their spending,, and 79% also said they were good at keeping up with bills. A third of respondents, 33%, admitted to having problems setting money aside for big purchases.
Meanwhile, 22% of respondents said they were using mobile banking to manage their money, with 15% considering doing this in the future. MasterCard said this was up from 10% a year ago, with the strongest increase in adoption coming from females, up from 9% to 19%, and in the 18 to 24 year age bracket, from 15% to 27%, and among 45 to 64 year-olds, up from 6% to 15%.
"With banks investing heavily in mobile money applications and more-and-more Kiwis making use of these tools, the ability to budget and monitor spending whilst on-the-go should provide a useful tool to increase and aid the financial literacy of New Zealanders," Naffah suggested.
The MasterCard survey was conducted online with 500 New Zealanders, aged between 18 and 64,  interviewed.
Other Asia-Pacific countries surveyed were Australia, China, Hong Kong, Taiwan, Japan, South Korea, Bangladesh, Malaysia, the Philippines, Thailand, Indonesia, Singapore, Vietnam, India, and Myanmar.