Exclusive: NZ's biggest dairy farmer allows calves to starve to death (Update 6)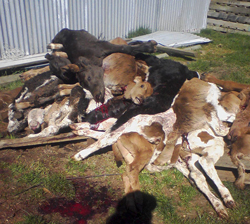 By Bernard Hickey
New Zealand's biggest privately held dairying operation allowed dozens of calves on one of its massive farms on North Island's central plateau to slowly dehydrate to death earlier this month, triggering a MAF investigation but no prosecution.
(Updated with responses from Agriculture Minister David Carter, including him wanting Crafars out of the industry and criticising Fonterra at bottom of article.)
The following video below obtained by www.interest.co.nz shows dozens of calves starving and near death at Crafar Farms' Benneydale dairy farm between Tokoroa and Te Kuiti earlier this month (map link below).
Poor management and the pressures of massive debts obtained during rapid expansion meant this farm was so poorly managed that none of the staff trained the calves to drink milk, allowing them to die of dehydration in a muddy pen even though their trough was often full.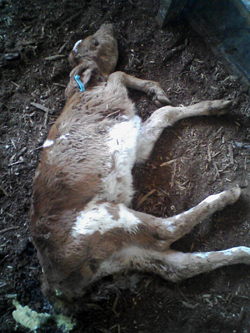 MAF's inspectors were called in to this farm and others in the Crafar Farms group many times in recent years, yet this and others like it were allowed to keep operating.
Crafar Farms pleaded guilty to 56 charges of neglecting dozens of dead and dying cows at one of its Hawkes Bay farms in September 2006, but was fined just NZ$200 and allowed to continue operating, Hawkes Bay Today reported.
Crafar Farms, which originally owned one family farm, grew over a period of a decade to have 20,000 milking cows, 10,000 other stock, 200 staff and around NZ$200 million of debt with Westpac, Rabobank and PGG Wrightson Finance.
Crafar Farms has been prosecuted several times for releasing effluent into waterways and for non-compliance with environmental rules. It was fined NZ$90,000 last month by the Hamilton District Court due to a "systemic failure" of a problem-plagued effluent system, the Waikato Times reported.
Shortly after the video above was taken MAF inspectors visited the property and destroyed many of the calves.
Yet MAF told farm owner Allan Crafar this was just a management issue and not worthy of prosecution.
MAF has confirmed to interest.co.nz it visited the farm near Benneydale (map below) on September 7 and slaughtered many calves. It said it was still considering the matter.

Interest.co.nz understands that MAF gave advance warning to Crafar Farms that it would be visiting the 1,800 cow farm, prompting an impromptu slaughtering of those calves closest to death by workers who blugeoned them to death with hammers or slit their throats.
Farm owner Allan Crafar confirmed the incident in a 45 minute interview with interest.co.nz, but said he would never knowingly allow his cows or calves to suffer.
A long-time employee, Sam Webb, was now managing the farm, Crafar said.
The farm manager on the Benneydale farm at the time of the neglect broke both legs in a tractor accident on the day the MAF inspector arrived and has not worked since.
'Under pressure'
"We're under a lot of pressure," Crafar said when asked why the calves had been neglected.
Crafar Farms' banks have told the group to sell its farms to repay its debts.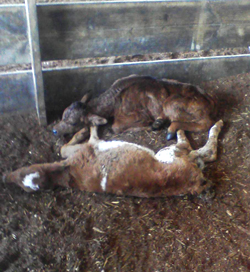 "I do not condone calves being treated badly," he said, adding he cared more for his cows and calves than many humans. 
The MAF inspector who investigated had decided not to prosecute as it was a 'management' issue, Crafar said.
"They've (MAF) told us there won't be more action on this," he said, commenting that the MAF inspector "did a bloody good job" in shooting the remaining calves that were near death. "I'd much rather shoot a human than a calf."
Crafar was on the Fonterra Shareholders Council for 6 years until he was asked to leave in March 2007, although Fonterra has continued to allow Crafar to supply it with more than half of one percent of Fonterra's total output.
"They kicked me off because I kept telling the truth," Crafar said, adding his strong views about increasingly stringent environmental laws and "district communists" were unpalatable for Fonterra.
Incident on farm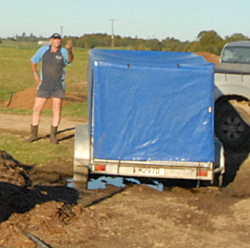 After interest.co.nz obtained the video, producer Bryan Spondre and I visited the farm where the calves had been kept to find out more.
When we drove up next to the calf shed we were confronted by farm manager Sam Webb. He told us to: "Get the f**k off this property. You have no right to be here." Bryan started taking photographs of the shed and Sam Webb manhandled him back into our car before swearing abuse and grabbing at Bryan's camera.
"I'll take both of you bastards out," he yelled. Webb then punched Bryan through the open window of the car door. The punch was so hard it dislodged Bryan's contact lens.
We drove off and the picture published to the left shows Webb yelling at us as we left: "F**k off you c**ts."
Crafar told interest.co.nz he had reported our visit to the Police as trespassing.
"He should have hit you harder really," Crafar said in a rambling conversation in which he accused environmentalists, politicians, Fonterra, banks and others of conspiring to bring down Crafar Farms and the dairy industry.
"It's a civil war here. It's a financial and media war which is just taking out the most productive New Zealanders," he said.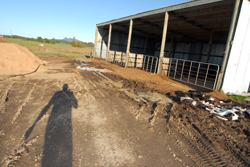 'They don't get enough of me'
Crafar disagreed that his farming group had grown too big, too fast and had taken on too much debt.
Crafar said management problems could have been rectified if he had been able to talk to managers and workers at the farms more often.
"My problem is that I don't get out among the farms often enough," he said. "They don't get enough of me," he said.
Crafar detailed how he had just spent the last 36 hours driving between farms in Napier, Norsewood and the central plateau visiting the farms and advising managers and workers.
He complained that yesterday there were only 23 hours in the day because of daylight saving, which had robbed him of one hour for work.
"I've been 24/7 for 56 years," he said.
Crafar said the 2006 incident at Te Pohue incident had arisen because he had been depressed and had not visited the farm frequently enough. 
"It was a management problem on that farm. I go through depression pretty often in this job."
'Don't run that video'
Crafar asked interest.co.nz not to broadcast the video because it would damage the country's image.
"I'm already dead. Don't run it because all that is going to do is hurt the our image," he said, referring to the image of New Zealand's dairy industry overseas.
Questions for many
Crafar Farms is now trying to sell its farms because it cannot service its debts, which are now worth more than the land.
Crafar has previously confirmed that a Chinese company was considering buying the group whole, we have reported previously.
The Crafar family, including Allan in the middle in green, is pictured here in front of one of their bulldozers used to convert forest land into dairy land.
There are many questions arising from this case for the authorites. They include:
Why did MAF allow this farm to continue operating despite repeated warnings? MAF had not responded to our questions about its performance, its staffing levels and its history six days after our inquiry.
Why has MAF not prosecuted Crafar Farms for animal neglect in this case?
Why did Fonterra continue to accept milk from Crafar farms despite dirty dairying prosecutions and industry talk about bad management?
Why was Allan Crafar allowed to stay on Fonterra's most senior representative body for 6 years?
What controls were in place at Westpac, Rabobank and PGG Wrightson Finance to investigate the financial and environmental sustainability of this farming operation? Crafar Farms is New Zealand's biggest privately-owned dairying group and produces 0.5% of Fonterra's total output.
How can New Zealand continue to advertise itself as 100% pure after the dairying boom has created so many factory farms that poison the land and harm animals?
MAF responds
Here are the full MAF responses to my questions. The response was received after our article was first published.
1. Will MAF prosecute Crafar Farms over the most recent incident concerning malnourished calves that had to be put down?
While the on farm activities into this matter have been completed, the investigation reporting is not yet complete and ultimate decisions are yet to be made which means we are not in a position where we can say what the outcome may be. We have the role of mitigating pain and suffering of animals while balancing potential criminal liability and the most important issue with any animal welfare investigation is the animals. They are the number one priority and assessment of criminal liability comes later.
2. Has MAF investigated and/or prosecuted Crafar Farms over other incidents of animal mistreatment? If so, how many investigations or prosecutions were made and what were the outcomes?
This information has been requested as part of your OIA request and is currently being collated. It will be processed and provided to you once complete.
3. Has MAF considered ordering the Crafar Farm in question to cease operations?
No. This would have huge ramifications and management implications for the entire herd. This most recent incident relates to calves, not the farm.
4. How many dedicated investigators does MAF have to investigate animal welfare on farms in New Zealand?
MAF is currently resourced for five animal welfare inspectors. Other part time assistance is utilised as required.
5. Does MAF have enough resources to investigate and prosecute instances of animal mistreatment, particularly on these massive new dairy conversions?
MAF has to prioritise the distribution of its resources to highest priority incidents, while maintaining our proactive campaigns.
Dairy Industry body Dairy NZ later commented on this article and a similar piece broadcast on TVNZ's Closeup. It said there was no excuse for ill-treating animals.
"Poor management practices are not acceptable. The industry has been working in this area since the late 1980s.
We've taken an extremely proactive approach in communicating best practice guidelines to farmers, via our consulting officers, the dairy companies, the processing companies, the transport companies and the media.
New Zealand's standards are based on the Animal Welfare Act and our Welfare Code documents and are internationally regarded as world-class," says Dr Tim Mackle, DairyNZ Chief Executive.
"While we await the outcome of the MAF investigation into the Benneydale farm, DairyNZ would not stand in support of any farmer found to have breached animal welfare standards. It's bad for the animals, farmers, the industry, and for our country's image."
Dr Mackle says the fact a local farmer came forward and asked MAF to look into the conditions on the property is a good demonstration of the farming community's high awareness of animal welfare stands.
Questions for Fonterra plus some responses
I sent the following questions to Fonterra on Monday evening. It responded on Tuesday afternoon. Here are the full answers.
1. Did Fonterra know or suspect any animal neglect in the Crafar Farms group?

 

No responsible farmer would sanction the behaviour that is alleged.

Regardless of difficulties on farm, there is ample help available through Dairy NZ and Federated Farmers when animal welfare or other problems arise on farm. That help should be sought whenever a farmer has issues with animal welfare. Fonterra fully supports the actions taken by MAF and its ongoing investigation.

We were advised by MAF of this incident on Friday. That was the first indication received of the alleged animal neglect.

 

2. Why was Allan Crafar 'kicked off' the Fonterra Shareholders Council in 2007?

Allan Crafar made the decision to retire from the council in 2007

3. Why has Fonterra continued to collect Crafar's milk knowing of his dirty dairying and his 2006 animal neglect convictions?
Rules governing farming activities and their impact on the environment are laid down under the Resource Management Act and in various regional plans. Policing them is the role of regional councils. Animal welfare is policed and enforced by MAF. In both areas, councils and MAF pursue court actions when farmers flout the law.

Calls for Fonterra to refuse to collect milk are effectively calls for Fonterra to be police, judge, jury and jailer. They are calls to re-prosecute any shareholder who has already been convicted and punished.

Fonterra will refuse to collect milk if any shareholder takes no remedial action after the courts have entered a prosecution. The key point here is "no remedial action".

There was a prosecution of a Crafar employee in 2006. Remedial action was taken by the Crafar group. Extensive environmental remedial work has also been undertaken at Crafar properties. Fonterra currently has no grounds to create a further environmental and animal welfare issue by refusing to collect milk when cows are in peak production. If the facts of this case are proven, a prosecution follows and there is no remedial action taken, then Fonterra can refuse to collect milk.

In summary, Fonterra is not the appropriate body to punish people for environmental or animal welfare issues. We have no right to take action until the proper authorities have taken action. There are proper authorities for this. However, where authorities require action to be taken and this is not done, Fonterra will then refuse to collect milk.
4. Has Fonterra ever considered not collecting the Crafar's milk or demanding they relinquish ownership/management of those farms?

Fonterra has considered non-collection. That sanction was not justified given the Crafars had taken remedial action following prosecutions.

Fonterra cannot demand shareholders sell farms or direct business decisions made by shareholders as the business owners.

5. What is Fonterra's response to the Crafar farms video shown on our site today?

Those pictures were absolutely unacceptable. We speak overwhelmingly for Fonterra's many thousands of farmer suppliers who would be equally appalled by such scenes. If they are a fair presentation of what occurred, then the authorities must mount a full investigation to establish the facts. We understand that the Ministry of Agriculture and Forestry is investigating the alleged mistreatment of bobby calves and we must await the outcome of that investigation. MAF is the proper authority to be dealing with this.

If a prosecution is taken and the case proven then Fonterra has its own penalties and sanctions including, if remedial action is not taken, refusal to collect milk from an offending supplier.

 

6. Could this damage Fonterra's reputation for producing 'clean, green, 100% pure' milk products?

 

Any behavior of this sort undermines the reputation of the dairy industry and particularly the 10,000 or more Fonterra farmers who are acting responsibly.

 

7. Is there a risk Fonterra's competitors could pounce on this to discredit Fonterra's reputation in Europe in particular?

 

There is that risk, but we would expect other members of the dairy industry internationally to recognise that while these actions are totally unacceptable, they are not representative of the New Zealand dairy industry as a whole and not something that is acceptable to Fonterra or its suppliers.

 

8. Does Fonterra have a policy on when it will refuse to collect milk from producers that damage the environment or neglect their animals?

Yes. We will refuse to collect milk when there has been a successful prosecution and no remedial action has been taken by the shareholders.

Action was taken this year in Australia with a contract supplier because of animal welfare charges. Supply has since resumed with the farm under new management and meeting strict conditions

9. Has Fonterra ever refused milk because of poor quality?

 

Yes we have refused supply when milk has tested for high somatic cell counts or bacterial counts.

 

10. What proportion of Fonterra's supply comes from Crafar Farms?

Fonterra collects around 14 billion litres of milk a year. Crafar Farms represents a tiny proportion of our overall supply.
I have sent the following questions to Agriculture, Biosecurity and Forestry Minister David Carter.
1. What does the Minister think of MAF's performance in this case? (Given MAF was slow to respond to the complaint, promised Mr Crafar it would not prosecute and has known about this farm for some time)

2. Should the government, Fonterra and Mr Crafar's banks (Westpac, Rabobank and PGG Wrightson Finance) step into manage the farming group given the potential damage from Mr Crafar's continued management of this farm?

3. Why does MAF only have 5 animal inspectors for the whole of New Zealand?

4. Are you happy Fonterra has continued to accept milk from Crafar Farms?

5. Do you think this example (and many others sent to me since we broke this story) is indicative of systemic problems within New Zealand's new and very large converted dairy farms?

6. Do you think this example shows that some farms have grown too fast and are too indebted?

7. Do you think this incident poses a risk to New Zealand's reputation as a clean, green 100% pure producer of dairy products?