Agricredit up NZ$500 mln in July; Business lending down NZ$700 mln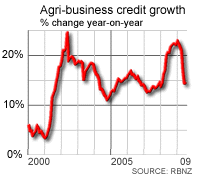 Banks lent an extra NZ$523 million to the agricultural sector in July, bringing the total amount lent to the sector to NZ$46.6 billion,
figures released
by the Reserve Bank of New Zealand show. At the same time,
business credit lending
contracted by NZ$706 million from June to NZ$78 billion in July, its seventh consecutive month-on-month fall since the start of the year.
Housing credit
rose by NZ$337 million to NZ$164.8 billion over the month, while other
consumer lending
fell by NZ$106 million to NZ$12.2 billion. Year-on-year growth in
Agricredit
was 14.4%, down slightly from the 14.5% in June. However this growth is down from over 20% in each of the 12 months to April 30, 2009. Year-on-year growth in business credit slowed further from the 3.4% in June, now down to 1.6% from July 2008. Year-on-year housing credit growth was 2.8%, the same as in June, while other consumer credit lending was down 3.6% from a year ago, worse than the 3% fall in June.