Interest.co.nz reaches a record 1 million page impressions in March
By Bernard Hickey
We've knocked the bastard off with almost a day to spare. Earlier today
www.interest.co.nz
passed the milestone for 1 million page impressions in a month for the first time. Needless to say we had a quiet celebration involving coffee and cakes at our favorite local cafe
Dellows
in Herne Bay. All of us here at interest.co.nz, including myself, Publisher David Chaston, video whiz Bryan Spondre, journalist Alex Tarrant and data analyst Suhaimi Mohamad, would like to thank our readers, commenters, sponsors and advertisers for lifting us up to this milestone. We love a good chart and data series so I thought it would be useful charting and explaining the traffic to our site and what has happened over the last year as we beefed up our rates tables, added news, included commentary, encouraged comments and introduced new charts. Besides, it's fun to tell a good news story for once, particularly because it's about us!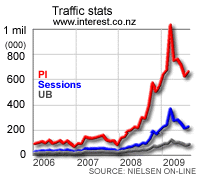 The red line in the chart to the left shows our growth in page impressions (PIs) from around 200,000 a month a year ago to just over 1 million page impressions this month. Each time a reader clicks through to a new page counts as a page impression, according to the people who do our stats, Nielsen Online. The grey line in the chart shows the number of unique browsers per month. That measures the number of individual readers who came to our site in the month. Each reader who has their cookies turned on will be counted as one unique browser each month, regardless of the number of times each reader visited. Our number of unique browsers per month rose over 100,000 for the first time in March to 120,000 and is up from around 36,000 a month a year ago. The blue line is the number of unique browser sessions, which measures the number of times readers came to our site cumulatively over the month. This line shows is how many times readers visited our site in each month. That has risen from around 70,000 a month a year ago to around 360,000 now. Essentially, the number of people coming to our site has almost quadrupled in the last year and our number of page impressions has quintupled. The frequency of visits for each reader each month has risen from around 2 times eachmonth a year ago to around 3 times each month now, which means our readers are now visiting the site 50% more each month than they were a year ago. A year ago each unique browser (reader) looked at around 6 pages per month. In March they looked at around 8 pages per month. Other numbers from Nielsen On-line show that the time readers spend on the site has been stable at around 1 minute 18 seconds per page and 3 minutes 30 seconds per session, which is the highest for any news and information site in New Zealand, according to Nielsen OnLine.
So what?
This means we're the most heavily used specialist financial news and information website in New Zealand, well ahead of the nbr.co.nz on around 800,000 page impressions this month, although nbr.co.nz does have more unique browsers than us with around 150,000 this month. Something for us to work on and we suspect it's not a zero sum game. We have more page impressions than nbr.co.nz each month because our readers visit more often and look at more pages each time they come. The business sections of NZHerald and Stuff continue to have significantly more users and traffic than both of us. Again, more work for us to do. We're also the biggest web-only news and information site in New Zealand that we can think of that is measured by Nielsen. NZHerald and Stuff both depend on news generated by big newspaper groups, as does the nbr.co.nz. We love being popular because it's nice to know we're being useful. Secondly, it's useful for our advertisers and sponsors, who help support the the site.
We'll continue to try to improve what we do and we welcome any suggestions.
We're all about providing the most useful and independent news, information and commentary about interest rates, banks, finance companies and the economy in New Zealand. We want to help the 2 million New Zealanders who have to make decisions about their mortgages and savings every 6 to 18 months. But mainly, we want to have fun talking and thinking about interest rates and the like. We're a bit strange like that. Thanks again. We're having a ball.