Opinion: This Auckland electrification decision is just as bad as Cullen's Kiwirail debacle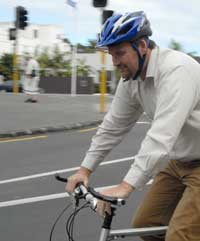 By Bernard Hickey Why on earth is the National government making the same mistakes as Labour did with rail? National rightly hammered Michael Cullen for his disastrous decision to buy back TranzRail, arguing he had not even bothered to consult Treasury or done any sort of robust analysis of the economic costs and benefits. Apparently it was something Cullen cooked up inside his own office with the help of some handpicked advice from outside. Steven Joyce and John Key appear to be making the same mistake with their decision to commit at least half a billion dollars (and the numbers always end up being doubled with this sort of thing) to a plan to electrify Auckland's rail system. Where is the economic justification? Has any serious analysis been done? It wasn't evident in the press release that came out. Joyce did not make a single rational economic justification for it yesterday, apart from saying Auckland has a lot of traffic and rail sounds like a good idea. Passenger rail always sounds like a good idea until the numbers are crunched and everyone realises the public subsidies are enormous and the investment makes no sense. I have made a request under the Official Information Act (OIA) to see the advice the minister relied on for this decision, which has huge fiscal ramifications and sets in train (pun intended) a series of decisions about Auckland's transport infrastructure that we will have to live with for decades. This decision to back the Auckland Regional Council (ARC) and Auckland Regional Transport Authority (ARTA) plan to electrify the Auckland rail system appears even more opaque than the TranzRail purchase decision, which has lumbered the taxpayer with at least NZ$2 billion of costs once networks and rolling stock are upgraded.
We do not need a second white elephant sunk in a morass of concrete and steel. It seems NZ$2 billion more of taxpayer and Auckland rate payer funds has been committed without any of the usual checks and balances in our system, which means scrutiny by Land Transport New Zealand, the Ministry of Transport or Treasury. How can Bill English's aim for government to be more efficient be supported by this sort of 'shoot from the hip' decision that will have implications for decades and for billions of dollars? English is going through government spending line by line to save millions here and millions there. Then Steven Joyce and John Key step up to blow NZ$2 billion on a train set.  Can New Zealand really afford this sort of wasteful government spending? Standard and Poor's will be watching closely. Let's have a closer look at the Joyce statement from yesterday (ie time for a Fisking). 
After double tracking, electrification is the important next stage in the development of Auckland's rail network.  Rail is an important and growing way for Aucklanders to get to work each day.
Says who? How many more Aucklanders are using rail? It's currently a tiny proportion that is massively subsidised (up to NZ$10 a ticket) and would have been dwarfed by the extra commuters using cars, bikes and buses.
ONTRACK's electrification plans will proceed unchanged. The purchase of electric trains was to come out of Auckland's regional fuel tax but will now be supported by crown funding "" either via a capital appropriation or additional debt funding, until such time as patronage levels reach the point where regular passenger transport subsidies are sufficient.
Why will ONTRACK's electrification plans proceed unchanged? ONTRACK is a complete mess from what I've heard from people in the industry. KiwiRail is in crisis because the best people have left and it is now dominated by engineers hungry to build a bigger train set. Has anyone put these ONTRACK plans through the ringer. Of course ONTRACK wants more trains. But it shouldn't be making the decision. When will patronage levels reach the point where regular subsidies are sufficient? 2015? 2025? Where's the Minister's advice from Treasury on this? Joyce didn't bother to tell us yesterday. His office did not have anything to give me today.
The government has decided in principle that now that KiwiRail has been re-purchased by the government, it should be the owner of the new crown-funded passenger rail stock in Auckland and Wellington.
Surely someone has to point out that pouring good money after bad money is still a bad idea. Where's the analysis saying it makes sense for KiwiRail to run this?
Mr Joyce says this will save costs over time and ensure the most efficient use of transport funds.
Says who? Why would it save costs. Did anyone consider not electrifying Auckland rail? That would save an enormous amount of cost over time and be the most efficient use of transport funds.
The decision is in principle to take into account the report of the Royal Commission on Auckland Governance, which may recommend changes to Auckland's current transport arrangements. The Royal Commission's report is due at the end of this month.
The outcome of this Royal Commission will have a huge bearing on who will run Auckland's transport network, how it will be funded and how it will all be funded. So why has the government committed this electrifying rail before knowing exactly how this extra NZ$2 billion will be administered or even whether Auckland voters will want it under their new system? My quick searches show that Michael Cullen's decision to support electrification was based on this paper to cabinet. In this paper there is this tell tale line. There is no mention of a Treasury review. 
The Ministry of Transport has been involved in discussions on the Auckland electrification proposal, although due to time constraints it has not seen this paper.
Elsewhere in John Key's statement on the overall plan, he claimed this extra spending would help the economy recover.
"An additional billion dollars of construction of new and improved state highways will be an important stimulant to the economy as more jobs are created in the roading and construction sectors," Mr Key says.
By the time this money is spent (mostly in late 2010 and 2011 by the time the planning etc is done) the economy will already be recovering strongly, according to the Reserve Bank. Could the Reserve Bank have to put up interest rates to dampen down the inflationary effect of this turbo boost to spending just when the economy is turning the corner? I'm all for infrastructure spending that is economically justified over the long term. But this appears to be just spend and hope. It's a bit like Kevin Costner in 'Field of Dreams'. Build it and they will come. But that's no substitute for some cold, clear-eyed analysis and assumption checking. I'm happy to be proved wrong with the full Treasury analysis of this NZ$2 billion decision. But there was no evidence yesterday that the Minister had it, or had asked for it. It's too late now to do the research. The decision has been made and taxpayers will pay. I did however find a business case prepared by ARTA in September 2006 (Page 14), which actually showed that under the standard Land Transport NZ assumptions for such transport business cases the Auckland rail plan only generated 87 cents of benefit for each NZ$1 spent. It did not make economic sense according to ARTA's own study.  The standard assumptions are for a 10% discount rate over 25 years. Fair enough. ARTA however thinks a better set of assumptions is for a 7% discount rate over 40 years, saying this is what is used overseas. Then the project would return NZ$1.52 for each dollar invested. ARTA then argued that fuel costs would rise and that Land Transport NZ discriminated against public transport users by valuing their time as less valuable than car users. Using the same assumption for the value of time for both types of people, and assuming extra productivity benefits from a more built up CBD and more built up residential areas, and the environmental benefits of trains, electric and diesel trains would return NZ$2.34 for each NZ$1 invested. This is what ARTA had to say.
It has become clear that applying Land Transport NZ's standard project evaluation methodology to a major Passenger Transport investment such as this is too restrictive in its nature and does not allow for the full benefits to be realised. In particular, this is because of the long time periods involved with the rail upgrade "" the time involved in establishing the assets and the far-reaching and enduring nature of the benefits. Simply put, the Rail Development Plan compares favourably as an investment if all the benefits are considered more broadly and over a longer period reflecting the life of the assets and the ongoing generation of benefits, but not so well if a more narrow and short-term view is taken. Evaluation of the relative asset lifespan is consistent with international accepted practice. Many other countries adopt a methodology similar to that used by ARTA for long-term public infrastructure assets.
You can read between the lines. 'We really, really want these trains and we think it's a good idea and if you only tweak a few assumptions, it looks a brilliant idea from an economic point of view.' Let's hope S&P vetoes this nonsense. I'll leave the final word to ARTA in its business case.
Our current modelling suggests that by the year 2016 (when the system will be carrying some 15.7 million passengers) the total operating cost per passenger trip will be around NZ$5""NZ$6 and the subsidy per passenger will be NZ$4; this subsidy is well below the current figure of around NZ$7""NZ$8. If we recognise that the average train journey is over twice as long as the average bus journey, the subsidy per km for rail in 2016 will be very similar to that of bus services. However, all similar Passenger Transport systems around the world require a subsidy.