Opinion: Think more than twice before subsidising electrification of rail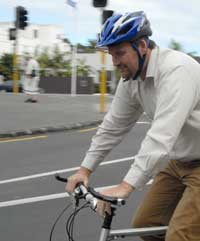 By Bernard Hickey It seems, according to the NZHerald, that the National government is considering subsidising the Auckland Regional Council's  NZ$1 billion plan to electrify the Auckland passenger rail lines. In theory, National would buy the electric trains as a type of compensation for canning the 9.5 cent per litre regional petrol levy, the newspaper said. Here's a taste of this slightly speculative piece.
The Herald has obtained a letter from Transport Minister Stephen Joyce to Auckland Regional Council chairman Mike Lee in which Mr Joyce said it "makes sense" to consider whether Government-owned KiwiRail, rather than the regional councils, should buy and own all new passenger trains planned for Auckland and Wellington. An announcement is expected this week, when the Government is also likely to confirm it will drop a regional fuel levy which would have added 9.5c a litre to petrol and diesel prices in Auckland. The letter follows concern from Mr Lee about how the council would pay for the rail electrification if the Government got rid of the regional fuel tax.
The devil will be in the detail, but I think the government should think more than twice before subsidising the electrification of rail in Auckland at least. Wellington may make sense given heavier rail usage, but I'm also doubtful. I have yet to see a proper economic justification for the electrification of rail. Currently each rail passenger current receives at least NZ$3.50 of public subsidy for each trip in Auckland. Prices would basically double if the passenger had to pay the real price. Auckland does not have the concentration of population or the concentration of workplaces in the CBD to justify a heavy rail system. Even rail systems in concentrated cities like London require massive subsidies. Buses work because they don't require massive investment in rail lines and are very flexible. They work for a dispersed city like Auckland. Rail doesn't. You could argue that the public benefits and the greenhouse benefits of rail justify the subsidies. But I have yet to see this analysis, particularly when the congestion and greenhouse benefits can be found much more readily in buses. Or cycling. Can the government really afford NZ$496 million on infrastructure that does not wash it's own face? Your views? Comments below please.