English and Bollard tweak Policy Targets Agreement

The Reserve Bank of New Zealand has announced a tweaking of the Policy Targets Agreement (PTA) between Reserve Bank Governor Alan Bollard and new Finance Minister Bill English that leaves the core focus on targeting 1-3% inflation intact, but highlights a slightly tougher focus on economic growth and higher incomes. Talk about sustainable development and income redistribution has been dropped. The previous PTA between Bollard and Labour Finance Minister Michael Cullen said the following in its pre-amble:
The objective of the Government's economic policy is to promote sustainable and balanced economic development in order to create full employment, higher real incomes and a more equitable distribution of incomes. Price stability plays an important part in supporting the achievement of wider economic and social objectives.
The new PTA says the following:
The government's economic objective is to promote a growing, open and competitive economy as the best means of delivering permanently higher incomes and living standards for New Zealanders. Price stability plays an important part in supporting this objective.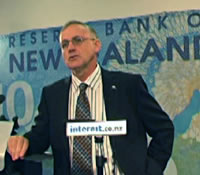 So the change is in the tone of the government's targets. "Sustainable and balanced" economic development that more equitably distributes incomes is out. A "growing and open economy" that delivers "permanently higher incomes" is in. The sustainability and income redistribution rhetoric has been dropped in favour of rhetoric about growing the economy and lifting incomes. It's a nice summation of the difference between the Labour and National governments.