Fonterra to cut payout forecast by at least 30c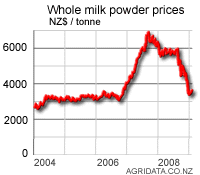 Fonterra is to make an unscheduled announcement on Friday November 21 about its milk solids payout. It is highly likely that they are set to announce a decrease of at least 30 cents per kilogram. The policy of the Fonterra board is to announce if its payout forecast changes by plus or minus 30 cents, a Fonterra spokesman said. Forecast announcements are usually made at board meetings every six weeks. ANZ rural economist Kevin Wilson said that he very much expects Fonterra to announce a fall in its payout forecast. Fonterra had forecast a NZ$6.60 per kilogram of milk solids payout at the end of the milk season in July 2009. A 30 cent fall would take the payout down to at least NZ$6.30 per kilogram.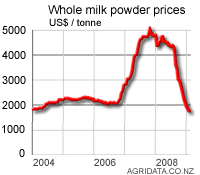 ANZ's current forecast for the payout is around NZ$6.00. However, Wilson said that although the signs are not good, it does not signal "the end of the earth," with a payout of NZ$6 still good historically. "Last year's payout was extraordinarily high, so NZ$6 per kilogram is still good historically." "There's still eight to nine months left in the season," Wilson said. "Although the short term trend is not looking good, there's still a lot of milk to 'go under the bridge', as it were, before the end of the season on July 31, 2009."