Policy analysts power rise in core public servant numbers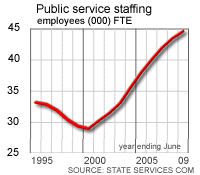 Staff numbers in New Zealand's core public service rose 3.6% or 1,599 in the year to June 2008, led by a 14% rise in the amount of advisers and policy analysts, up to 3,516 from 3,094. The core public service does not include teachers, nurses or doctors employed by schools and district health boards. Numbers at the front line in the core public service, which includes social health and education workers and contact centre workers, actually fell by 29 to 10,034, while numbers of administrative, policy advice, HR, Legal, managerial and support staff rose 1,628 to 35,900. The amount of ICT professionals rose by 11% over the year to 1,811 while the amount of clerical and administrative workers rose 6% to 8,632. Numbers of legal, HR and finance professionals rose by 4% to 2,476. The amount of managers also rose 4% to 5,217. Overall the amount of employees in the core public service rose to 45,934. There were staff increases in 22 government departments. Five of these contributed to 86% of the total increase over the year. Numbers at the Department of Corrections rose by 471, due mainly to the new Spring Hill and Otago Regional Corrections facilities, the department said.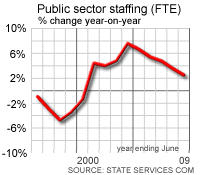 Inland Revenue cited the need for additional staff numbers for infrastructure support for Kiwisaver and other government initiatives. Staff increased by 285. The Department of Labour said that the majority of its increase of 200 staff were front-line immigration worker additions, due to the increase in work volumes. The Ministry of Justice added an extra 194 staff, the majority being in the Chief Electoral Office and also due to the establishment of the National Transcription Service in higher courts. The Ministry of Health attributed its staff increase of 154 to information systems development, the national health targets, regulatory changes to Medsafe and the increased program delivery of national cervical screening programs. The amount of core public service staff based in Wellington rose by 4.5% to 18,698 in the year to June. Auckland staff increased 5.7% to 9,404 and South Island staff rose 6.1% to 7,780. The Serious Fraud Office experienced the biggest percentage increase of staff, up 18% from the year ended June 2007. The biggest reduction of staff came at the Ministry of Pacific Island Affairs, down 13%.