Uridashi rollovers still happening, but new issues rare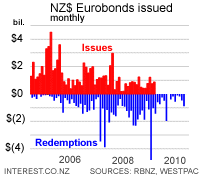 Uridashi issuance totalled NZ$820 million in October, which was less than the NZ$1.14 billion that matured, but better than many might have expected during a month from hell on global credit markets. Westpac reported that lower interest rates and the lower New Zealand dollar were depressing new issuance, but that the low currency was paradoxically protecting the market from mass exits. "Contacts indicate that uridashi investors tend to be reluctant to realise FX losses, so they are likely to roll over the bulk of their existing positions, but not to accumulate new ones," said Westpac currency strategist Michael Gordon. "That suggests net issuance will remain broadly flat, which has been the case since mid-2006," he said. * This article was first published exclusively yesterday in our daily subscription newsletter for the banking and finance industries. The email costs NZ$365 per annum and carries exclusive news and analysis for New Zealand banking and finance industry executives, regulators and investors. 
Sign up for a free trial here.