NZ govt accounts show operating deficit in Sept qtr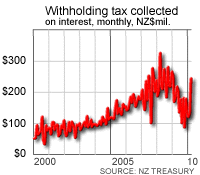 Treasury has released the New Zealand Government's accounts for the first three months of the 2008/09 financial year, which show the government falling into an operating deficit of NZ$757 million from a forecast of a NZ$943 million surplus. The main reason for the loss was a NZ$1.1 billion 'mark to market' loss by the New Zealand Superannuation Fund, which had its worst month ever in September with a 7.96% loss. Tax revenues were actually slightly better than forecast. Direct taxes were NZ$164 million better than forecast at NZ$9.964 billion for the first three months, due largely to income taxes being NZ$238 million higher than forecast. This helped offset lower than expected corporate tax revenues.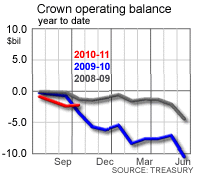 GST was NZ$153 million higher than expected at NZ$5.456 billion. Resident withholding tax on interest payments was also strong at NZ$703 million, up from a NZ$689 million forecast and up 19.8% from a year ago as interest rates were slightly higher than a year ago and savings grew. The OBEGAL (Operating Balance excluding gains and losses) was actually NZ$500 million greater than forecast at NZ$0.9 billion, largely due to higher than expected tax revenues and spending being marginally lower than expected at NZ$15.066 billion.