Tsunami warning: Uridashis not being rolled over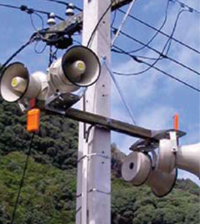 This year saw introduction of tsunami warning systems to Auckland's West coast beaches. Are they about to start sounding as the Uridashi Tsumani gets closer to land? August was the third straight month in which Uridashi and Eurokiwi issuances fell short of maturities by more than NZ$500 million. Over the last three months NZ$3 billion worth of Uridashi and Eurokiwi bonds have matured, but only NZ$1.195 billion have been issued, leaving a gap or currency outflow of NZ$1.805 billion. Uridashi bond issuers are increasingly diverting investments to countries with prospects of higher yields as New Zealand interst rates look set to be lowered further.
In August, NZ$737 million of Uridashi and Eurokiwi bonds were issued, against maturities of NZ$1.24 billion, Westpac reported. The decrease in bonds that rolled over in August placed increasing pressure on the New Zealand dollar as investments are diverted to higher-yield currencies such as the Brazilian real and the South African rand. "Japanese retail investors' appetite for yield has, if anything, grown in recent months "" it's just increasingly being funnelled into even higher-yield currencies, such as the Brazilian real and the South African rand," Westpac Markets Economist Michael Gordon said. The New Zealand dollar looks set to weaken further against the Japanese yen as matured Uridashi bonds do not get rolled over. The prospect of the Reserve Bank of New Zealand (RBNZ) lowering interest rates at its upcoming anouncement on Thursday has made the New Zealand dollar look less attractive to "Japanese housewives" and "Belgian dentists."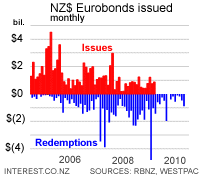 Brazil's central bank looks set to raise interest rates by 75 basis points to 13.75% at it's next announcement on September 10, said a recent survey by Bloomberg News. South Africa's central bank has set its interest rate at 12%, after an increase of 5% since June 2006. Such high rates have diverted Uridashi bonds from New Zealand. The RBNZ has indicated that there are NZ$20.6 billion worth of Uridashi bonds set to mature in the next 12 months. New Zealand has about NZ$50 million billion in Uridashi bonds. The New Zealand dollar has slumped 10% to 73.5 yen in the last six weeks.