How property educator Phil Jones sells juice too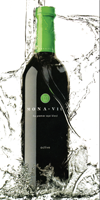 This week this correspondent attended a seminar given by Richmastery founder Phil Jones that promoted a new multi-level marketing business venture that he said was growing faster than Microsoft in its hey day - Mona Vie Juice. Jones, who has spoken regularly of his links to the rich and famous, described himself as a "Blue Diamond" executive distributor of the "delicious and energizing blend of 19 wondrous fruits" that is sold on to New Zealand distributors for as much as US$32.50 per 750 ml bottle. The Mona Vie business is based on selling the bottles of juice at 'wholesale' prices to distributors, who are then able to sell on at 'retail' prices to people they have contacts with. The seminar was aimed toward teaching attendees how to make "Massive Passive Income" - how to bring in money doing little work. "The secret to wealth is do the work once and get paid forever," Jones told us. After being told that it was likely the evening would sell out, only about a third of the seats were taken up by around 20 people. These were people who told Jones they had previously been caught up in multi-level marketing schemes. Mona Vie is a network marketing business scheme operating out of Salt Lake City in Utah. It works by members building up their own business teams ("trees") to sell the Mona Vie product - fruit juice. Last week,
Newsweek magazine ran an article
saying "more than 90 percent [of distributors] were considered "wholesale customers," whose earnings are mostly discounts on sales to themselves. Fewer than 1 percent qualified for commissions and of those, only 10 percent made more than $100 a week. And the dropout rate, while not disclosed by MonaVie, is around 70 percent, according to a top recruiter." Mona Vie co-founder Henry Marsh, an ex-olympian who ran distance for the United States in four olympics, replied that the one percent figure was more like 14 percent,
according to Salt Lake's Deseret News
. That still leaves 86 percent of distributors who don't make money. After joining Mona Vie for US$39 and buying an initial four bottle case, or cases, of juice (one case is $US130, two for US$230, three for US$340), members must build a team around themselves. This works by introducing two people to the business (your 'left' and 'right' trees) who, in turn, each introduce two more people to the business, who, in turn, each introduce two more people to the buisiness etc.. I could go on, but you should get the idea. If the member introduces one extra person to the business every month (which could easily be every week, according to Jones, "you all have friends, don't you?"), their business would have just over 2000 people after 11 months (or weeks - depending on how fast one can network). It is worth noting that if this is carried on for 22 months (i.e. the member has introduced 22 people to the business, who have each introduced two people etc. etc.), a single member's business would consist of the entire population of New Zealand. Making money comes from selling cases of Mona Vie juice. The more people whom one has in their tree equals the more cases of juice able to be sold, so the aim is to sign up as many as possible. A member buys cases from Mona Vie at wholesale prices and can sell them at retail prices. For every dollar that Mona Vie earns, fifty percent is paid to the member. In order to sell the product, a member must first buy the product from Mona Vie. This is made easier through auto-shipments, where merchandise will arrive on a regular schedule with the purchase made via credit card. To help those who do not have a credit card in New Zealand, Jones' 'Team Massive Passive' website recomends a
Prezzie
Card from the post office or a Wespac Visa Debit Card. This form of business structure means that Mona Vie makes money by convincing people to become distributors of the product. Mona Vie is set to make money even if the distributor struggles. Of course, the more a distributor can sell, the more they buy from Mona Vie in order to sell more. According to Jones's Massive Passive website, if a member has 2000 people in their team, each ordering one case of juice in a four week period, the member's business will probably be at the 'Blue Diamond' level, generating US$8,973 per week. The highest level a member can strive for is 'Imperial Black Diamond', where they would be making an average of US$87,476 per week. Phil Jones describes himself as a "Blue Diamond" who makes US$10,000 a week from Mona Vie. The ability to make money in the business depends on one's ability to sell the product. In order to sell the product, one must have contacts with people who are willing to pay for the product. The product isn't cheap. Mona Vie juice apparently isn't just any old juice either. Mona Vie describes it as "a delicious and energizing blend of 19 wondrous fruits, including the amazing acai berry." The acai berry is found in the Amazon rainforest and has the highest antioxidant levels of any fruit. The Mona Vie website indicates that "the remarkable health benefits of acai have been validated by modern science." After first showing us pictures of himself with Bill Clinton, Richard Branson and Donald Trump, Jones told us that "tonight isn't to impress you." We then took part in a chanting exercise with actions: "trading time for money is stupid." We were there to learn from Jones how to generate passive income. We were there to learn how to make as much money as possible whilst doing as little as possible. "Most Kiwis work for 65 years, retire for three to seven years, then die," Jones explained. "What if you could work for three to seven years, retire for 65 years, then die?" He asked. Many of the audience were middle aged and had admitted to having been stung by the Amway scheme. "Mona Vie is not like Amway," Jones told us, "because Amway only offered a 7% return on investment, whereas Mona Vie offers 50%. Where Amway lied to you, Mona Vie doesn't need to lie. Just because Amway is broken, doesn't mean the rest are." Many of these faces were ones Jones had seen before at various other wealth creation seminars he had given, some of the attendees told me. So why did they have to come back? Jones then went on to explain how becoming a Mona Vie distributor can lead to the dream of having passive income come true. "Microsoft made US$1 billion in their first seven years. Mona Vie made US$1 billion in their first three years," he exclaimed. "Mona Vie is the fastest growing private business in the US today." "With Mona Vie, you make an initial $200-$500 investment, can have made this money back in 30 days, and then not have to pay anything." Near the end, Jones told us: "You are going to commit tonight for US$39." We could trial the product for 90 days to see if the juice really did produce the claimed health benefits. Although we would first have to buy the product of course. We were urged not to delay. "If the person on your left joins before you, joins up 1000 people to their business, how many people have you missed out on?," Jones prodded the audience. Some nodded with anticipation. Others were already busy filling out the forms with their credit card details, signing up to the auto-shipments of Mona Vie Juice. Jones was teaching us how to break away from the insanity that most New Zealanders are in, because they do they same thing day in, day out, for 65 years. "You're all slaves...as soon as you get out of work, you can pursue other opportunities." If we could make available a meagre three hours a week to put towards establishing our Mona Vie businesses, we too could become multi-millionaires. We, too, could keep up the Joneses. Phil Jones has said previously he owns a business worth NZ$20 million. Post Script. The following is the question and answer exchange between myself and Julie Jenkins, the Public Relations Manager for MonaVie in America.
How many distributors in New Zealand and what proportion of distributors have qualified for commissions? How many make more than $100 a week?
Being a privately held company we do not give this out. Many people enroll in MonaVie, but that simply means they are eligible to purchase product at a wholesale price; the overwhelming majority of people who enroll do so because they love the product, and not necessarily to earn income or build a sales organization. There are those who go on to participate in the compensation plan and, of those participating distributors, 10-14% become very serious about their business and go on to earn more than $100 a week. For the time spent and value received, MonaVie can be a rewarding independent business opportunity.
What is the drop-out rate?
Drop-out rates vary for all direct sellers. What is important to understand is that the majority of direct sellers are seeking to earn extra income for a specific reason: children's braces, a new car, extra income to meet a particular need. According to the Direct Selling Association, 10.1% of distributors work 30 or more hours per week, while the majority (89.9%) work part time hours. When they earn what they need, they may go inactive for a time and often come back again when a new goal or need arises. We offer flexibility other businesses don't.