Whole milk powder price jumps 21% in Fonterra's "very strong" April auction
Milk powder prices surged between 21% and 25.5% in Fonterra's April online auction as supply tightened towards the end of the Australasian production season. Milk powder prices have now more than doubled from their lows in July 2009 and are now less than 10% below their peak levels, raising expectations that Fonterra can increase its payout in the 2010/11 season and boost regional economies. Fonterra's current commodity milk price forecast is NZ$5.70/kg for the 2009/10 season, with the prospect of a further 20-30 cents of dividends from profits to lift the payout to around NZ$6/kg. The strong result helped boost the New Zealand dollar by almost a cent to 70.6 US cents in early Wednesday trade, although the currency had fallen overnight before the auction result around 7am. GlobalDairyTrade, Fonterra's internet-based sales platform, said the average price for whole milk powder was US$3,969/tonne, up 21% or US$688/tonne from the March average. This is more than double the July 2009 low of US$1,829/tonne and less than 10% below the July 2008 high of US$4,395. Fonterra's payout peaked at NZ$7.90/kg in the 2007/08 season.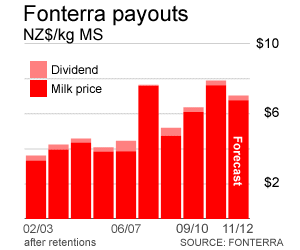 The average price of Anhydrous Milk Fat (AMF) was US$4,827 per tonne, up US$868 per tonne or 21.9% from March. Skim Milk Powder (SMP) rose US$745 a tonne or 25.5% to US3,672/tonne. Paul Grave, globalDairyTrade Manager, said demand across all products was very strong. "Prices reflected tightening supply as the Australasian production season draws to a close," Grave said.