Statutory managers say Aorangi investors face losses on second ranked, interest-free loans to related parties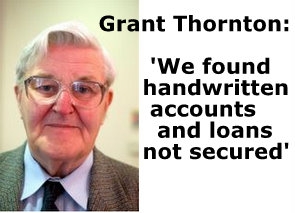 Allan Hubbard's statutory manager Grant Thornton has released its first report showing investors in his Aorangi Securities shouldn't expect any money back any time soon and warns it is concerned about a lack of paper work after discovering an "intricate and complex intermingling" of affairs.
It said it had also frozen a further NZ$70 million in Hubbard Management Funds, a vehicle it wasn't aware of previously where the accounts were hand written and where further money had been lost.
Grant  Thornton also said many investors' loans appear to have been made to farms associated with Allan Hubbard and rank behind loans from banks. Investors face losses on these investments, it added.
"This could mean, in the case of direct investments in those farm businesses, that Aorangi would only be paid after the creditors of those businesses were fully paid," Grant Thornton said.
Some loans were also made from trusts to businesses on interest free terms.
Grant Thornton warned there was a risk investors owed NZ$96 million may not receive all their money back. It also announced and additional NZ$70 million invested in Hubbard Management Funds (HMF) had been frozen and it was also concerned about inadequate records for these funds. The report also notes the uncertainty of security and priority of Aorangi investors could require court direction.
The statutory managers, Richard Simpson and Trevor Thornton, made the comments in their first report to investors. The report (attached below) covers Aorangi Securities Limited, Hubbard Management Funds, Allan Hubbard and his wife Margaret plus associated trust entities.
"To date we have seen clear evidence that there is an intricate and complex relationship between the affairs of Aorangi, Te Tua Trust and the affairs of Mr and Mrs Hubbard and other associated entities," Grant Thornton said.
"A lack of paper work is also impeding our progress. The standard of the paper work for the entities is not what we would have expected to have found for business entities of this size and complexity. As a result, we will need some time to complete a review of the position and to decide what action is needed," it said.
The records of Aorangi showed it has total assets of NZ$132 million. Investors, other than the Hubbards, contributed NZ$96 million to Aorangi.
"From our work so far, it appears over NZ$106 million is invested in (including by loan to) businesses and charitable trusts where Mr and Mrs Hubbard have a direct or indirect financial interest."
"Some investors, who believed their investments were secured over land, may not in fact have this security," it said.
"The level of investments in (including loans to) businesses associated with Mr and Mrs Hubbard without registered security is of concern. Most of these investments are in or to farm businesses that have loans from banks secured by a mortgage over the assets of the farm. This could mean, in the case of direct investments in those farm businesses, that Aorangi would only be paid after the creditors of those businesses were fully paid," it said.
"There may therefore be a risk in certain circumstances that Aorangi does not recover all the money due to it."
"Investors should not expect any return of capital or interest in the short term. We know this will be distressing for the people who have received regular payments from Aorangi. However we need to fully understand Aorangi's financial position in order to help protect all investors and to fulfill our management role."
"The uncertainty of security and priority of the investors may require direction from the Court. This process will take time."
"A charitable trust, Te Tua Trust, which is also in statutory management, has borrowed money from Aorangi and provided interest free loans to a range of business people." This trust made 170 loans.
Grant Thornton said some security documentation prepared in March 2010 had not been registered.
Grant Thornton said there were early indications some loans were impaired, including loans by the Te Tua Trust.
"If so, returns to Aorangi will be reduced."
'Similar to a finance company'
It said Aorangi started out as a contributory mortgage company but "now appears to operate in a manner which bears similarity to a finance company, and it appears to have lent to or invested in both entities related to Mr and Mrs Hubbard and third parties."
Grant Thornton also commented on Hubbard Management Funds (HMF), where other funds were invested by investors who also had money in Aorangi. It said it had frozen the funds in HMF and it was concerned about the inadequate accounting systems at HMF.
"Becoming aware of Hubbard Management Funds (an investment management business controlled by Mr Hubbard), of which we were not aware at the time of our appointment, has added another complexity to our role."
It said some investors had yet to receive their annual statements for the period up until the end of March, but should get them shortly. The market value of the HMF, which were not covered by the government guarantee, had fallen since March.
It also commented on the fees charged by HMF, which were not the same for various investors. "We understand investors were not necessarily charged the same percentage management fee. The management fee appears to have been variable based on the performance of the investor's investment," it said, adding it was not aware of any formal disclosure statements being provided to investors before their investments.
'Handwritten accounts'

"We understand Mr Hubbard has maintained the client investment records manually by way of a hand written cashbook and journal entries, which are then posted to an electronic ledger account. There is no specific fund management software utilised that allows the entire portfolio to be balanced on a daily basis and an investor position statement at market value to be generated."
Grant Thornton referred to a "complex and intermingling of affairs" which would take some time to work through. It said Allan Hubbard was cooperating and it expected to report back to investors again by the middle of August.
We have attached the full report here. We welcome any insights or comments or pointers from our readers on what is important.