Statutory manager sees "alarming gap" between Aorangi's income and amount owed to investors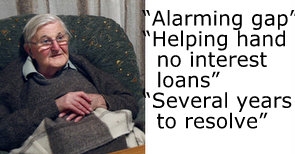 Accounting firm Grant Thornton, statutory manager of Allan Hubbard, Aorangi Securities, Hubbard Management Funds (HMF) and other associated interests, say Aorangi investors won't be getting any "significant" amount of money back before Christmas and Hubbard had over stated HMF's position by at least 25%. 
(Updates add further detail, background and Southbury link; Allan Hubbard's disappointment at not seeing statement first).
In their second report to investors statutory managers Richard Simpson and Trevor Thornton say Aorangi investors should get a small repayment in October from a small amount of available cash. But given the accounting records and governance are "very poor", they don't expect to complete their job before Christmas. In fact, final resolution and realization of the assets may take "several" years.
"There is an alarming gap between the income Aorangi is presently receiving from its loans and investments and the amount it needs to pay out to its investors."
They say much of the NZ$96 million received by Aorangi from investors has been reinvested by Hubbard into minority share interests and mortgages over shares in about 25 dairy farms. Many of these farming businesses are struggling and unable to make payments to Aorangi.
"Any payment at this time will be treated as a repayment of capital and will be dependent on the amount of funds paid to Aorangi by borrowers from the investments in the farms."
HMF position over stated, non-existent money allocated
On HMF the statutory managers say they believe annual statements prepared by Hubbard and sent to investors have over stated the investors' position by at least 25% as of March 31. The value is likely to have fallen further since because of the high risk nature of the portfolio in a tough period for share markets. Investments have been allocated to investors in excess of those actually held by Hubbard Funds Management.
"The statements sent to the investors by Mr Hubbard for the year ended March 31 show a value for HMF of about NZ$82 million," the statutory managers say.
"Shares and other investments in excess of NZ$13 million which do not exist have been allocated by Mr Hubbard to investors within the HMF portfolio."
Furthermore, uninvested funds on hand of NZ$6 million were reported to investors by Hubbard at March 31, but the cash available on that date was less than NZ$350,000.
"Investments have been allocated to investors in excess of those actually held by HMF."
As for Aorangi, Simpson and Thornton said the problem they faced was that Hubbard has allowed Aorangi to accept deposits from investors on call and to invest those funds in investments or loans which are nearly all long term in nature.
With dairy farm sales volumes at historic lows, there is little opportunity to free up capital. Simpson and Thornton say they don't yet know the exact value of Aorangi's investment in the farming industry, with valuations likely to be finished by the end of September.
The statutory managers said NZ$1.4 million of Aorangi's loans have been identified as no recoverable and Aorangi has invested NZ$83 million in farming entities, NZ$24 million in Te Tau Charitable Trust, which is also associated with Hubbard and under statutory management, and NZ$23 million in other commercial entities. Of the farming investment, NZ$59 million has been made in businesses associated with Hubbard.
"Also of concern is the way investments have been structured meaning many Aorangi investments rank behind all other creditors of the farming ventures. This is far from ideal."
During March Hubbard had to mortgage his own assets and introduce his own cash to enable the March interest payment to be made to Aorangi investors.
Hubbard 'can't help'
Although "heartened" by Hubbard's pledge that his investment in Aorangi could be used to help off-set potential losses, it doesn't look likely he'll be able to help much.
"Given the current position of Mr Hubbard, we are of the opinion that he will not be able to contribute further funds to support Aorangi as he has in the past."
The statutory managers say Aorangi investors' prospects rely heavily on the future of the dairy industry being profitable. Talks are udnerway with some of the farming business partners to see if they're interested in buying out Aorangi's interests.
Meanwhile, the statutory manager's report reveals Aorangi and HMF have NZ$10 million each invested in Southbury Group, another Hubbard owned company that's the parent company of South Canterbury Finance.
No prospectus
The statutory management came after the Companies Office referred a number of matters relating to Aorangi Securities for investigation by the Serious Fraud Office (SFO) for potential breaches of the Crimes Act. This followed a complaint by an Aorangi investor who had not received a prospectus. The SFO is expected to reveal the next step in its investigation next week.
The Companies Office found that NZ$98 million in funds lent to Aorangi by 407 Otago and Canterbury investors had been lent on either directly or indirectly to trusts and interests associated with Hubbard and his wife, contrary to instructions that they be lent as first mortgages secured by property. 
In its first report on the statutory management, out last month, Grant Thornton said Aorangi investors shouldn't expect any money back any time soon, and said it was concerned about a lack of paper work after discovering an "intricate and complex intermingling" of affairs.
The first report also revealed an additional NZ$70 million invested in HMF had been frozen and Grant Thornton was also concerned about inadequate records for these funds. The report also noted the uncertainty of security and priority of Aorangi investors could require court direction.
Grant Thornton's next report is due at the end of September.
Hubbard disappointed
Allan Hubbard said in a statement sent to TVNZ that he was disappointed not to have seen the report before it was made public.
"It feels more like an attack on me and my wife Jean and all we are trying to do, every day is help the investors," he said in the statement.
"Five weeks ago I submitted a proposal to the statutory managers and Registrar of Companies in respect of the Aorangi and Hubbard Managed Funds investors and they haven't even given me the courtesy of a response to that proposal," he said.
"I have to say that I am very disappointed that while they have continually told me to refrain from speaking about these issues in public, which I have respected, the statutory managers ambush me in the media in this way."