Allan Hubbard denies fraud, senility and stupidity in interview; says may be naive and made mistakes as humans do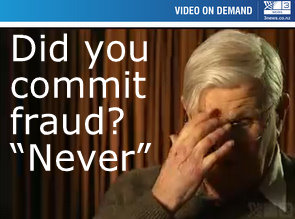 By Bernard Hickey
South Canterbury Finance's driving force and the man behind Aorangi Securities and Hubbard Management Funds, Allan Hubbard, has denied fraud, senility and stupidity in a television interview, but he acknowledged others may have taken advantage of his naievety and that he made mistakes, as humans do.
Hubbard also said his fellow directors on the board of South Canterbury Finance rejected his advice to invest government guaranteed deposits into the stock market, instead choosing to put it into property.
Hubbard said in this 60 minutes interview on TV3 that he did not believe the conspiracy theories circulating about who was behind the government's decision to put Aorangi and HFM into statutory management and why it was done, but said some elements may be true.
The 60 minutes interview started with a tour of Allan and Jean Hubbard's house in Timaru and started with a discussion about Hubbard's frugal lifestyle.
"I'm basically a fairly insignificant person living in Timaru. I haven't chosen to have a high profile or live a glamorous life. I just don't think I'm anybody really," Hubbard said.
"Our personal philosophy is that the money is not ours. If we received it, it was to help other people," he said.
Asked if there was any need for Aorangi to fail, he said: "Abosolutely none whatsover. The company was solvent and we were about to issue a prospectus and I had in the previous year had introduced NZ$40 million of my own assets to ensure it was always sound."
Hubbard was asked about the anonymous letter of complaint that apparently triggered the statutory management.
"It was alleged that they'd asked for an investment statement and hadn't got one. I was unaware of that because I mainly dealt with Aorangi, and if a person had asked me for it I would have been aware of it and would have explained that we don't have an investment statement because we don't accept deposits from the public," he said.
"I don't mind if they attack me, but my wife is not intimately involved with it. She's only a director because you need to have two directors."
Hubbard was then asked flatly at 5 minutes 10 seconds in the video if he had committed any fraud. He replied: "Never. My conscience is very clear. If I have wronged anybody, I would certainly apologise and if it required monetary compensation I would do it to the best of my ability." It is worth physically watching the video at this point in the interview.
'Afraid of putting on the heater'
60 minutes reporter Rod Vaughan then spoke to a couple who had retired from a farm to a lifestyle block and had put their entire savings into Aorangi.
They spoke of wanting to die and being in tears during the winter because they were afraid to put on the heater in order to save money.
Hubbard supporter Paul Carruthers then spoke about the actions of the government.
"Why didn't they just put a bullet in his head? It would have been more humane," he said.
"There's been a concerted effort to push Allan out of the business and into retirement. My personal view is that statutory management being imposed onto Aorangi and HMF and Allan's other entities was actually a smokescreen. The real goal was South Canterbury Finance. The day after they put him into statutory management the deposits in South Canterbury Finance plummeted from NZ$2 million a day to NZ$200,000 a day. That's a 90% drop," he said.
Hubbard himself said he was not convinced anything untoward had been done by the authorites.
"Some people say it's all part of a plot to gain control of South Canterbury Finance. I don't personally believe that. There may be when you hear of some of the players involved. Maybe it was and I'm just a naive old person that's too honest and believes and accepts people at their word," he said.
Not senile or stupid
"I certainly object to being described as senile and stupid. But South Canterbury Finance was not run by me," he said.
"I was just one of four other directors and we had an extensive management system of chief executives and financial officers and accountants. The downfall of the company was the economic downturn when business conditions tightened up and a lot of businesses failed. I think you could attribute a lot of it to the government guarantee. That more or less gave the cue to finance companies that it was as good as government stock."
Hubbard denied investing too much in property before the arrival of the government guarantee.
"We'd been in the property business before that. We never spent up large on property. At the peak we were at 25%. That was governed by the board. They set the parameters. It was never set by the chief executives," he said.
Hubbard was then asked at around 11 minutes 20 seconds in the video if he had made loans that bent the rules.
"I had a charitable trust that I lent money people interest free. That had nothing to do with South Canterbury Finance. I mainly helped people to get on their feet or young fellas starting farming," he said.
"With hindsight looking back with South Canterbury Finance we could have been more prudent in other areas," he said.
'We're all human'
"When we got a lot of the money I wanted to invest in the share market, but my directors didn't agree with me. If they had done that, we would have been lauded as the most enterprising and thoughtful finance company in New Zealand because the share market went that way (up) and the property market went that way (down).
"But we all make mistakes because we're human aren't we?"
Hubbard said he still aimed to regain control of his assets and help investors get their money back.
"My aim is to get out of this statutory management business and to redeem my reputation and to assist everybody to get back to where they were and to suffer no loss."