SFO investigating or prosecuting a total of 51 cases involving about NZ$895mln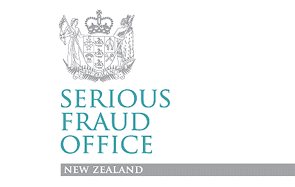 The Serious Fraud Office (SFO) says the former accountant of failed finanace company National Finance 2000 Ltd has pleaded guilty at the Auckland District Court.
The SFO said the accountant, John Gray, had pleaded guilty to theft by a person in a special relationship, relating to misuse of National Finance funds in breach of its Trust Deed requirements, and to a charge of false accounting where he concealed the true recipient of funds by creating a false document.
 "This is a very satisfying result, and the outcome of a very comprehensive investigation," said SFO chief executive Adam Feeley.
Former National Finance director, Trevor Ludlow, is also charged by the SFO with offences relating to the misuse of funds. A trial date has yet to be set for him.
National Finance collapsed into receivership in May 2006 owing investors' NZ$25.5 million, of which about 48% has been paid back. See our Deep Freeze list for further detail.
Meanwhile, Feeley said the SFO was currently investigating 19 cases of suspected serious fraud involving an estimated NZ$630 million, and prosecuting a further 32 cases involving and estimated NZ$265 million.
Its most high profile investigation is into Allan Hubbard, who was placed in statutory management by the Government on June 20. Feeley told interest.co.nz two weeks ago that the SFO was probably only weeks away from deciding whether to charge Hubbard or close its investigation.
Feeley said over the past year the SFO had shifted its priorities to try and ensure faster outcomes on the corporate failures that have generated the most public concern.
"Results such as this (National Finance) demonstrate that there are serious consequences for breaching the law and help ensure the investing public can have greater confidence in the integrity of our financial markets," said Feeley.