Serious Fraud Office launches inquiry into Dominion Finance related party deals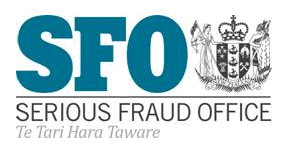 The Serious Fraud Office (SFO) has announced an investigation into related party deals done by Dominion Finance and North South Finance before they collapsed in September 2008.
Chief Executive Adam Feeley said the SFO had conducted an "extensive preliminary inquiry prior to commencing a formal investigation."
"The investigation will focus on a small number of related party transactions which will ensure we complete the investigation in a timely manner," he said.
Feeley added that the SFO would coordinate its efforts with the Registrar of Companies and the Securities Commission, who have laid criminal charges against directors of Dominion Finance and North and South Finance, including founders Terry and Ann Butler and prominent savings industry lobbyist Vance Arkinstall.
Dominion Finance Group went into receivership in June 2008 owing about NZ$232 million to some 5,900 investors.
Receivers say investors are likely to get back less than 25% of their money. Unsecured creditors are likely to get nothing.
North South collapsed in June 2008 owing NZ$100 million to 6,925 investors.
Receivers have said they are like to get back 70% of their money.