SCF lent 4th mortgages to Greymouth property developer connected to Ed Sullivan, a former SCF director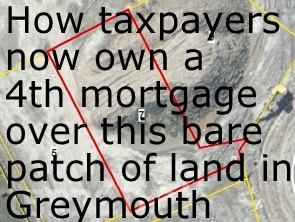 By Alex Tarrant
South Canterbury Finance wrote second, third and fourth mortgages on development sections in Greymouth owned by a now bankrupted director with connections to the law firm of Edward Sullivan, a former director of South Canterbury Finance.
Companies office documents show South Canterbury Finance also lent NZ$1.3 million to the same developer for a Hamner Springs Apartment development that he defaulted on.
Now in receivership, South Canterbury Finance is effectively owned and controlled by the government, meaning taxpayers face losses on these developments and loans.
South Canterbury took posession of part of the Hanmer Springs development in June after it failed to meet a default notice from July 2009.
Hanmer Springs Thermal Resort Apartments Limited (HSTRAL) owed SCF NZ$1.3 million plus accruing interest at 21 June 2010, according to Companies Office documents lodged by solicitor Crispin Vinnell of law firm Anthony Harper on behalf of SCF.
HSTRAL's sole director and majority owner is listed as Roy Hunter, who was bankrupted in January 2010.
"The mortgagee is now in possession of part of the mortgaged property being the properties at 5, 7, 9 and 9A Mt Charon Place, Hanmer Springs," the documents say, adding that SCF was proposing to sell the land.
Fourth, third and second mortgagee in Greymouth
In a separate case, documents show SCF was the fourth mortgagee on a number of sections owned by Clare Park Ltd, a company now in liquidation, directed and formerly owned by Hunter.
Clare Park was put into liquidation by the High Court on behalf of Inland Revenue on March 29, 2010. It owned five properties in Greymouth and one in Christchurch, according to liquidation documents from Keiran Horne and David Chrichton of HFK Chartered Accountants.
Clare Park was originally called Roy Hunter Investments Limited, set up and owned by Roy Hunter in July 2006, according to Companies Office documents.
It changed its name in September 2006 before its shareholding changed on September 13 that year from Hunter to Strathallan Nominee Company Limited, which is directed by and partly owned by former South Canterbury Finance director and Timaru lawyer Ed Sullivan.
A spokesman for Strathallan, Greg O'Brien, said it was a bare trustee company, and would never hold any shares in its own right. He would not disclose who now owned the Clare Park shares. However, despite the change in shareholder documentation in 2006, Roy Hunter remained the sole director of Clare Park, according to companies office documents.
Liquidators' documents for Clare Park list South Canterbury Finance as fourth mortgagee for two of the Greymouth properties, third mortgagee for another two and second mortgagee for the fifth Greymouth property. SCF did not have any security over the Christchurch property.
The five Greymouth properties, all being sold as mortgagee sales, had a combined book value of NZ$550,000 at the end of March. It was not clear whether any of the properties had been sold, but a spokesman for the first mortgagee over two of the properties, Ken McKenzie, told interest.co.nz he understood they were all still for sale. McKenzie is a lawyer at RSM Law, where Ed Sullivan is one of the partners.
SCF as fourth mortgagee - 5 and 7 Fernbrook Close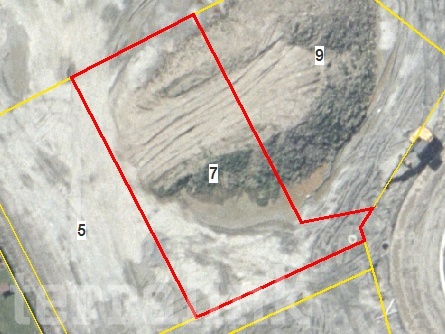 South Canterbury Finance was listed as fourth mortgagee for sections at 5 and 7 Fernbrook Close, Greymouth.
Liquidator Keiran Horne said SCF had failed to provide them documentation for their security over the properties.
South Canterbury Finance said the company did not discuss individual borrowing files, but said the Clare Park loan was "some makeshift support and security".
"Our debt was something else, and that was additional security provided," SCF spokesman Ian Thompson said, although he would not say what the debt was.
The first mortgagee over the sections was Face Finance, owned 75% by SCF and fully funded by its majority owner. Like SCF, Face was put into receivership on August 31 this year.
Face had not provided the liquidators with a settlement figure for its security over the two properties.
Sullivan firm is second mortgagee
The second mortgagee was Raymond Sullivan Solicitors Nominee Company limited, run former South Canterbury Finance director Ed Sullivan's law practice, RSM Law.
Raymond Sullivan had loaned one mortgage that was collaterally secured over four of the Greymouth properties, according to Ken McKenzie. It was the first mortgagee over 6 Ridgeway Drive and 8 Fernbrook Close. The liquidators' report listed its collateral security as NZ$415,880.
The third mortgagee ahead of SCF over 5 and 7 Fernbrook Close was NZHB Commercial Limited, now called Commercial Deposits Limited and formerly owned by New Zealand Home Bonds Limited until June 10 this year.
The liquidators' report listed NZHB's collateral security as NZ$345,741 for all of the properties owned by Clare Park.
SCF third mortgagee
The liquidators list Raymond Sullivan Solicitors Nominee Company as the first mortgagee over 6 Ridgeway Drive and 8 Fernbrook Close. It was also second mortgagee for 5 and 7 Fernbrook Close.
As a solicitors nominee company, it can only lend a first mortgage up to 66% of a property's value at the time of lending, although there were circumstances in which it could also be a second mortgagee, a spokesman said.
"We've got first registered mortgages [over Clare Park properties] and my understanding of it is it's just the one debt that's collaterally secured over them all," McKenzie said.
"We don't do second mortgages unless it was just as a collateral tail-end-charlie top-up for another - a prime debt being secured by a first mortgage on another one."
"That would be the only way we'd do a second [mortgage].
"If we gave you a mortgage, your prime security might be your house, for example. But just by way of collateral security you gave us a second [mortgage] over your bach, we'd take that. But the prime security's always a first mortgage."
Getting them sold
The Raymond Sullivan Solicitors Nominee Company spokesman said they were trying to get the properties sold through mortgagee sales.
"So [it's] very slow. But [they've] been on the market for some time, and being marketed still," McKenzie said.
The values of the properties in March this year were down from when the mortgages were lent, which is why it appeared they were owed more than 66% of the properties' value.
"The market generally is very dead at the moment. But that's not rocket science. In the scheme of things it's just a few sections that we're trying to get rid of."
A listing earlier this year by Property Brokers for the properties came with the description:
Our South Canterbury investor is prepared to heavily discount six residential sections in this quality subdivision. Ignore original list prices. Note: An Engineers Report over all sections is available. Enquire for an information pack. 6 Ridgeway Drive 664 sqm 30 Ridgeway Drive 540 sqm 4 Fernbrook Close 737 sqm
Clare Park received money from another Hunter company, Parnwell Holdings Limited
Among other companies, Hunter was also a director of Parnwell Holdings Limited, which is now struck off the companies register.
Parnwell was a property development company which was placed in liquidation in July 2009 on behalf of creditor Foley Design Limited, who had provided design services to the company for the proposed development of 8 and 10 Harrogate Street, according to liquidation documents.
Australian-based finance company, Liberty Financial Limited held a first mortgage over the Harrogate Street properties.
"Liberty took possession of the properties and they were subsequently sold by way of mortgagee sale on 15 May 2009. Liberty have confirmed there was a shortfall owing to them of NZ$105,105.93," liquidators Malcolm Hollis and Rhys Cain of PricewaterhouseCoopers say in their first liquidators' report in August 2009.
In their second report, the liquidators say they met with Hunter and former co-director Neil Clark to discuss a number of issues around the liquidation.
"We have been investigating who has received the rent for both properties at 8 & 10 Harrogate Street, Hanmer up until the sale of these properties on 15 May 2009. Our investigations however have been a little hampered by the lack of record keeping," the liquidators say.
In their final report in July, the liquidators say: "A related company, Clare Park Limited ("Clare Park"), has been placed into liquidation since our last six monthly report. Clare Park received advances from the Company, however we have confirmed that the possibility of a distribution by the liquidators of Clare Park to its unsecured creditors is also unlikely".
Attempts to contact Roy Hunter were unsuccessful.
The insolvency register lists Hunter as being bankrupted on January 25, 2010 by the Christchurch High Court. It lists his address as being 8 Harrogate Street in Hanmer Springs - the same address as one of the properties developed by Parnwell.