Bayleys launches coastal property push at 'Riviera of the South Island'; sees 'return to family values'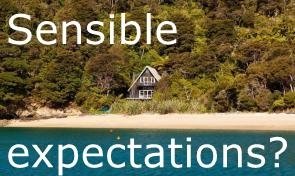 With summer just around the corner and residential real estate sales in the doldrums, Bayleys Real Estate is launching what it labels the biggest auction campaign for coastal property and homes in New Zealand this year.
Bayleys says the big push will involve properties at the top of the South Island. It will hold auctions at Kaiteriteri, which it refers to as the "Riviera of the South Island" on November 21, with a second selection of coastal auctions to be held in Blenheim on November 28.
Both auctions will feature completed homes and bare sections.
The auctions come at a time of weak residential property sales volumes. The most recent Real Estate Institute of New Zealand (REINZ) figures, for September, showed the median national house price flat at NZ$350,000. Sales volumes were 4,323 in September, up from 4,287 in August, but down 33% from 6,464 in September a year ago. This was the lowest September sales figures since the REINZ started collecting the data in 1992.
There's also a major build up of inventory in some parts of the country. Data from realestate.co.nz shows there's 325 weeks of inventory in the Coromandel based on current listings to the average sales rate of the the last three months.
Bayleys says its South Island "seaside bulk lot" residential property auctions follow others over the past 18 months at Maunganui in Northland, Whisper Cove at Snells Beach north of Auckland and Marlborough.
Roar Kristoffersen, from Bayleys' Motueka office, said the majority of those who had shown buying interest in the properties being auctioned were "fully comfortable" with the prospect of little capital gain on the homes over the short to medium term.
"The comments coming through to us are that the holiday homes will be bought purely as that – holiday homes – and not investment units purchased with the intention of making a 'quick buck' over a couple of years," Kristoffersen said.
"This pattern indicates two very strong societal shifts. Firstly, a move back toward family values, where summers at the beach with the children and extended families are once again in vogue. And secondly, that prospective buyers are acutely aware of the wider economy and the effects this is having on future pricing levels for leisure properties," he added.
"Conversely, many of the vendors with properties in these auctions have been taking on board market commentary very closely and, as a result, have indicated they have sensible price expectations."