PM John Key says govt may focus on savings in budget 2011; Might give NZ more options for currency control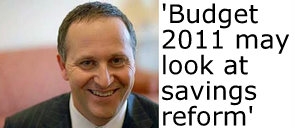 By Alex Tarrant
Prime Minister John Key has hinted the government may do something to lift New Zealand's savings rate in the 2011 Budget, due in May next year.
Key was talking to journalists in Wellington about the high New Zealand dollar against a falling US dollar, and the government's stance that it will not intervene to push the currency down.
"Wander over to the Terrace and go and ask the Reserve Bank governor [about how the government can address the currency problem]," Key said.
"What he'll tell you is in the end, the best thing the government can do is one, lift the overall competitiveness and productivity of the economy. Two, take the pressure off government spending, so that there is less pressure on him as Reserve Bank governor to compensate through monetary policy, and thirdly not to pretend we have an answer in a freely floating exchange rate when we don't," he said.
"If you go and have a look at countries like Singapore, their options are there because they are very large savers. New Zealand's not, and that's one of the issues we may well address in Budget 2011, for that reason – that we at the moment have more limited options."
'Be more like Singapore'
The current currency debate in New Zealand has included calls for controls similar to those imposed by the Singaporean government on its currency. See more here from New Zealand Manufacturers and Exporters Associaton CEO John Walley, and also more here.
The debate has been heating up over recent months, with the Labour Party suggesting a "dirty float" of the New Zealand dollar where the Reserve Bank would intervene more frequently in the currency markets to control the currency.
However Prime Minister John Key has repeatedly said his government does not agree with such intervention, citing failed moves by other central banks around the world. Key reiterated his stance this morning, when he told journalists he had been in discussion with RBNZ governor Alan Bollard about the New Zealand dollar.
Focus on savings
The National-led government created a Savings Working Group in August this year to look at issues around increasing New Zealand's savings rate, following similar groups looking at tax, welfare, and urban design and infrastructure policies.
In October the savings group chair, Kerry McDonald, said the earliest gains in national savings could be made by government reducing spending and reversing its deficit. McDonald will talk to journalists again this Friday on the progress of the group.
English - 'We'd need US$200 billion in the bank to be able to fix the exchange rate'
Meanwhile, in question time on Tuesday afternoon, Finance Minister Bill English said it would be "pretty hard" to fix the exchange rate without US$200 billion "in the bank".
English was answering a question from Labour Finance spokesman David Cunliffe on the government's plans for the high New Zealand dollar.
"There are a couple of countries who fix their exchange rates – they have two characteristics," English said.
"Several hundred billion US [dollars] in the bank - well the previous Labour government made very sure we didn't have several hundred billion, in fact we've got a hundred and fifty billion in debt to overseas lenders.
"The other thing is those countries tend not to be democracies," he said.
"Without 200 billion [US dollars] in the bank it's actually pretty hard to fix your exchange rate."
(Updates with English's comments in Question Time, links, more on Singapore debate, Savings focus)
No chart with that title exists.