South Canterbury Finance receiver set to reveal plans for Dairy Holdings stake; finance book sale at least 6 months away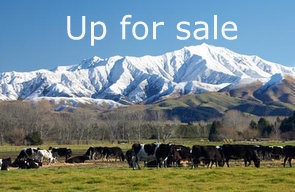 By Gareth Vaughan
South Canterbury Finance's receiver McGrathNicol will announce its plans for a 33.5% stake in New Zealand's biggest dairy farming group, Dairy Holdings, within about a week as it gets sales processes for the failed finance company's Helicopters NZ and Scales Corporation businesses underway.
McGrathNicol managing partner Kerryn Downey told interest.co.nz his firm was in talks with an investment bank about working with Murray & Company, which is looking to sell a combined 28.8% stake in the dairy farming group on behalf of three US shareholders and Christchurch businessman Humphry Rolleston.
Downey said McGrathNicol would make an announcement within about a week regarding its plans for the SCF Dairy Holdings stake. The group owns 72 farms in Canterbury, Southland and Otago with 43,439 cows, making it the single largest privately owned supplier to Fonterra. Its website shows it is forecast to produce 15.1 million kgs of milk solids in the current season.
SCF bought the Dairy Holdings stake from its majority owner Allan Hubbard last year for NZ$75.7 million. In a swathe of correspondence recently released by the Reserve Bank relating to SCF, the central bank suggested SCF had paid almost twice as much for the stake as it was worth.
A Reserve Bank email from September last year also noted Dairy Holdings had NZ$340 million of bank debt. Downey said there was no pressure from the banks to sell the business.
The attempt to sell a major stake in Dairy Holdings comes as Graeme Hart's Carter Holt Harvey struggles to sell 29 North Island dairy farms and as the Serious Fraud Office probes Hong Kong-based Natural Dairy, which has lodged an offer conditional on Overseas Investment Office approval for 16 central North Island Crafar dairy farms.
The Reserve Bank said last month that farm prices may need to continue falling to see "substantial" buying interest reemerge and warned further falls could see some dairy farmers, who took on debt to expand during the boom times, end up in negative equity.
Co-operation continues with SFO
Meanwhile, Downey said McGrathNicol staff had met with Serious Fraud Office staff again last week. The latter are investigating SCF related party loans.
"We are co-operating with them and providing them with information," said Downey.
In October, after the SFO announced its investigation, Downey told interest.co.nz that McGrathNicol had shared information with the SFO that was "relates to some monies that were directed to Hubbard for investment with specific instructions as to where the monies were to be invested and they were not invested that way."
McGrathNicol was appointed SCF receiver on August 31 when a waiver to a breach of the financier's trust deed expired and it failed to secure up to NZ$300 million of much needed new equity. The receivership triggered a NZ$1.6 billion payout to 35,000 SCF investors under the Crown retail deposit guarantee scheme and a NZ$175 million Crown loan to McGrathNicol so it could repay SCF's prior charge holders including the George Kerr chaired Pyne Gould Corporation subsidiary Torchlight.
Downey said McGrathNicol's plans to sell SCF's other assets were progressing. An initial "teaser" pre-sale document had been sent to about 40 or 50 parties with "very significant" overseas interest in the business.
"I would expect that we will be looking at indicative bids (for Helicopters NZ) early in the first quarter of next year," Downey said.
Helicopters describes itself as New Zealand's biggest helicopter company with more than 45 helicopters with extensive operational capability and experience, covering most facets of helicopter services.
Plans to sell SCF's 80% of Scales, which is the country's biggest apple grower and exporter but also has shipping logistics and pet food ingredients businesses, cool stores, industrial parks, bulk liquid storage and processing, and insurance operations, were also progressing. Downey said McGrathNicol also hoped to get to indicative bids for the Scales stake in the first quarter of 2011. That sale was "a tad more complicated" than Helicopters NZ though because, under the Takeovers Code, a buyer for SCF's stake would need to same offer to Scales' about 500 other shareholders.
A letter from SCF's lawyers Bell Gully, released as part of the Reserve Bank dump of its SCF related correspondence, shows when Hubbard tipped the two businesses into SCF earlier this year, Helicopters was valued at NZ$90 million and a 64% stake in Scales at NZ$72.25 million.
Sale of 'Good Bank' and 'Bad Bank' further off
Meanwhile, Downey said the planned sale of SCF's core finance business, consisting of what former CEO Sandy Maier used to describe as its "Good Bank" of performing loans and "Bad Bank" of toxic loans, would be a slower process.
"The pre-sale due diligence exercise is much, much more complex given the large number of loans," Downey said.
Vendor due diligence was being done on the loans by SCF staff and McGrathNicol staff in Australia. A "briefing package" had been sent to between 20 and 30 potential buyers about two weeks ago to ascertain interest in specific loan books or the whole of the Good Bank.
"We don't expect to complete a sale of all, or parts, of the Good Bank and Bad Bank until probably late in the second quarter, the May-June period (of 2011)," Downey said.
"It's about a six month process."
McGrathNicol is being advised by Goldman Sachs on the sale of Helicopters and the Scales stake and Deutsche Bank on the sale of the core finance operations.