SOE partial privatisations could help narrow the GDP per capita gap with Australia, says Goldman Sachs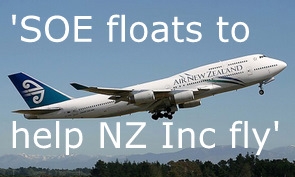 By Gareth Vaughan
The Government's plan to sell minority stakes in State Owned Enterprises (SOEs) could help halve the gap between New Zealand and Australia's Gross Domestic Product (GDP) per capita, say economists and analysts from Goldman Sachs.
In a report entitled Mixed Asset Ownership: Benefits Well Beyond Public Debt Reduction, Goldman's Philip Borkin, Bernard Doyle, Marcus Curley and Matthew Henry also suggest the Government' would be 39%, or NZ$306 million, better off financially if the proposed sales go ahead.
The National-led government has asked Treasury to advise it on the merits of a partial sale of Mighty River Power, Meridian Energy, Genesis Energy and Solid Energy, which it would consider if re-elected in November election. The Government's also interested in the possibility of selling down its 76% stake in Air New Zealand, representing an overall potential asset sale worth between NZ$8 billion and NZ$10 billion. For the three electricity generators and retailers and coal miner Solid Energy, the Government envisages an Air NZ style sharemarket listed ownership structure with the state retaining at least 51% ownership.
The Goldman analysts estimate New Zealand's GDP per capita on a Purchasing Power Parity (PPP) basis is currently about 73% that of Australia's, with Australia ranked sixth in the Organisation of Economic Co-operation and Development (OECD) in terms of economic performance compared with New Zealand's 22nd.
"While a number of factors may explain the underperformance of NZ relative to Australia, we believe capital market development, or the lack there of in New Zealand, has played an important role," the Goldman analysts argue. Their comments about catching Australia come after the Government set up the 2025 Taskforce, under former Reserve Bank governor and ex-National Party leader Don Brash, which has the aim of finding ways to help close the income gap with Australia by 2025.
Stronger sharemarket could 'halve the gap with Australia'
Using stock market capitalisation to GDP as a proxy for capital market development, Goldman says the relative differences in stock market capitalisation between the two countries explains some of the differences in GDP per capita.
"We estimate that if NZ's stock market capitalisation to GDP was the same as Australia's, that is, around 90% rather than 29% of GDP, then the gap in GDP per capita between the two countries would be around 15 percentage points narrower. In other words, and all else being equal, the gap between NZ and Australia's GDP per capital would be closer by around half."
They acknowledge, however, that this doesn't address causality and say there are bound to be a number of other factors that explain the difference in relative economic performance.
"Hence this result should probably be used for illustrative purposes only. Nevertheless, we believe it is still interesting and warrants further initiatives to support NZ capital market development."
The Goldman team suggests stock market capitalisation has a positive relationship with private non-residential investment. On top of this, a 10% lift in stock market capitalisation relative to GDP is found to correspond to about an 8% increase in business investment, they suggest.
With three quarters of household assets tied up in housing, SOE floats could be a major boost to direct equity ownership, currently sitting at just 3%.
"While housing plays an important role in sheltering the population, it provides little in the way of flow-on benefits for the economy with regard to productivity and growth," say the Goldman analysts. "Increased participation in equities, or financial investments more generally, would provide a number of businesses with much needed capital to employ and invest." Also see Double Shot interview with Bernard Doyle.
Net impact on Govt's accounts 'positive' to the tune of NZ$306 million
The Goldman analysts also crunch the numbers on the financial impact on the Government's books of a the possible SOE sell down. They note the median dividend payment over the past five years from the four electricity companies, Solid Energy and Air NZ, has been about NZ$500 million representing about 1% of total Crown revenue. Median corporate tax paid over the last five years by the companies is NZ$287 million.
So if the Government sold its stakes down to 51% and dividend flows stayed near the median from the past five years, dividends received would drop from NZ$507 million to about NZ$267 million, meaning a loss in Crown revenue of about NZ$240 million.
However, an asset sell down of up to NZ$10 billion would put "something of a dent" in the NZ$54 billion worth of gross sovereign issued debt, thus reducing debt servicing costs. Using a government bond yield of 6%, the Government could potentially save about NZ$540 million annually if say, NZ$9 billion in proceeds were used to repay debt. Furthermore, financial efficiency gains from a mixed ownership structure could boost the SOEs net profit after tax by about 20% with 80% of this stemming from stronger cost disciplines, they argue.
The Goldman team also analysises the financial benefits  from the previous privatlisation of Air NZ, Auckland International Airport, Telecom and Wellington International Airport, plus the sale of local government shareholdings in Port of Tauranga and Ports of Auckland. This research compared the average financial performance for each company three years before privatisation and three years after privatisation revealing an average increase in earnings before tax and interest (EBIT) margins after divestiture of 5%, from 31% to 36%.
In terms of tax income, they suggest - with a 70-30 local-foreign ownership split - a drop in tax revenue of NZ$104 million.
"Summing these benefits and costs together, we conclude that the Government stands to benefit to the tune of NZ$306 million. In other words, the Government would be 39% better off financially than the status quo."
Free up money to invest in schools, hospitals and even 'distressed dairy farms'
The partial SOE sell down could free up capital for the Government to use for its core functions, the analysts argue.
"That is, investing in schools, hospitals and other infrastructure. The Prime Minister himself has stated this as a key reason. However, we feel the argument goes even beyond this. All else being equal, it frees up capital that could be used to invest in 'more strategic assets.' For example, the Government could have had spare capital to invest in distressed dairy farms."
That would mean foreign ownership of NZ land might not be the "headline grabber" that it is. Other natural or strategic assets the Government could instead own include forestry or mineral resources or ports.
Meanwhile, some of the criticism of state asset sales from the 1980s and 1990s is justified, the analysts argue, given a number of individuals benefited "massively" from the transactions.
"New Zealand, as the seller, was arguable naive in its approach. In addition, the speed at which some transactions occured meant that appropriate regulation and competition measures were not necessarily in place at the time leading to some difficulties and ongoing problems - Telecom and NZ Rail potentially fit into this category."
The difference this time around is the Government plans to retain at least 51% ownership in each business meaning it will have effective control over all major strategic decisions and local investors will be "at the front of the queue" to buy into the SOEs.
"We shouldn't also forget that if concerns over foreign ownership do exist, then the Government has the ability to legislate to ensure that no one entity - excluding it - could hold a certain portion of shares," says the Goldman team. "This is something that Australia has done in the past, with its 'Four Pillars' legislation of its major banks the best example."
Facts & figures
The report by Borkin, Doyle, Curley and Henry also throws up some fascinating facts and figures. These include:
- OECD governments, on average, own 57% of their SOEs with the German state only fully owning 28% of its SOEs.
- More than half of Norway's stock market capitalisation is made up of SOEs compared with just 2% of New Zealand's.
- New Zealand, where privatisations between 1988 and 1999 raised proceeds of more than NZ$19 billion, was unique in its preference for trade sales. Some 60% of  assets were sold via trade sales compared with the OECD average of just 20%. Just 2% of NZ sales were via public floats, versus 62% across the OECD.
- About 60% by value of NZ's public assets sold between 1988 and 1999 went to international rather than domestic buyers.
- New Zealand's net equity liabilities represent 4% of the country's net foreign liabilities with 96% stemming from households borrowing through banks to fund consumption and housing investment.
- Our stock market capitalisation to GDP of just 29%, down from 56% 15 years ago, lumps us in with two types of economies. Either emerging ones like Colombia and Turkey, or advanced economies in a "downward spiral" like Ireland and Greece.
- Average daily turnover on our sharemarket has "oscillated around a flat trend" for 15 years, and at current levels of NZ$60 million per day, is the same as in 1997. In contrast, Australia's daily trading has risen from an average of $1 billion per day in 1997 to $5 billion daily now.
(Update attachs the actual Goldman Sachs report).