Double Shot Interview: Mike O'Kane from NZ Mint in our monthly precious metals roundup; Gold's perfect storm of inflation fears, flight to safety; Silver's big move
Bernard Hickey talks in a Double Shot interview with NZ Mint's Head of Bullion Mike O'Kane about precious metals in their regular monthly roundup on precious metals. See last month's roundup here.
O'Kane talks about why gold is hitting fresh record highs and its connection to the oil price.
He talks about how the flight to safety in financial markets as the North African unrest and European financial turmoil drives investors towards harder assets such as gold.
Silver's outperformance of gold in the last month is also discussed and whether it is sustainable.
Some commentators expect the gold to silver ratio improve to 15 to 1 from its current 36 to 1, but O'Kane points out the average ratio over the last 100 years has been around 45 to 1, indicating the rise in silver may be overdone.
See the chart below.
Concerns about inflation are also contributing to demand, as is the prospect of tight supply as gold miners in South Africa strike for higher pay.
O'Kane also talks about the history of the Bunker-Hunt brothers, who were jailed in the 1970s for trying to corner the silver market.
It's topical given recent legal action against JP Morgan over its activities in the silver market.
Here's the chart showing the ratio of the gold to silver price over the last 15 years.
It has ranged between 40 to 1 to 80 to 1, but has just broken down through the bottom of that range.
Gold to Silver ratio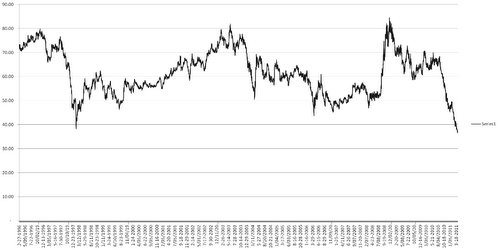 See our interactive chart below