Harawira calls for 1% financial transaction 'Hone Heke' tax to replace GST, make the rich pay their "fair share" of tax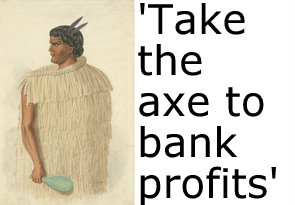 By Alex Tarrant
Former Maori Party MP Hone Harawira, who launched his new Mana Party in the weekend, is calling for a financial transaction tax to replace GST.
The 1% financial transactions tax, which is being considered along with a more comprehensive capital gains tax, death duties and asset taxes, would mean the rich would "pay their fair share," Audrey Young reported in The Herald.
Harawira dubbed the 'Robin Hood' tax as a 'Hone Heke' tax.
The out-of-Parliament Alliance Party immediately announced support for Harawira's call for the financial transaction tax, saying it had been calling for one along with the Green Party and Maori Party.
The Green Party says it would support an international Tobin Tax if other economies did so, but hasn't yet formed a firm policy on a local financial transactions tax.
"After all, a worldwide movement to tax financial transactions Robin Hood style is gaining momentum, particularly in Europe. US economist Jeffrey Sachs last year endorsed the idea, as have other eminent economists and anti-capitalist campaigners," Alliance co-leader Kay Murray said.
A group called The Tax Justice Campaign, which advocates for the removal of GST from fruit and vegetables, also supported Harawira's call.
"The "Hone Heke" branding of a tax that targets the speculators, banks and big corporates might catch on," Tax Justice campaign coordinator Vaughan Gunson said.
"We do need to cut these people and organisations down to size. They're not paying the tax they should be. Speculators in New Zealand's financial markets currently pay no tax on their profiteering. It's a gross injustice," Gunson said.
"With the money we take off the mega-wealthy we could remove GST off food. This would provide immediate relief to people struggling to cope with the rising cost of living," he said.
"And we could fund the re-building of Christchurch, without slashing social spending, which is what John Key's government is doing, and will continue to do."
Here's Prime Minister John Key's reaction to Harawira's comments:
(Updated with PM John Key's reaction, line on Green Party policy.)