NZ well placed to deal with global market fallout having met S&P demands, although outcome unclear if US falls back into recession, PM Key says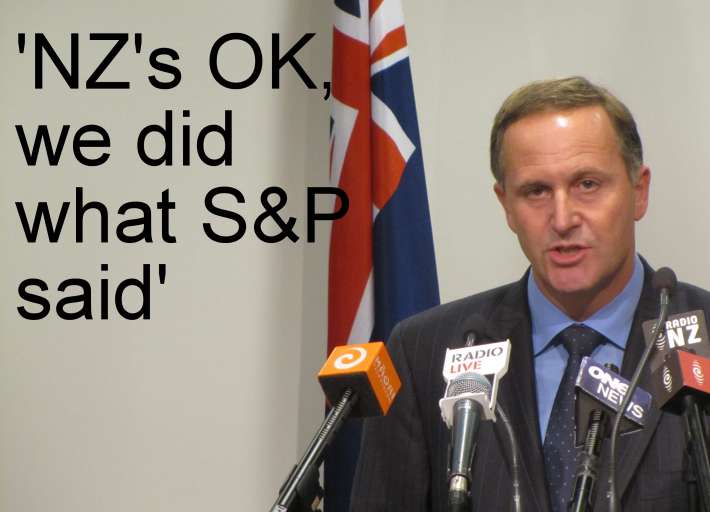 New Zealand's economy could be affected by the latest round of uncertainty in international financial markets, although our domestic economy is in much better shape than its US and European peers, with the government having met the demands of international ratings agencies on spending and debt, Prime Minister John Key says.
Global markets would be volatile over the medium-term, meaning New Zealand's connections to Australia and China were increasingly important for the New Zealand economy, Key said. The government was also worried about the high exchange rate, but as it could not directly control the currency, policies to help companies become more competitive in the global market-place were important, he said.
'We did what S&P told us to do'
Speaking on TVNZ's Breakfast programme, Key said what was playing out in the United States, which had its sovereign credit rating last week cut from AAA to AA+ by Standard & Poor's, the same as New Zealand's, was serious for the US.
"If you go and have a look at the comments by the S&P rating agency, what they're actually saying is, they're saying to America: 'Look, we're not saying that you won't achieve the US$2.1 trillion of cuts that the Congress and the Senate passed'. What they're saying is: 'You're not doing enough. In fact you need to do twice as much'," Key said.
"What that means is the United States will need to change, because when you're on negative outlook, what the rating agencies are saying: you've got two or three years to get your books in order," he said.
The New Zealand government was in a similar position through the period of Budget 2010, and Budget 2011.
"We were very conscious of what the rating agencies thought," Key said.
"People at the time I remember were saying, 'who cares what the rating agencies think'. But in the end, they're the barometer, the flag if you like, about whether to invest or not invest. For a small country like New Zealand, we couldn't afford to be exposed," he said.
The political tensions in Congress had led to a "watered down" package from the US government which had led to the downgrade.
"In the end, essentially what American politicians have done is, in infamous American-speak, kicked the can along the road," Key said.
'Bad if the US goes backwards'
New Zealand would be affected, although "the good news part of the story" was New Zealand's economy was in much better shape.
"If I think back to when we came into office back end of 2008, it was very difficult for the New Zealand government, or the New Zealand banks to fund themselves, and to get that money that they lend to 'mum and dad' in the early part of 2009," Key said.
"Now the Minister of Finance and Treasury have been very conservative in the last few years – in fact we've borrowed a lot more than we've needed at good low rates, so we're well positioned there. We've fixed all the issues that the ratings agencies were concerned about from a government point of view – we're back into surplus in a few years, our debt's considerably lower," he said.
What happened to interest and exchange rate markets, commodity prices and stock exchanges over the next few months would be interesting, he said.
"One school of thought is that this eventually washes through, everyone accepts it on that position, and the US works to get its house in order and Europe's got to do the same. It's not just the United States. That's one option, in which case we'll probably just carry on," Key said.
"The worse scenario for us though is if the US goes back into some sort of recession, because it's been quite weak. Its unemployment's been going up, not down  - at 9.2%. So I don't think it's clear-cut what happens to New Zealand from that perspective," he said.
"But what is good is Australia's our biggest market, China's number two, so we have other markets than just the US, and structurally we're in much better shape. And we actually have some domestic events that will help us – Rugby World Cup will be stimulatory, rebuild of Christchurch will help."
'Medium-term will be volatile'
Meanwhile, Key took the unusual step to talk to Radio New Zealand about the global fallout. Key had regularly turned down interview requests at the state-owned broadcaster.
"It'll be a volatile period in the medium term. You've got typical summer holiday breaks happening in the United States and in Europe at the moment, so that means the markets have less liquidity than they normally do, and so that adds to the volatility, let alone the decision by Standard & Poor's to downgrade the United States and continue to have them on negative outlook," Key said in an interview aired on Morning Report this morning.
The government was worried about the high New Zealand dollar against its US counterpart as there was a fairly direct correlation between the exchange rate and growth in New Zealand.
"So if we were to have very high levels of the New Zealand-US exchange rate for an extended period of time, that would have some impact, we believe, on growth," Key said.
"Now, one has to put all of that into a broader context of saying that Australia's still our largest market, and for the most part we're competitive there against Australia. High commodity prices help offset some of that appreciation of the NZ-US exchange rate. But nevertheless from the government's point of view we're always conscious of that," he said.
"We may not be able to control the level of the exchange rate, but what we can do is try and look at other parts of the economic picture that affects those companies, and look to take pressure off in that way. That includes everything from reform of the labour market right through to investment in infrastructure, generally trying to lift productivity."
New Zealand was "unquestionably" in much better shape than many other countries.
"We'll be back in surplus within two to three years, our overall levels of government debt are still low, notwithstanding that we aim to pay a significant burden because of the Christchurch earthquake, our unemployment levels are low relative to the developed world. So on one level I think we're in quite good shape," Key said.
"Secondly what I'd say is there's absolutely no room for the government to be running excessive levels of debt," he said.
"Without doubt" what happened to the rest of the world impacted on New Zealand.
"New Zealand is an export nation, we're an outward-orientated nation, and in the end if global demand is reduced in the US and in Europe, then that impacts our trading partners, in the form of Australia and China and the likes, and it impacts on New Zealand directly," Key said.
"We just can't ignore the fact that the United States is still around about a third of the global economy – it's a US$15 trillion economy, so it's large in nature – and it's borrowing a lot on the international marketplace," he said.
"So what the US does, matters, and this shift by Standard & Poor's is at one level quite a serious move because it's indicating that the US is no longer as sound an investment as it's previously been. As you can see, by the fact that Standard & Poor's have kept America on negative outlook, there's a very clear message there that they need to get their books in order."
(Updates with Radio NZ comments)