Govt on target for NZ$39 mln Rugby World Cup loss, although 200,000 tickets still must be sold. Your view?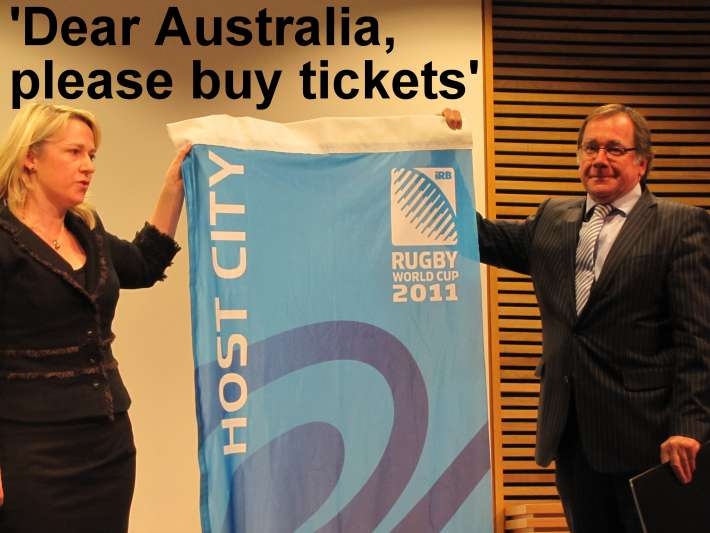 The government is expecting it will meet its forecast for a NZ$39 million loss from the Rugby World Cup as long as it sells a further 200,000 tickets worth NZ$30.5 million by the end of the tournament.
Rugby World Cup Minister Murray McCully and Rugby World Cup 2011 chief operating officer Therese Walsh told media in Parliament today that the extra 200,000 tickets to be sold to meet the target should be snapped up mainly by Australians and New Zealanders, who typically made late decisions to purchase tickets.
The government set a target to make NZ$268.5 million worth of revenue from the tournament, with the full capacity of ticket sales going out by a further NZ$30 million if all matches were to be sell-outs.
Up until now, ticket sales were generally in the order of NZ$1 million every three or four days, meaning sales would have to be ramped up in the final few weeks before the tournament starts on September 9. Walsh said the "run-rate" for sales had begun to increase, and was confident the target would be met.
Rugby World Cup CEO Martin Snedden and McCully are both due in Australia this week in efforts to market the tournament to Trans-Tasman fans.
Many late sales to Australian fans, or expats living in Australia, would hinge on how well their respective teams fare during the tournament, Walsh said.
McCully said the government's NZ$39 million loss would be mitigated by increased tax receipts and levels of business for New Zealand companies.
See Bernard Hickey's piece arguing the New Zealand government should renegotiate its contract with the IRB following the Christchurch earthquakes.