Fairfax Media says planning for share market float of 30-35% of Trade Me on NZX and potentially on ASX
By Bernard Hickey
Fairfax Media has announced plans for a share market float of between 30-35% of Trade Me on the NZX, and potentially on the Australian Stock Exchange.
Fairfax Media bought Trade Me in 2006 for NZ$700 million and analysts have put its value at around NZ$1.4 billion. A float of a third to raise almost NZ$500 million would be the biggest stock market listing in New Zealand since Vector sold NZ$593 million worth of shares in a float in 2005.
The previous biggest stock market float was Contact Energy for NZ$1.1 billion in 1999.
A Trade Me float would be a major boost for the NZX, given its customer base of almost 3 million people and the potential for a large number of new stock market investors.
Former Fairfax Media CEO David Kirk, who bought Trade Me in 2006 when CEO, has agreed to be the non-executive chairman of Trade Me and UBS had been appointed sole lead manager of the initial public offering (IPO).
Trade Me founder Sam Morgan is on the board of Fairfax Media and is expected to be on the board of Trade Me once floated.
Fairfax Media said it would use the unspecified proceeds from an IPO to repay debt and provide the flexibility to increase dividends. The announcement came as Fairfax Media under new CEO Greg Hywood announced an A$400.9 million loss for the year, driven by a A$650.7 million writedown of its newspaper assets. See more here in a full release.
Fairfax CEO Greg Hywood said the Trade Me IPO was designed to give Fairfax a more flexible corporate structure and maximise shareholder value
"Importantly, Fairfax will continue to benefit from the strong growth profile of Trade Me through a shareholding of at least 65%," he said.
"Trade Me is New Zealand's largest auctions and classifieds business and its growth within the Fairfax portfolio has been dramatic - driven by its community of 2.8 million New Zealand members. The company is now of sufficient scale to operate as a standalone, separately listed company and we believe it will benefit from the increased public profile, independent access to capital, and opportunity for direct investment by New Zealand investors," he said.
Fairfax Media said the timing of the IPO had not been finalised.
A full briefing document for analysts showed Fairfax Media's earnings before interest, tax, depreciation and amortisation has more than trebled to over NZ$90 million since it was acquired by Fairfax Media in 2006 for NZ$700 million. Analysts have estimated it may now be worth more than NZ$1 billion.
Most of its revenue comes from listing fees for general items such as clothes and electronics. About a quarter comes from listing fees for cars and property, while the rest comes from jobs listing fees, advertising and 'other' items.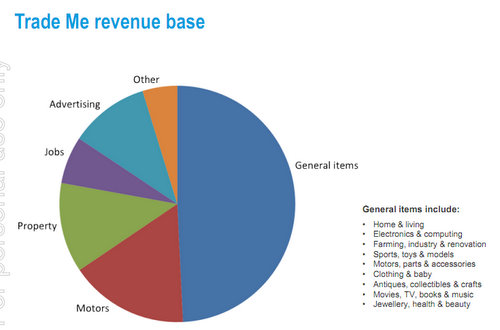 Trade Me also owns FindSomeone, Holiday Houses and Treat Me.
Here's more detail in a fact sheet provided by Trade Me
The websites

-     Trade Me: Core marketplace of online auctions & classifieds

-     Trade Me Motors: Vehicle auctions & classifieds

-     Trade Me Property: Real estate classifieds, for sale & for rent

-     Trade Me Jobs: Employment classifieds

-     Treat Me: Group-buying

-     FindSomeone: Online dating

-     Travelbug: Hotel & motel booking

-     BookIt: Travel & tourism booking engine

-     Holiday Houses: Holiday home rentals

-     Old Friends: School & workplace networking

Key statistics: Trade Me

-     2.8+ million registered members

-     1m members logged in over the past month, 1.8m logged in over the past 3 months

-     In 2010, more than 1 million people bought or sold something on Trade Me

-     1.7+ million concurrent listings. Around half of all listings are brand new.

-     8.5+ million unique browsers/month *

-     700,000+ visitors each day *

-     2.5 million emails sent per day

-     25,000 message board posts daily

* Traffic and visitor stats: Nielsen Online

Trade Me offices & people

-     200 staff

-     3 broad teams: Tech, Operations, Commercial

-     Head office is in Cable St, Wellington, also an office on Parnell Rd, Auckland

-     CEO is Jon Macdonald

-     24/7/365 customer service team handling 11,000 emails & 3,000 phone calls per week

Trust & safety

-     Focus on protecting members from illegal or unwanted activity.

-     Active government and IP liaison programme, working with over 25 agencies & 600+ brands

-     24/7/365 policing team

-     Direct energy into 4 areas: Prevention, detection, investigation, prosecution

-     Partner with NZ Police, Customs and other agencies to deliver a safe NZ internet

TheTrade Me timeline

1999:     Trade Me is launched by Sam Morgan

2000:     Success fees introduced

2001:     FindSomeoneis launched

2002:     Old Friends is launched

2003:     Trade Me Motors is launched

2004:     Won Deloitte Fast 50 as NZ's fastest growing business

2005:     Trade Me Property is launched

2006:     Trade Me is bought by Fairfax Media in Australia for NZ$700m, with a 2-year earn out for an additional NZ$50m

Trade Me Jobs is launched

2007:     Travelbug is launched

2008:     Jon Macdonald takes over the reins as CEO

2009:     Daily Deals on Trade Me launched

                Holiday Houses acquired

2010:     BookIt acquired

2011:     Treat Me is launched

                Fairfax announces proposed IPO of Trade Me
(Updated with statement, details, links, fact sheet and full Fairfax Media briefing to analysts on result and IPO)