BusinessDesk: Australian airline unions reject off-shoring to New Zealand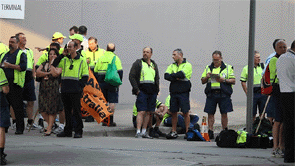 By Pam Graham
The employment of people working in Australia by companies based in New Zealand on cheaper rates is being highlighted by Australian unions in their dispute with Qantas Airways.
Qantas grounded its flights on Monday night, arguing that industrial action had cost it A$68 million and disrupted 70,000 passengers.
Flights resumed when Fair Work Australia, the national workplace relations tribunal, granted the Australian Federal Government's application to terminate all industrial action. If no agreement is reached in 21 days of negotiations arbitration will take place under the control of Fair Work Australia.
The three unions representing pilots, engineers, ground and catering staff have concerns about outsourcing and off-shoring and are seeking guarantees from Qantas about job security, an Australian Council of Trade Union spokesman said.
A submission to a senate committee by the ACTU on Oct. 28 details examples of off-shoring to New Zealand by Qantas.
It says the current minimum annual base rate for Qantas call centre agents in New Zealand is $NZ31,000 to $NZ34,000 compared to $A40,245 and $A45,673 for Australian workers.
The submission said that in March of this year Qantas subsidiary Jetstar New Zealand began offering individual employment contracts to New Zealand-based cadet pilots flying Australian routes for Jetstar. The cadet pilots are paid $NZ42,000 a year and repay training costs of $10,500 per annum for six years. If they leave they have to repay training costs and pay a penalty.
The union says the contracts are an artificial corporate arrangement to avoid the Australian legal award negotiations in the Australian operation of Jetstar.
In the submission, the ACTU also reiterates the case unions lost when Fair Work Australia held that Qantas subsidiary Jetconnect is not bound by the Qantas short haul pilots award.
Jetconnect employs 600 staff in New Zealand. Its pilots are paid 30 percent less than their Australian counterparts and the rest of the workforce earns 40 percent less, the union said.
The Jetconnect flights are tagged as Qantas and employees wear Qantas uniforms and have Qantas staff numbers. Qantas is responsible for all ticketing and marketing.
Jetconnect now flies more than two-thirds of Qantas's trans-Tasman flights.
Analysts argue that Qantas has to adopt a new business model because it competes with heavily subsidised airlines, including Emirates and Asian airlines.
Qantas chief executive Alan Joyce said on Oct. 13 that the Australian Licensed Engineers Union, the Transport Workers Union and the Australian and International Pilots Union wanted to run the company and their action was disrupting the company's business and hurting its brand.
The company's pilots and licensed engineers were among the best compensated in the world with outstanding pay and conditions. The long-haul pilots earned 50 percent more than their peers at Virgin.
Joyce said the broader Australian community was hurting as well.
Go slows and overtime bans by the maintenance engineers were making it difficult to clear maintenance tasks in a timely fashion, resulting in a number of aircraft not available for service each day and a general decline in schedule reliability.
"I understand that people are wondering why Qantas management can't just sit down and do a deal with these unions. Well, that's exactly what we'd like to do," he said.
The unions' mantra was no off-shoring and guarantees of job security.
"I have made it clear that we urgently need to build a stronger Qantas, one that is stronger for shareholders, better for customers, and gives more secure jobs for our employees," he said.
Qantas was an international business, expanding into Asia. Not one Australian job would go as a result of these plans. In fact, success in Asian markets would help protect jobs in Australia, he said.
"In the modern world, no company can promise a job for life. The best way to deliver job security is to have a strong and viable business," Joyce said.
Shares in Qantas rose 1.9 percent to A$1.605 in trading on the ASX today, and have shed almost 38 percent this year.
(BusinessDesk)