Australia's Ironbridge Capital reportedly set to test the market for EnviroWaste through possible sale or IPO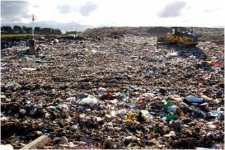 Australian private equity group Ironbridge Capital is set to test the market for New Zealand waste services business EnviroWaste, the Australian Financial Review reports.
The AFR says Ironbridge has sent a request for proposal to a small number of investment bankers asking them to pitch for a role selling EnviroWaste. The newspaper says both a potential trade sale and initial public offering on the sharemarket will be explored.
The investment bankers are set to present to Ironbridge next week, the AFR says. Ironbridge New Zealand operational partner Kerry McIntosh told interest.co.nz the firm didn't comment on "speculation around our intentions in respect of our portfolio investments."
EnviroWaste is owned by funds managed or advised by Ironbridge, which is also the major shareholder in TV3's parent MediaWorks.
Ironbridge bought EnviroWaste, which is now chaired by former Waste Management managing director Kim Ellis, from Fulton Hogan through a leveraged buyout in December 2006 for about NZ$360 million. Its key asset is the Hampton Downs landfill in the Waikato.
According to the AFR, the company is expected to make earnings before interest, tax, depreciation and amortisation in the low A$50 million range this year. EnviroWaste's parent company's latest annual financial statements show for the year to June 30, 2011 it made revenue of NZ$143.8 million, up NZ$12.4 million, or 9%, year-on-year. They also show a loss from operations of NZ$11.7 million, up NZ$1.2 million, or 11%. Earnings before interest and tax amounted to NZ$25.4 million, up NZ$1.5 million, or 6%.
The group's annual expenses noted NZ$19.1 million worth of interest expense paid and NZ$20.3 million of interest expense capitalised.
The financial statements show total assets of NZ$411.3 million and total liabilities of NZ$439.3 million leaving an equity deficit of NZ$28 million. Bank borrowings of NZ$196.7 million, with an average annual coupon of 9.59% due to mature in 2013, are disclosed. Meanwhile, shareholders hold redeemable preference shares valued at NZ$129.2 million at June 30, and convertible loan notes worth NZ$67 million.
In early March Ironbridge declared victory, through a press release issued to selected media and MediaWorks staff, in a stoush with the much bigger private equity group TPG over control of MediaWorks.