Here's my Top 10 links from around the Internet at 11 am in association with NZ Mint.
I welcome your additions in the comments below or via email tobernard.hickey@interest.co.nz.
I'll pop the extras into the comment stream. See all previous Top 10s here.
My must read today is #9 on income inequality and the financial crisis. Seems there is a link.
1. China stops buying European bonds - Bloomberg reports sovereign wealth fund China Investment Corp has stopped buying European sovereign debt.
Yikes.
The Chinese were supposed to be the great saviour.
There is another Chinese sovereign wealth fund, SAFE (!), which is likely to keep buying.
But this isn't a good sign.
Europe is a running sore that just can't seem to grow a scab that sticks.
Here's Bloomberg:
"What is happening in Europe right now is of course of concern," CIC President Gao Xiqing said yesterday in an interview in Addis Ababa, Ethiopia, during the World Economic Forum on Africa. "We still have our people looking at opportunities in Europe, even though we don't want to buy any government bonds."
2. House of cards - The WallStJournal reports Chinese property developers doubled their debts in the last two years. That can't end well.
The official data suggest that loans to China's thousands of developers at the end of the first quarter totaled a manageable 3.6 trillion yuan ($570 billion), equal to just 6.3% of total yuan loans in the banking system.

A look at the financials of 159 mainland-listed developers, though, suggests the official numbers are not telling the whole story. Numbers from Wind—a China data provider—show total liabilities for this subset ballooned to 1.8 trillion yuan in the first quarter of 2012. That's more than 100% higher than the level when the government first pointed its policy needle at the property bubble in early 2010.
3. 'You have to be a Chinese citizen' - Reuters reports China has ordered the big four accounting firms to have Chinese citizens running their operations in China.
And New Zealanders worry about what the Chinese might think about us blocking a foreign purchase of New Zealand land...
The changes come at a difficult time for the Big Four, grappling with the fall-out from a string of accounting scandals at Chinese companies listed in the U.S. that has left investors questioning the quality of auditing in China.

The new rules will force the proportion of foreign partners at the Big Four to be a maximum of 40 percent when the structure is adopted in August this year, and fall to under 20 percent by 2017.
4. A way through in Germany? - The muddle-through tactic du jour in this financial crisis is to force down interest rates and then force up inflation to allow debt be eaten away slowly by inflation.
Now even the Bundesbank is talking about allowing inflation to rise in Germany to help solve the European financial crisis, the FT reports.
The Bundesbank, the most hawkish of central banks, has signalled it would accept higher inflation in Germany as part of an economic rebalancing in the eurozone that would boost the international competitiveness of countries worst-hit by the region's debt crisis.

A future German inflation rate above the eurozone average could be part of a natural adjustment process as crisis-hit countries pulled themselves out of recession, the Bundesbank argued in evidence to German parliamentarians submitted on Wednesday.
5. A way through in America? - There's also a debate going on in America about deliberately increasing inflation to try to solve the problems.
Here's Mike Konzcal (rortybomb) on his blog:
The Fed is fighting the last war: against 1970s stagflation. It is of course essential that the Fed maintains its hard-won credibility against runaway inflation. But the best way to do so isn't to keep the economy in a perpetual state of high unemployment. It is to be explicit in what it wants to see accomplished and what it is willing to tolerate in order to get it. As Charles Evans, President of the Chicago Federal Reserve, recently pointed out, the Fed could "make a simple conditional statement of policy accommodation relative to our dual mandate responsibilities." An "Evans Rule" would mean the Fed would agree to keep interest rates at zero and tolerate 3 per cent average inflation until unemployment went down to 7 per cent, setting market expectations in such a way that would allow aggregate demand to surge.

Commentators would like to argue that monetary policy rewards some people over others, forgetting that mass unemployment is the most regressive policy imaginable. But beyond that, monetary policy is not a morality play, and it's not about rewarding the good people and punishing the bad ones. It's about stabilising growth, prices and maximum employment without overheating the system or letting it choke to death from a lack of oxygen. Now, more than ever, a commitment to both goals is necessary for the good of our economy.
6. Stephen King wants to be taxed real hard - Horror novelist Stephen King has written a Warren Buffett style plea at The Daily Beast to be taxed at a higher rate. HT Toby Manhire at The Internaut on The Listerner
Here's King. I've carefully exerpted bits that don't have any swearwords in them so I can get through a bunch of firewalls at the banks.;)
What charitable 1 percenters can't do is assume responsibility—America's national responsibilities: the care of its sick and its poor, the education of its young, the repair of its failing infrastructure, the repayment of its staggering war debts. Charity from the rich can't fix global warming or lower the price of gasoline by one single red penny. That kind of salvation does not come from Mark Zuckerberg or Steve Ballmer saying, "OK, I'll write a $2 million bonus check to the IRS." That annoying responsibility stuff comes from three words that are anathema to the Tea Partiers: United American citizenry.

Last year during the Occupy movement, the conservatives who oppose tax equality saw the first real ripples of discontent. Their response was either Marie Antoinette ("Let them eat cake") or Ebenezer Scrooge ("Are there no prisons? Are there no workhouses?"). Short-sighted, gentlemen. Very short-sighted. If this situation isn't fairly addressed, last year's protests will just be the beginning. Scrooge changed his tune after the ghosts visited him. Marie Antoinette, on the other hand, lost her head.

Think about it.
7. JP Morgan's fail whale - It seems a proprietary trader on JP Morgan's London synthetic credit  desk may have lost the bank more than US$1 billion, WSJ reports.
This is a bank that can borrow unlimited amounts from the US Federal Reserve and is effectively too big to fail.
No wonder there is so much protest against governments bailing out banks with one breath and then demanding austerity with the next. This is at a time when those very same  'Too Big To Fail' banks spend millions lobbying to stop the likes of the Volcker Rule which would separate licensed banks from their proprietary trading arms.
The 'whale''s name is Bruno Michel Iksil.
He was born in France....Shades of Jerome Kerviel?
Plus ca change.
8. Wall of refinancing - FT.com reports Standard and Poors saying companies must refinance US$46 trillion worth of loans over the next five years. It says European companies may struggle to get European banks to roll over those loans.
That's trillion with a capital T.
Not a capital B.
The rating agency predicted that companies round the world would need new funding or to refinance existing debt totalling as much as $46tn over the next five years. And while global banks and debt capital markets should largely be able to provide the majority of funding for companies, S&P raised concerns about the ability of European lenders in particular to meet all corporate funding needs as they deal with the impact of sluggish economic growth and tough regulatory requirements.

S&P warned of the risk of a "perfect storm" forming as non-financial companies looked to refinance debt raised at the peak of the credit boom or find new funds just as banks were deleveraging and restructuring. The report chimes with a view that as banks shrink, companies in Europe will over the next few years increasingly turn to capital markets to meet their funding requirements.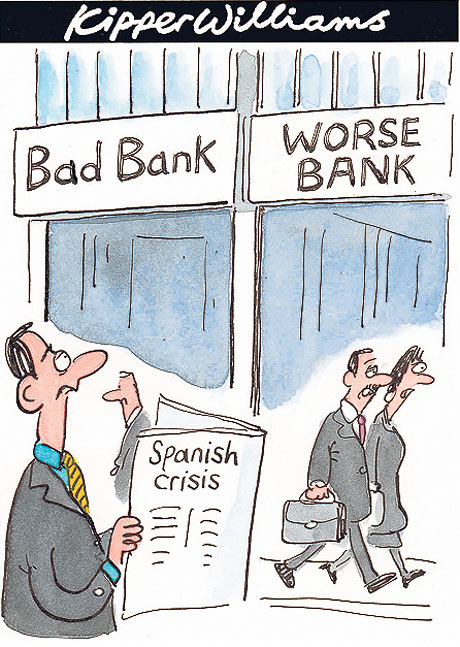 9. Toxic inequality - German macroeconomist Till van Treeck writes about the growing academic work being done to work out if the rise in income inequality in recent decades was permanent and whether it caused the global financial crisis.
There are alternatives to the outdated paradigm of rational consumers and efficient financial markets. In particular, there is the relative income hypothesis, first formally stated by James Duesenberry back in the 1940s and more recently developed by behavioural and Keynesian economists: it says that consumers care about their consumption relative to others as a signal of social status. This means that higher inequality can lead to increased pressure for the lower and middle class to keep up with consumers at the top. Similarly, the basic Keynesian insight that middle-class incomes need to grow in line with productivity in order to sustain robust aggregate demand appears today more relevant than ever.

There is ample evidence that, especially in the US, households reacted to higher inequality by working longer hours, lowering savings, and increasing debt in an attempt to maintain their relative consumption status. Up to a point this allowed them to pay for medical bills, the ever-increasing costs of children's college education and a house; but eventually the bubble burst. The situation is not dissimilar in the UK.

The renewed interest among economists in inequality as a macroeconomic risk is highly encouraging. Undoubtedly more research is needed to pin down the macroeconomic implications of inequality under different country-specific circumstances. But it should be clear that, in hindsight, the dominant textbook economic theories of consumption look almost as toxic as some of the credit products that ultimately caused the crisis.
10. Totally Clarke and Dawe - Mort Gagebelt is a fiction writer for the Australian banks.