Key takes aim at hostile, aggressive and antagonistic media, but not worried about it; Highlights 'tabloid and sensationalist' NZ Herald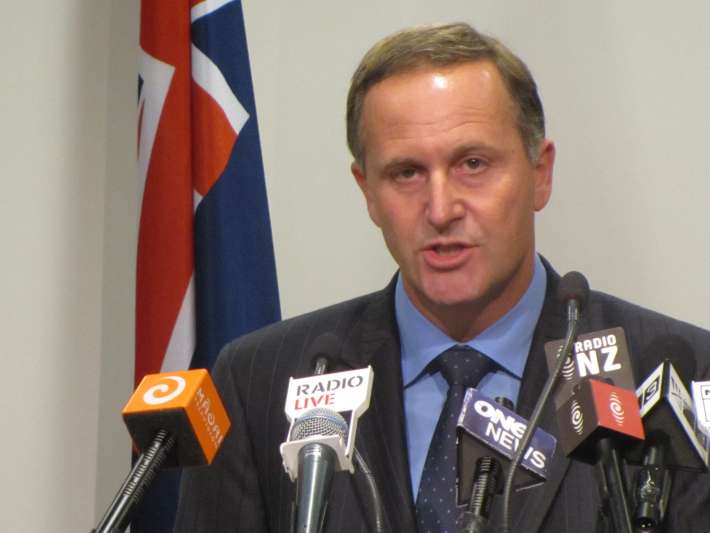 By Alex Tarrant
'Tabloidisation' of the New Zealand Herald, Sunday Star Times headlines, and the way radio and television news outlets pick sound bites for their articles are under fire from John Key, who says the media has become more antagonistic towards the government.
But the PM says he is not worried about the media being more aggressive as the government's second term rolls on. He told Newstalk ZB listeners on Tuesday morning he had expected the hostility and was not thrown by it.
Second-term-itus has become a buzz word for media commentators as they cover the National-led government's second term. Many are noting Key appears more tired and weary than during his first term as Prime Minister as he tries to sell policies like the Sky City 'pokies for convention centre deal,' welfare reforms, and further public sector budget cuts.
Speaking on Newstalk ZB's Leighton Smith show this morning, Key said the news media had a more aggressive and hostile mood towards the government.
"Contrary to their opinions, I'm not that bent out of shape by that. I expected that. In fact, Helen Clark came up to me when I was at the swearing in of the government in 2011 – she came as a former Prime Minister. She said, 'I remember what it was like: First term was okay, second term was disastrous, and the third term was diabolical.
"That's just what happens. Pressure comes on governments more because the media become more antagonistic. It is what it is," Key said.
That was not a complaint, "just a statement of fact."
This different approach from the media, together with a number of "slightly controversial" policies the government was trying to push through, underlying challenges, and the government's desire for urgency when enacting policies meant there was a lot of pressure on the government.
Tabloid Herald
On specific media organisations, Key said the New Zealand Herald had turned more tabloid since Shayne Currie had taken over as editor in November last year.
"They won't like it if I say that, but that is absolutely is statement of fact," Key said.
"What they are doing at the Herald is very clear. They have decided they need to get their circulations from stopping falling, or at least maybe try and go up. They have a new editor, and the new editor's turned the front page of the paper into a pretty sensational sort-of front page," he said.
"That's a deliberate strategy to get more sales at the dairy. The volatile bit won't be their home distribution, because you're buying the paper whether you get it or not. The volatile bit is whether you go into the dairy or the supermarket or the service station and buy the paper.
"You look at it, the entire front-page is always one story, fairly sensational, and then the rest of the paper's probably a bit more traditional Herald, although still a bit more aggressive," he said.
Key noted the Herald had brought journalist David Fisher over from the Herald on Sunday, "as an investigative journalist, so-called," while new editor Shayne Currie was taking a different approach than former editor Tim Murphy.
"And they're just doing that to try and stop the decline in sales," Key said.
The changes were not something people should overly worry about.
"And I don't, despite what they think. I actually don't worry about it. What I worry about is making sure that we're doing the right thing for New Zealand. But there has to be some urgency because the international environment is still extremely fragile, if not weak," Key said.
Fisher has been leading the Herald's coverage of the government's convention centre deal with the Sky City casino, as well as the Kim Dotcom-John Banks saga. See his articles here.
Soundbites
Meanwhile, later on in the one hour-long talk-back slot with Smith, Key took aim at Fairfax's Sunday Star Times, and the way broadcast media reported his statements.
"I go on 20-something radio stations a week. I do post-Cabinet press conference [on Monday afternoons], and I'm with the press every single day. I'm pretty much on the nightly news every night, and when I'm not on it, my Ministers are," Key said.
"But I can't control the bit that they cut out – the seven second sound bite they choose to use. And you just see endless headlines, I mean they're endless, where they are delivering an angle," he said.
"The Sunday Star Times a couple of weeks ago ran with, Key locks in former Prime Ministers' entitlements. Well I hate to tell them the bad news, I'm not locking anything in. It's been in the [legislation] as long as I've been on this earth."