Larry Kotlikoff talks to Interest.co.nz about The Clash of Generations, a six-decade generational Ponzi scheme, and why John Key should take notice
By Alex Tarrant
Prime Minister John Key needs to take notice of the looming costs facing future generations as New Zealand's population ages, costs which are not included in official debt measures, American Economist Larry Kotlikoff says.
The Boston University Professor, who was brought to New Zealand on a Professorial Fellowship in Monetary and Fiscal Economics by Victoria University and the Reserve Bank, spoke to Interest.co.nz about the claims in his recent book, The Clash of Generations, which he wrote with Scott Burns.
Watch Kotlikoff's public lecture delivered on Thursday evening at Victoria University here.
Kotlikoff also spoke on Radio NZ's Nine to Noon programme on Friday morning.
Kotlikoff says the US government has been running the equivalent of a generational Ponzi scheme for six-decades as younger generations are saddled with the ever-increasing social security and healthcare costs the generations before them voted themselves.
These costs are merely passed on to the generation below, and Kotlikoff warns taxes will have to begin increasing substantially in order to keep meeting these costs. This is a generational timebomb, Kotlikoff says.
A set of fixes - Kotlikoff calls them purple plans, as they should attract both Democrats and Republicans - are offered by Kotlikoff to turn the Ponzi nature of paying for the growing costs back into a sustainable model.
Kotlikoff's work focuses on 'fiscal gaps' - essentially the gap between a country's future spending commitments and its future revenue track over an infinite timeframe. He says the fiscal gap in America is about US$211 trillion - 14 times the nation's GDP: "What is the bill if we paid it off today, how big would it be?"
While New Zealand's Treasury has looked at our fiscal gap in the past - for example here in 2002 - Kotlikoff says this should become a regular publication from Treasury.
Most recently, the OECD calculated members' fiscal gaps if they were to have gross debt at 50% of GDP in 2050. New Zealand was right up there with the US, Japan, and the UK: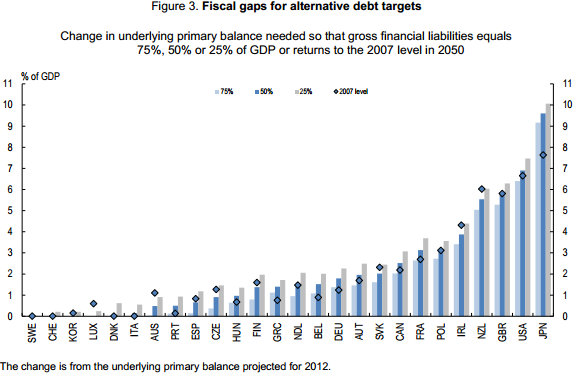 "The Treasury has to do fiscal gap accounting here because it hasn't been done of late," Kotlikoff told interest.co.nz
"It needs to be done so we can see whether the Prime Minister – Prime Minister Key – is right that there's no need to immediately raise taxes, or change [government] spending, or raise the retirement age," he said.
"[Because] what if he's wrong? If he's wrong, then what he's saying is, that we're going to make the next generation pay a bigger price, we're going to take all the burden of that hit and leave it to the kids. That's not something that he can [do], if he's wrong. And the only way we can find out is to look at the numbers. That requires putting together this fiscal gap analysis."
While Kotlikoff said his sense from talking to officials at Treasury was smaller than that of the US, it needed to be deal with.
"But we need to understand that the longer we wait, the more of a burden we leave to our kids. This is not a free-be. This is a zero-sum game, generationally speaking. If there is a fiscal gap – if it's one-times GDP, rather than 14-times GDP, and my guess is it's about one-two times GDP in New Zealand, is my sense – then that's actually not such a small number," he said.
It would be very easy for Treasury to calculate New Zealand's fiscal gap, Kotlikoff said. He told interest.co.nz after filming that following discussions Treasury officials, the country's fiscal gap appeared to be bigger than he had initially presumed in the video above.
"So are we going to make New Zealand's five-year-olds pay a year's GDP? The new-borns? Which one of Mr Key's kids and grandkids does he want to pay much more than he pays? That's the question that he needs to answer. That's the question that every politician needs to answer," Kotlikoff said.
"This is not a joke - this is very serious business. This is not a political football – this is, are we going to leave a bigger burden to our kids? If we're adults, if we're running a country, the first thing we have to answer if we're thinking fiscal policy, is, are we being responsible with respect to our kids?
"It's not about getting re-elected, or the next election, it's about the next generation," Kotlikoff said.
"And then the Prime Minister needs to take a careful look at [the projections] and see what is the proper thing to do, because he's the chief adult in the country. He's not just the Prime Minister, he's the prime grown-up of the country, and he needs to remember that."
Here is an excerpt from Chapter one of The Clash of Generations:
Our most disastrous success has been turning retirement into a wellpaid, long-term occupation. We've done this by trying to do right by our elders by expending ever-larger sums each year to keep them healthy and financially secure. These sums are now huge, amounting to more than $30,000 per retiree per year. That's three-fourths of annual U.S. per capita income.

In the process, we've done terrible wrong by our children, grandchildren, and great-grandchildren. We've saddled them with massive government bills to pay for this largess. These bills stretch from here to eternity. They are far beyond our childrens' capacity to pay, just as they are far beyond our own capacity—and will—to pay.

When individuals can't pay their bills, they are bankrupt. When companies can't pay their bills, they are bankrupt. And when countries, even those that print their own money and can still get foreigners to accept it, can't pay their bills, they are bankrupt.

Thanks to six decades of incredibly profligate and irresponsible generational policy, we can declare, The United States is bankrupt. And the United States isn't bankrupt ten, thirty, or fifty years from  now. It's bankrupt right now. Indeed, the United States may be in worse fiscal shape than Portugal, Ireland, Italy, Greece, or Spain (referred to as PIIGS), which are generally viewed as the developed world's worst fiscal basket cases.

You won't learn this by looking at our nation's official debt. Our 70 percent debt (held by the public) to gross domestic product (GDP) ratio is lower than that of any of the PIIGS. Actually, it's less than half of Greece's ratio—the PIIG that's supposedly in the hottest water.

Unfortunately, our $11 trillion official debt is but a small fraction of our nation's true $211 trillion indebtedness, known as the fiscal gap. Yes, you read that number right. Our fiscal gap—the value in the present (the present value) of all our future spending obligations (including servicing the official debt), net of all our future tax receipts, is enormous. 

It is fourteen times our nation's GDP,  its total output. It is twenty-two times the official debt that now has everyone's attention.Since the fiscal gap equals $211 trillion and the official debt equals $11 trillion, it's clear that our unofficial IOUs (unofficial spending commitments) overwhelm our official ones. Worse, they are growing rapidly. Yet these unofficial liabilities have been carefully kept off the government's books in a system of duplicitous accounting that goes far beyond Enron's and Bernie Madoff's wildest dreams. That's why most people know little or nothing about the true size of our problem.