Mighty River Power - first up in govt sell down programme - announces bigger dividends just days ahead of Maori Council High Court hearing seeking to halt sale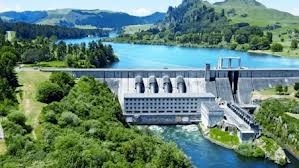 By Alex Tarrant
The first state-owned energy company to come to market under the government's partial privatisation programme has announced it will pay out bigger dividends to shareholders in the future.
The Mighty River Power board announced it would increase its dividend pay-out ratio from 75% of net profit after tax to 90%-110%, raising the possibility of it using retained earnings or even borrowings, to help pay dividends. The higher dividends will come at the expense of operating cashflow allocated to new domestic projects after Mighty River's NZ$1 billion investment in geothermal projects over the past five years, the company said.
Mighty River Power's preparedness to pay higher dividends also hints at a company operating in a mature market where demand for its key product - electricity - has fallen in three of the last four years. See Gareth Vaughan's story; Have we reached peak power?
The government hopes to sell up to 49% of Mighty River Power between March and June next year after a number of setbacks delayed the sale from September this year.
The announcement from Mighty River comes as the High Court is set to hear an application to halt the sale from the Maori Council in Wellington next week. The Council wants the court to review the sale process of the companies, and issue an injunction halting any share issues until the review is complete.
The government wishes to sell up to 49% of energy companies Mighty River, Meridian, Genesis, and Solid Energy, as well as selling down its three quarter stake in Air New Zealand to no less than 51%, in a bid to raise NZ$5 billion to NZ$7 billion over the next three to five years.
But the sales process hit a roadblock when the Maori Council took the issue of the sales to the Waitangi tribunal in mid-2012, arguing partial privatisation would affect Maori water rights and would be illegal. The government has argued that the issue of compensation for water rights is separate from the partial sale of the companies.
However, the government has twice delayed the initial public offering of Mighty River as it attempted to smooth the water rights debate with Maori. Despite this, the Maori Council applied to the High Court for a hearing seeking to stop the sale.
In October, the government announced sixty-five Iwi yet to complete Treaty settlements would be allowed to claim a certain amount of shares in the state-owned companies 'on account' as part of their forecast settlements.
Read the release from Mighty River Power below:
Mighty River Power's Board today announced a change to the Company's dividend policy; increasing the dividend pay-out ratio from 75% to between 90–110% of net profit after tax, after adjusting for the impact of NZ IFRS fair value movements of financial instruments net of tax each year and any accounting impairments.

The change to the policy was noted in Mighty River Power's Statement of Corporate Intent, which is agreed with the shareholder annually and sets out the Board's overall intentions and business objectives for the period 1 July 2013 to 30 June 2015.

Chair of Mighty River Power, Joan Withers, said the policy had been at 75% since 2010 due to the need to retain sufficient earnings to support the Company's more than $1 billion domestic geothermal capital expenditure programme over the last five years. Mighty River Power is now adjusting to the current outlook for New Zealand electricity supply and demand with less operating cash flow now allocated to new domestic projects and higher dividend flows to owners.

"The Board has gained confidence to increase the dividend pay-out ratio due to the successful execution of our geothermal strategy. In October we saw the first cash returns from our international investment through the GeoGlobal Energy (GGE) Fund and our Ngatamariki Power Station, near Taupo, is due for completion in mid-2013," said Mrs Withers.

The dividends declared by the Company will be subject to working capital requirements, the medium term asset investment programme and a sustainable financial structure for the Group, having regard to the Company's long term credit rating. Mighty River Power has a BBB+ rating assigned by Standard and Poor's, which was re-affirmed in October 2012.

Mighty River Power's full dividend policy is available on the Company's website at: http://www.mightyriver.co.nz/Results/Financial-Information/Dividend-Policy.aspx

Mighty River Power's Statement of Corporate Intent 2013 - 2015 is available on the Company's website at: http://www.mightyriver.co.nz/About-Us/Governance/Governance-Documents/Statement-of-Corporate-Intent.aspx