Cunliffe appoints Labour shadow cabinet; Robertson at number 3, Jones at number 5, Ardern demoted, Shearer gets Foreign Affairs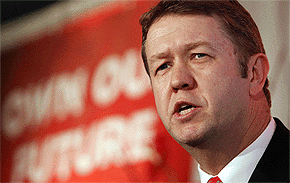 By Bernard Hickey
New Labour leader David Cunliffe has announced his shadow cabinet, including high spots for leadership rivals Grant Robertson and Shane Jones.
Cunliffe said the new lineup was based on merit.
"Our economic team of David Parker in Finance, Shane Jones in Economic Development and Grant Robertson in Employment, Skills and Training is second to none," Cunliffe said.
Cunliffe appeared to appoint apparent rivals and some supporters of those rivals to relatively high positions. Some commentators have argued he may struggle to unite a caucus that mostly voted for Robertson in last weekend's leadership vote that was ultimately decided by wider party members and union delegates.
The winners in the reshuffle appeared to be Sue Moroney, who was appointed Senior Whip and spokeswoman for Social Development, and Iain Less Galloway, who was appointed Junior Whip and Associate Health minister. Health spokeswoman Annette King was also elevated up the list, despite perceptions she had opposed Cunliffe's leadership.
The losers appeared to be Clare Curran, who was stripped of her Information, Communciations and Technology (ICT) roles, and Jacinda Adern, who lost her Social Development role and was shuffled down the list. Others who were demoted down the Labour list included Trevor Mallard, who dropped from 21 to 27 and lost his role as Shadow Leader of the House. 
Here is Cunliffe's shadow cabinet in their list order with their previous list position and roles in brackets:
1. David Cunliffe - Leader, Security and Intelligence, Regional Development and ICT. (24 - Revenue, Fisheries, Associate Finance)
2. David Parker - Deputy Leader, Finance and Attorney General (3 - Same)
3. Grant Robertson - Shadow Leader of the House, Employment, Skills and Training, Tertiary Education (2 - Deputy Leader)
4. Annette King - Health (6 - Health)
5. Shane Jones - Economic Development, Maori Affairs, Forestry, Building and Construction (7 - Regional Development, Forestry)
6. Jacinda Ardern - Children, Police, Corrections, Arts, Culture and Heritage (4 - Social Development, Children)
7. Clayton Cosgrove - SOEs, Commerce, EQC (5 - SOEs, Commerce, Trade Negotiations)
8. Chris Hipkins - Education (10 - Senior Whip, Education)
9. Nanaia Mahuta - Treaty Negotiations, Maori Development (11 - Youth Affairs,  Maori Development)
10. Sue Moroney - Senior Whip, Social Development (13 - ACC, Early Childhood, Women's Affairs)
11. Phil Twyford - Housing, Auckland Issues (8 - same roles)
12. Maryan Street - State Services (9. Environment)
(Updated with more details, lists)