Retail investors bid for 45% of Meridian shares; Key says demand strong; Total SOE float proceeds likely to be at bottom end of NZ$5-7 bln range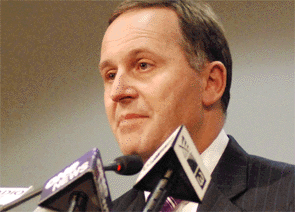 The government has announced retail investors have bid for 45% of the shares in Meridian Energy, which Prime Minister John Key said indicated demand for the initial public offering opening today was 'strong' given institutional investors had yet to put in their bids.
However, Key acknowledged in a OneNews Breakfast interview that the proceeds from the Government's SOE partial privatisation plans were likely to be at the lower end of the government's original NZ$5 billion to NZ$7 billion target range. 
"It's definitely going to be at the lower end rather than the higher end," he said, pointing out that Solid Energy was no longer part of the programme. 
Share brokers were invited to submit bids for shares last week based on interest from their clients. Finance Minister Bill English said they had bid for 565 million shares at the first instalment price of NZ$1/share, raising a potential NZ$900 million if the final instalment price is 60c/share. 
"We are committed to achieving 85-90 per cent New Zealand ownership of Meridian shares, so the initial pre-commitment from New Zealand brokers just one week after the offer document was lodged is pleasing," English said.
"Officials have advised us that feedback from brokers has been supportive of the offer, with Meridian's strong forecast dividend yields, the price cap, and the enhanced dividend yield provided by the instalment payment structure, proving to be attractive to New Zealand retail investors," English said.
A total of 55% of the shares allocated in the Mighty River Power float were allocated to retail investors.
"The broker allocation for the Meridian offer puts us well on the way to achieving a similar or better outcome," English said.
Mighty River Power shares closed on Friday at NZ$2.30/share and are still below their NZ$2.50/share IPO price, although Key noted the price had risen in recent weeks from a low of NZ$2.17/share.