PM John Key says he has accepted resignation of Maurice Williamson as a minister after 'error of judgement' in approaching police over Donghua Liu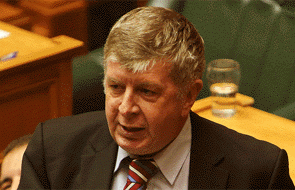 By Bernard Hickey
Prime Minister John Key has announced the resignation of Maurice Williamson as a minister after revelations that Williamson approached police over an domestic assault investigation into Auckland property developer and National Party donor Donghua Liu.
"I have been made aware that Mr Williamson contacted Police some time ago regarding their investigation of Mr Donghua Liu," Key said in a statement.
"Mr Williamson has assured me that he did not in any way intend to influence the Police investigation. However, Mr Williamson's decision to discuss the investigation with Police was a significant error of judgement," Key said.
"The independence of Police investigations is a fundamental part of our country's legal framework. Mr Williamson's actions have been very unwise as they have the potential to bring that independence into question," he said.
"I have advised the Governor General to accept Mr Williamson's resignation as a Minister."
Williamson was a minister outside Cabinet with the portfolios of Customs, Building and Construction, Land Information and Statistics.
Key said he would appoint a new Minister outside Cabinet early next week and in the meantime, Nick Smith would act in the Building and Construction portfolio, Nathan Guy in Land Information, and Simon Bridges in Customs and Statistics.
Key later said Williamson had no choice but to resign.
"The moment he made the phone call he crossed the line," he said.
Williamson later said he would stand again at the September 20 election as the National candidate for the Pakuranga electorate. Radio Live later reported that Williamson had officiated at Liu's citizenship ceremony in his electorate office.
The resignation came after an NZ Herald investigation revealed Williamson had called a senior police officer after the arrest of Liu following a domestic violence incident. Liu later pleaded guilty to the charge of assaulting a women.
Williamson had previously lobbied for Mr Liu to be granted citizenship against the advice of officials. He had also unsuccessfully lobbied in favour of Liu's proposal for relaxed immigration rules for wealthy foreigners. Williamson and Key attended the 2011 opening of a NZ$70 million project by Liu to develop the Carlton Bowling Club site in Newmarket. It has yet to be developed.
Liu wanted to reduce the NZ$10 million threshold for business immigrants.
The following year one of his companies donated NZ$22,000 to the National Party.
Political reaction
NZ First Leader Winston Peters said Williamson's offence was far less than that of Justice Minister Judith Collins, who has been under pressure over a dinner she had in China with close friends Stone Shi and an unnaned Chinese customs officials.
"There can't be any doubt about Mr Williamson's conflict of interest, but that conflict is far less than that exhibited by the Hon Judith Collins and condoned by Prime Minister John Key," Peters said.
"Clearly the Prime Minister is attempting to show that he does have some standards but ironically Mr Williamson's case, as with others, proves just how duplicitous those standards are," he said.
"If Mr Williamson has offended, and he has, then why will the Prime Minister not act in the case of Judith Collins? Not only has there been a serious conflict of interest, but she misled the media and the public, and has been found out advancing a company's interest, to which she has a connection, while the interests of a significant industry, namely infant formula into China, were simply ignored," he said.
"It's of alarm that certain practices in China, which have been causing the President of China grave concern, have crept into the National Party."
Labour Leader David Cunliffe said Key lived in a state of denial about the actions of his ministers until they were made public and there was no way out.
 "National ministers seem to believe they don't have to follow the same rules as everyone else. John Key once had high standards for his ministers. The cases of ministers breaking the rules for their friends are mounting up. Maurice Williamson now joins the ranks of the disgraced behind Richard Worth, Pansy Wong, Nick Smith, John Banks, Peter Dunne and Judith Collins."
"Maurice Williamson's actions were totally unacceptable and he has done the right thing by resigning," Cunliffe said.
"His emails to Police to help a National Party donor in a domestic violence case because he was 'investing a lot of money in New Zealand' are disgraceful. It is not the sort of behaviour New Zealanders expect from their elected officials," he said.
"New Zealand prides itself on being one of the world's least corrupt countries. While Maurice Williamson has been forced to go, John Key's culture of entitlement continues."
The Green Party said questions remained to be answered.

"Once again we see a National Party Minister intervening in relation to someone who has given the National Party money. There appears to be a thin line between money and political influence in the National Party," said Green Party Co-leader Russel Norman.

"Maurice Williamson's resignation does not sweep under the carpet the bigger issue around potential Ministerial impropriety on behalf of National Party donors," Norman said.

"It is very important the public knows the nature of Maurice Williamson's contact with the police. Was he seeking to get a National Party donor off a domestic violence charge? Are there other legal issues that sort of intervention triggers? We also need to know when the Prime Minister was first made aware of Williamson's actions. Was he simply hoping that information wouldn't come out and has he been involved in covering it up?," he said.

"In New Zealand, it's not ok for people to make big donations to political parties and then receive political influence as a result of that."

Norman said National had voted down a Green proposal for a lobbying disclosure regime and had rejected a Green call for a ministerial disclosure regime.
"Every time the Green Party has proposed better rules around lobbying and access the National Party has rejected it. It is easy to see why they don't want additional scrutiny," Norman said.

(Updated with more detail, reaction)