Cunliffe's Labour Leadership under pressure as letter shows he advocated for Donghua Liu in 2003, despite assurances yesterday he hadn't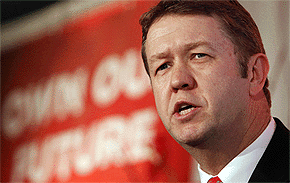 David Cunliffe's Labour leadership is in question after the New Zealand Herald published a letter Cunliffe wrote in support of Chinese businessman Donghua Liu in 2003, which conflicts with his assurances in a news conference on Tuesday that he had not personally lobbied in favour of Liu's residency application.
New Zealand Herald political columnist John Armstrong took the unusual step of suggesting Cunliffe may have to resign over the revelation.
Cunliffe faced questions from journalists in Parliament shortly after the publication of the letter on Wednesday afternoon.
He said had no plans to resign as Labour leader and denied he had advocated for Donghua Liu, describing the letter as "process inquiry" about the time it was taking for Mr Liu's application to be processed.
He said he could not recall meeting Liu and neither could his electorate staff. He said the letter may have written after an immigration agent approached his electorate office.
Cunliffe said he had briefly discussed the issue with senior Labour leadership colleagues before the short news conference and remained confident he had the support of his caucus.
Cunliffe denied he had lied at a news conference on Tuesday about advocating or meeting Liu.
"I did not advocate for him. A letter has just come to my attention which is 11 years old, which simply asks how long a processing process would take," he said.
"I still have no recollection of meeting Mr Liu. I do not recall ever having met him," he said.
"To the best of my knowledge, that letter came through my office and an immigration agent on his behalf," he said.
Cunliffe was then asked why he would write a letter inquiring on Liu's behalf when he had not met Liu.
"It appears it checked out on paper and it was a very low level request about how long the processing would take," he said, adding that neither he or his office could remember meeting Liu and there were no records of any meetings.
"If my staff are of the view that the matter is reliable, then a low-level process intervention is quite normal," he said.
"My memory has obviously failed me."
Cunliffe was then asked how voters could trust him when he had been so emphatic on Tuesday in saying he had not advocated for Liu.
"Do you think I would have been emphatic if I had any memory of Mr Liu? I gave an honest answer as I recalled it," Cunliffe said.
He said he was "totally relaxed" about the situation and believed he had done "absolutely nothing wrong."
Cunliffe said he had not approached his caucus as a whole to ask whether they still supported him, but that brief discussions with senior colleagues had told him any suggestions he go "were ridiculous."
Reaction
Prime Minister John Key said the public would struggle to trust Cunliffe after publication of the letter.
"Mr Cunliffe has asked New Zealanders to trust him that he's had no involvement with Donghua Liu, yet this letter suggests the complete opposite and quite clearly he'll need to explain his actions," Key was quoted as saying.
(Updated with comments from a news conference with Cunliffe.)