Ex-Bridgecorp boss Rod Petricevic denied parole with NZ Parole Board saying he remains an 'undue risk to the safety of the community'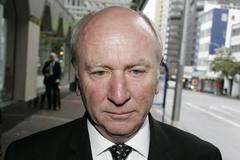 Former Bridgecorp boss Rod Petricevic has been denied parole with the NZ Parole Board deciding he's still an "undue risk" to the safety of the community.
The Parole Board says Petricevic, who is serving a prison sentence of six years and 10 months, will be seen again for further parole consideration in February next year.
The Parole Board's full decision outlines that Petricevic says he'll have to live off superannuation when he's ultimately released from prison, he has acknowledged the harm his "inadequacy" as Bridgecorp's managing director caused its investors, is studying for a Legal Executive Diploma and considering working for the Citizens Advice Bureau, has assisted prisoners when requested, and the Board wants a psychological assessment of Petricevic before his next parole hearing.
The full decision also sheds some light on Petricevic's stint behind bars thus far, saying his term of imprisonment to date has been stable and unremarkable. He has had a minimum security classification and hasn't been involved in any misconduct or incident reports. He is described as compliant and no problem to staff or other prisoners.
"For some time he has been working in the prison grounds.  He is also studying for a New Zealand Law Society Legal Executive Diploma where he is making good progress. Given his assessed low risk of reoffending, no rehabilitation needs have been identified and his sentence plan does not include any specific programmes," the Parole Board says.
"He claims to not have any debts or assets.  He says he will be reliant on New Zealand superannuation for his financial support following release."
"So far as any future work is concerned, Mr Petricevic has said that he intends to be retired but complete his study and with a Legal Executive Diploma do research work, legal aid work, or work for the Citizens Advice Bureau.  He also advised that he may help out with (name withheld) property business."
'I acknowledge and take full responsibility for this offending'
In his letter seeking parole Petricevic said since his conviction and imprisonment in 2012 he has had plenty of time to reflect on the nature and seriousness of his offending.
"I acknowledge and take full responsibility for this offending, which was a direct result of my inadequacy as the Managing Director, and recognise the harm it has caused all investors," Petricevic wrote.
"Not only have the investors been seriously affected financially and emotionally but also their families.  For this breach of trust I am truly remorseful.  This is something that I will have to live with for the rest of my life."
The Parole Board says given this, it appears that since his trial and Petricevic's pleas of not guilty,  he has come to terms with his offending and developed "at least some degree" of insight into his culpability. 
"Against that he continues to attribute, as a contributing factor to his offending, the effects of the global financial crisis in 2006 leading up to his business collapse. We remain unpersuaded by Mr Petricevic assertions that he is genuinely remorseful.  Notwithstanding our position we are cognisant of research that suggests a lack of full or genuine remorse or empathy has little bearing upon the risk of future offending."
"In our view, despite Mr Petricevic's age, expressions of remorse and contention that he has learned from his offending, we consider that the risk of reoffending remains.  He told the case manager who wrote the parole assessment report that a lot of people still look to him for advice and he has a lot of knowledge in business.  At this hearing he similarly told us that he has a lot of experience and has assisted prisoners when requested, and is 'driven to give advice'," the Parole Board said.
"We are mindful of Mr Petricevic's involvement in a previous failed business in the 1980s - Euro-National Corporation.  He told us, however, at this hearing, that no public funds were involved in that venture."
Risk of reoffending only 'in relation to financial affairs'
The Board says there's no evidence of any risk of Petricevic reoffending "other than in relation to financial affairs."
 "While he acknowledges no intention to return to business in the way he did prior to this offending, we cannot rule out the possibility of him providing not only advice but also becoming involved in the management of other people's assets which puts those assets at risk.  Given the scale of Mr Petricevic's offending leading to this sentence, any further offending is likely to be of a similar kind and be potentially serious and again involve large sums of money."
"We are mindful of the period remaining until Mr Petricevic's sentence expiry date in February 2019.  It is the view of the majority of the panel, taking into account all the above factors, that we are not satisfied on reasonable grounds that if released now Mr Petricevic will not pose an undue risk to the safety of the community or any person or class or persons between now and February 2019, some four and a half years away.  Imposing release conditions would not in our view adequately address the risks for that period of time," the Board says.
It also called for a psychological assessment of Petricevic. This should include a focus on any interventions necessary to address the background to Petricevic's offending, his current view of his offending, and the risks of reoffending.
"For those reasons we decline parole and direct Mr Petricevic's reappearance before the Board in February 2015.  Over that period we encourage him to develop a comprehensive and credible written release plan.  That should, in particular, address risks and how he might avoid risks given his long involvement in the finance and business sector, and the potential for his giving advice and his engagement in that area to impact on him following release."
Investors have got back just 12c in the dollar
Bridgecorp Ltd and Bridgecorp Investments Ltd were placed in receivership in July 2007 with approximately $459 million owing to 14,500 investors. After an $18.9 million deal reached between receivers PwC, Bridgecorp's directors and their liability insurers, overall recoveries for secured debenture investors are 12 cents in the dollar, or $55 million.
Petricevic was convicted on six counts under the Crimes Act of making false statements, two counts under the Companies Act of making false statements in directors' certificates and 10 counts under the Securities Act of distributing offer documents containing false statements.