Former Bridgecorp boss denied parole for the second time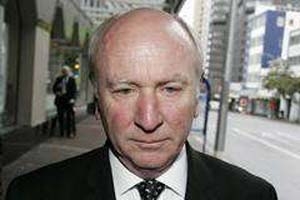 Former Bridgecorp boss, Rod Petricevic, has been denied parole for the second time.
The Parole Board says he essentially still doesn't have his head around the magnitude of his offending.
Petricevic was sentenced to six years and 10 months imprisonment in 2012.
He was convicted for deliberately making false statements, with the intention of inducing people to invest in Bridgecorp, at a time when he knew the company was in serious financial trouble.
The Parole Board says Petricevic hasn't changed his attitude towards his offending from the last time a psychologist analysed him, before he was denied parole on July 31st, 2014.
It says Petricevic "seems to accept responsibility on the basis of neglect or of failing to inform himself of that which, as managing director, he should have been aware, but not to acknowledge the deliberate personal deceit, upon which the Court's findings were based, and which conviction on these charges essentially demonstrates.
"Whether that is because of a reluctance to accept and acknowledge the realities of the situation, or whether it derives from a genuine inability to distinguish between neglect on the one hand, and willful dishonesty on the other, it portrays a state of mind that does not hold his offending in its true perspective."
On September 4th 2014, the Parole Board dismissed Petricevic's application to review its first decision not to release him on parole.
Not giving up, Petricevic made a fresh application, which was heard by the Board on February 9th.
He submitted letters from his mother, other family members, and a friend, among two others.
The Board concludes: "We consider that Mr Petricevic needs to have some assistance to see his offending in its proper perspective.
"We think that that could best be achieved by a brief programme of one-to-one psychological intervention, given that there are no programmes available to him in the prison setting which would be apt to deal with this particular offending."
The Board says Petricevic's position could be re-considered in six months, when he's had the opportunity to undergo "psychological intervention".
Petricevic has been studying towards getting a New Zealand Law Society Legal Executive Diploma while in prison.
He says he'll have to live off superannuation when he's released.
You can view the Parole Board's decision here.
Petricevic's offending
Bridgecorp Ltd and Bridgecorp Investments Ltd were placed in receivership in July 2007 with approximately $459 million owing to 14,500 investors. After an $18.9 million deal reached between receivers PwC, Bridgecorp's directors and their liability insurers, overall recoveries for secured debenture investors are 12 cents in the dollar, or $55 million.
Petricevic was convicted on six counts under the Crimes Act of making false statements, two counts under the Companies Act of making false statements in directors' certificates and 10 counts under the Securities Act of distributing offer documents containing false statements.