Police FIU highlights potential money laundering by 'Category 1' foreign national investors & by individuals booking losses through share trades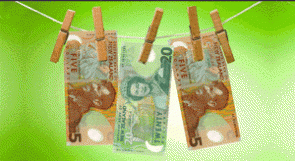 The NZ Police Financial Intelligence Unit (FIU) has highlighted two money laundering red flags raised by banks in its latest Quarterly Typology Report.
The FIU says these money laundering methods and techniques were identified after Police analysed suspicious transaction reports. It says the methods described below fall into the "layering" stage of money laundering, where the aim is to create a complex series of financial transactions to disguise the source and/or ownership of the funds. The FIU says these matters are still under investigation. 
In the first example the FIU says it has received several reports from NZ banks about a potential movement of layered funds by two foreign nationals who live here as Category 1 investors, whereby a foreign national can apply for NZ residence if they can invest a minimum of NZ$10 million in NZ for at least three years. 
"It has been reported that in 2012, on the same day but separately, both investors had opened accounts to set up portfolios of New Zealand Immigration acceptable investments for a three year period in order to secure NZ residency. Shortly thereafter, investor 1 had funds of NZ$10.5 million arrive into his newly opened account, originating from several international transfers. Less than two years later after the initial investment, NZ$10 million was remitted to his own account held in his home country," the FIU says.
"Meanwhile, investor 2 had about half of the required amount of NZ$10 million arrive into his Immigration NZ bond portfolio account, which 18 months later was moved out to a NZ corporate bank account and then subsequently transferred out further to another NZ bank account the following day. When questioned, investor 2 was unwilling to provide details about the large account withdrawal, and soon after he closed his portfolio account."
 "The banks were unable to determine the purpose of the international transfers, there are serious questions and concerns that both individuals have breached New Zealand immigration rules and potentially laundered illicit funds through New Zealand," the FIU says.
In the second case the FIU says several NZ banks have reported unusual share trading patterns.
"Certain individuals would deposit cash of tens of thousands of NZ dollars into their newly opened accounts, and immediately start buying various high value stocks and selling them off in a few days, always for a loss. The banks became suspicious when they repeatedly tried to explain (to) the customers that their sale trade would result in losses but the clients had expressed no concerns about the large loss and continued with the pattern," the FIU says.
"One customer had small deposits of NZ$1000 coming into his account every couple of days. The source of the incoming funds was unknown as they were either cash or wire transfers. His trading pattern was not in line with common trading activity. For example, he would buy a number of shares relating to one company and within a month sell the same number of shares in that same company at an excessive loss." 
Although no evidence of market manipulation has been proved at this stage, the FIU says banks have red-flagged these transactions as a potential money laundering tactic.
*Parliament's passing of the Organised Crime and Anti-corruption Legislation Bill yesterday means banks must now report all international wire transfers over $1,000, and all physical cash transactions of $10,000 or more, to the Police FIU.
*This article was first published in our email for paying subscribers early on Wednesday morning. See here for more details and how to subscribe.