Kiwi analyst Michael Parker argues the weak oil price is unlikely to be a systemic risk to the global economy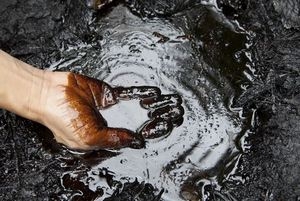 By Gareth Vaughan
Is the weak oil price the catalyst for a global credit meltdown or economic crisis?
No, according to Bernstein strategist Michael Parker.
Parker, a Hong Kong-based ex-pat New Zealander, has a look at this issue in a research report entitled Apocoilypse Now...where did that US$3 trillion in oil savings go?
Parker points out the oil price fall from US$110 per barrel in 2013 to an average of US$30 a barrel so far in 2016 is a windfall gain to oil consumers, at the expense of oil producers, of US$3 trillion annually. 
He notes the Apocoilypse is premised on the linkage of half a dozen negative market trends being rising trade and current account deficits in emerging markets (ie oil producers), emerging market capital flight, low inflation, falling corporate profits, and a still drowsy consumer. In the Apocoilypse the link between these trends is the falling oil price and rising US dollar.
Parker notes this theory is presented as a self perpetuating loop. Weak oil prices are bad for both oil exporters and the earnings and capital expenditure trajectories of oil companies everywhere. A rising US dollar puts pressure on debt servicing capabilities in emerging markets and US corporate profits and encourages emerging market capital outflows. And falling emerging market currencies export deflation.
"And the ongoing weakness in the oil price is used as evidence that whatever positive economic news you might wish to cling to (China's resilient consumption growth, the falling unemployment rate in the US), is false, temporary or both," Parker says.
Three problems
He cites three problems with the Apocoilypse theory. Firstly, this view requires that the benefit from the fall in oil price to everyone, everywhere is outweighed by the falling credit worthiness of oil producers.
Secondly, the view requires the lumping together of all emerging markets into the same category, - heavily indebted, current account deficit running commodity exporters for whom low oil prices are unambiguously bad.
And thirdly, the theory assumes current energy prices simply reflect macro economic conditions, rather than fundamental changes in long-term supply and demand of fossil fuels.
"Turning low oil prices into a global credit or economic crisis requires that the largest oil-exporting countries hold a great deal of external debt and little or no foreign currency reserves. That those countries are unable to service that debt given low oil prices and will therefore be forced to default, and that the magnitude of those defaults (relative to the size of the global financial system) is sufficient to undermine the workings of credit markets everywhere. In our view the math doesn't work," Parker argues.
'The four flawed horsemen of the Apocoilypse'
Whilst noting that not panicking is out of favour at the moment, Parker goes on to debunk what he calls the four flawed horsemen of the Apocoilypse. He argues expectations of a global economic crisis arising from the combination of weak oil prices, a strengthening US dollar and emerging market debt ignores four things.
Firstly, heavily indebted oil producing countries represent a tiny fraction of global debt, global economic activity and even a relatively small share of oil production.
Secondly, low oil prices are a benefit to anyone consuming energy, which as Parker puts it is everyone, everywhere.
Thirdly, the US$3 trillion reduction in oil proceeds between 2013 and today hasn't disappeared. It has just moved.
"It is a simplistic point but, while houses and bonds offer yield, they are primarily stores of value. Oil is a commodity. It gets consumed. And the businesses and individuals consuming oil either pay more or less for it. If they pay less, they have more to spend on something else. That US$3 trillion in 'liquidity' hasn't disappeared. It hasn't even disappeared from emerging markets. It simply now resides in different hands than it did in 2013," Parker says.
And fourthly, Chinese capital outflows have nothing to do with oil.
"Finally, the greatest problem with the linkage of oil, the dollar, Chinese capital flight and emerging market debt is the diminished role of oil demand growth in the global economy. With energy demand in developed markets falling structurally and China now a post-industrial economy (more than half of GDP comes from services), oil just isn't as important as it used to be," Parker says.
The Mavericks
Based on the table below, Parker points out of the world's biggest 30 external debtor nations only four, Canada, Norway, Russia and Mexico, are net oil exporters. Thus every other country on the list benefits from low oil prices with corporate earnings and consumer balance sheets strengthened by falling oil prices.
"It would seem to follow that risk of idiosyncratic credit events in these markets is therefore likely to be falling at present."
Whilst acknowledging Russia - the second largest net exporter of oil in 2014 at 7.5 million barrels a day - as a "clear risk," he points out Russia was only the 23rd largest holder of external debt at the end of 2014 with US$600 billion in external borrowings, has US$400 billion in foreign currency reserves and had a current account surplus last year.
"Middle Eastern oil producers are - for the most part - either sitting on the proceeds from a decade of high oil prices (Saudi Arabia, UAE, Kuwait, Qatar) or - in the case of Iran - haven't been able to borrow externally over the last decade, or three," says Parker.
Whilst some oil producers' sovereign wealth funds may reduce assets under management, the unwind is unlikely to happen overnight and is a long way from the catalyst required for a global credit crisis, Parker suggests.
Excluding the Middle East, he notes the next biggest group of external debtors among oil exporting emerging markets are Mexico at 29 with US$424 billion, Kazakhstan at 39 with US$150 billion, and Venezuela at 49 with US$110 billion.
"Throw in the likes of Angola, Colombia and Ecuador, and the Mavericks (plus Sudan, Tunisia, Chad and Gabon) weigh in at maybe US$800 billion in net external borrowings in the context of total global external debt of US$66 trillion," Parker says.
"Apocoilypse Now! rests on the view that - with the dollar strengthening and the oil price falling - emerging markets, which produce oil and borrow in US dollars, have everything going against them right now. Defaults, devaluation and capital flight are viewed as inevitable. The upward pressure on the dollar, the downward pressure on the oil price and the squeeze across all emerging markets are supposedly self-reinforcing. Yet falling oil prices are a benefit to the US, Europe, Japan and to China, India, Indonesia, Brazil and South Korea. The problems begin and end with the Mavericks. Is that trouble? Yes, for those markets (countries). Is it the start of the global ApocOilypse? Probably not."
Parker also points out that whilst the US$3 trillion swing over three years is massive, it's still a zero sum gain for a global economy which is worth about US$55 trillion annually. Thus, he argues, the fall in oil price is about second order effects. Or how that US$3 trillion is spent or saved now it's in the hands of consumers rather than producers.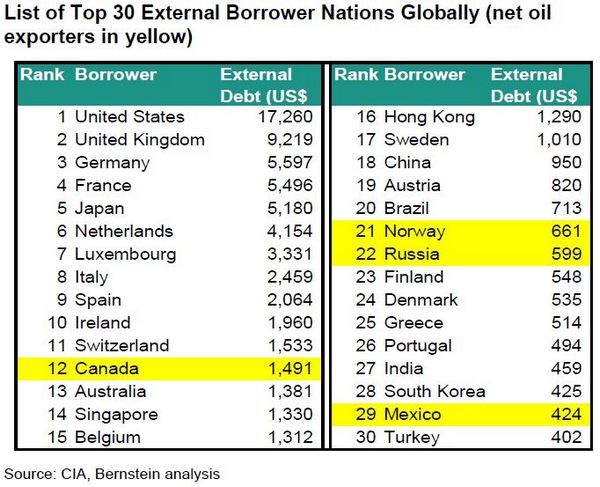 *This article was first published in our email for paying subscribers. See here for more details and how to subscribe.