The latest Roy Morgan political poll shows National Party support down in December as PM Key resigns and Labour score easy by-election victory in Mt. Roskill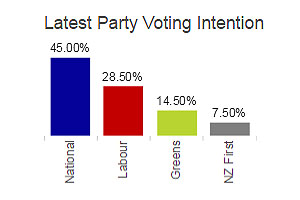 Content supplied by RoyMorgan
During December support for National fell by 4.5% to 45% now just ahead of a potential Labour/ Greens alliance 43% (up 5.5%).
If a New Zealand Election was held now the latest New Zealand Roy Morgan Poll shows it would be a very close result.
Support for the National partners was down across the board with the Maori Party down 0.5% at 1%, Act NZ fell 0.5% to 0.5% and United Future was down 0.5% to 0%.
Of the three Parliamentary Opposition parties - Labour's support was at 28.5% (up 5.5%) – following a strong performance in the Mt. Roskill by-election, Greens 14.5% (unchanged) and NZ First 7.5% (down 0.5%). Of the parties outside Parliament the Internet Party was 0.5% (up 0.5%), Conservative Party of NZ was 0.5% (unchanged) and support for Independent/ Other was 1.5% (unchanged).
The NZ Roy Morgan Government Confidence Rating has decreased to 131pts (down 10pts) in December with 58.5% (down 6.5%) of NZ electors saying NZ is 'heading in the right direction' compared to 27.5% (up 3.5%) that say NZ is 'heading in the wrong direction'.
Gary Morgan, Executive Chairman, Roy Morgan Research, says:
"New Zealand ends 2016 with a new Prime Minister after former Finance Minister Bill English stepped into the top job following the shock resignation of John Key early in December, and New Zealanders can now look forward to a competitive election later in 2017.

"Key's leadership had seemed to assure National of winning a fourth term next year. However, today's Morgan Poll shows support for National down 4.5% to 45% now just ahead of a potential Labour/ Greens alliance 43% (up 5.5%). If these results are repeated at the election it will be NZ First – 7.5% (down 0.5%) that will get to determine who forms New Zealand's next Government.

"Looking towards next year's election the latest Roy Morgan New Zealand Issues research shows the issue of Housing – including Housing affordability/ Housing prices/ Homelessness/ Homeless is now the biggest problem facing New Zealand according to respondents - mentioned by 27% of New Zealanders in October. This problem is particularly acute in New Zealand's largest city of Auckland – mentioned by 37% of respondents.

"If new PM Bill English is to successfully contest next year's New Zealand election and win a fourth term for the National Government he will need to come up with new policies in the area of Housing to convince New Zealand electors he deserves his own mandate as Prime Minister."
Electors were asked: "If a New Zealand Election were held today which party would receive your party vote?" This latest New Zealand Roy Morgan Poll on voting intention was conducted by telephone – both landline and mobile telephone, with a NZ wide cross-section of 872 electors between November 28-December 11, 2016. Of all electors surveyed 5.5% (down 1%) didn't name a party.
The original report is here.