Economist Bill Rosenberg details how low and middle-income wages have been hollowed out as higher earners experienced greater growth while those below them had to work more hours each week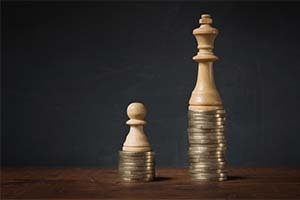 By Bill Rosenberg*
A new study, "Shrinking portions to low and middle-income earners: Inequality in Wages and Self-Employment 1998-2015" shows rising inequality in the hourly rates of gross earnings (before tax and benefits) among both wage and salary earners and the self-employed over the period 1998-2015, although incomes of the lowest 10 percent (decile) of wage and salary earners benefited greatly from strong rises in the minimum wage since 2000. A majority of people received either low incomes per hour or experienced low growth in those hourly rates, or both.
The data was provided on special request by Statistics New Zealand (SNZ) from the New Zealand Income Survey and comprises jobs sorted into deciles by income per hour, along with hours worked, numbers of people and total income earned in each decile. It covers all jobs held by a person and is before tax and benefits such as Working for Families tax credits. Data for 2016 was unable to be used because a change in the survey prevents valid comparison between 2016 and earlier data.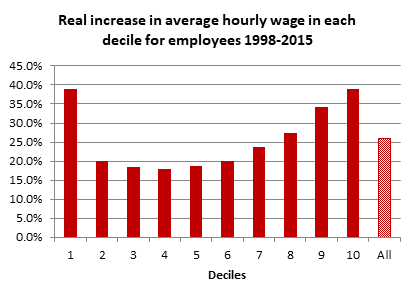 For wage and salary earners (employees) the study finds increasing inequality in average hourly wages. The exception is the lowest income decile which is heavily influenced by the minimum wage, whose income has risen on average at about the same rate as the top decile and rose faster during the Labour-led Government in the early 2000s than in previous or subsequent National-led Governments. Other than that, wage rates for the next 50 percent (deciles 2 to 6) of employees rose much more slowly than the wage rates of higher income wage and salary earners: the real average hourly wage of the top 10 percent rose by 39 percent while the low and middle income 50 percent rose by 18-20 percent between 1998 and 2015 in real terms. On the whole, the more highly paid employees were, the faster their hourly wage rates increased, creating growing inequality. There is a 'hollowing out' of the wage scale in the sense that the low and middle income half of employees were getting much lower real increases in pay rates than the top 40 percent – and that higher income group is becoming increasingly unequal.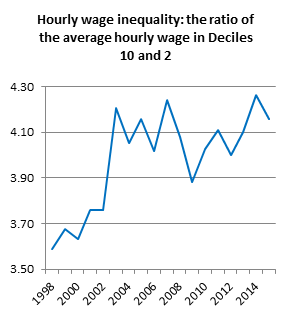 On the other hand weekly wages showed a weaker growth in inequality over the period. The reason is that employees on lower wages worked increasingly long hours to make up for slower increases in their hourly rate, while those on the highest 40 percent of wages reduced the hours they worked.
The top of the lowest income decile closely tracks the adult hourly minimum wage but the average for the decile averaged 10 percent below the minimum wage implying many workers are being paid below the adult minimum wage. Some of this can be explained by factors such as lower minimum wage rates for young workers and trainees, misreporting of incomes, and the unintended inclusion of some self-employed who pay themselves a wage or salary in SNZ's survey, but there remains a gap that could suggest significant flouting of minimum wage laws.
In 2015, an estimated 778,000 or 39 percent of wage and salary earners earned below the Living Wage. Two-thirds of wage and salary earners had wages below the average hourly wage over the period.
To a reasonable approximation, employees paid below the overall average hourly wage received either low wages or experienced low wage growth, or both.
The main differences between the policy regimes of the Labour-led Government (taken to be 2000-2008) and National-led Government (2009-2015) were a slower rate of real wage growth and faster rise in hours worked under National. Wage inequality rose under both Governments though there is a suggestion of a pause towards the end of the Labour-led Government.
Self-employed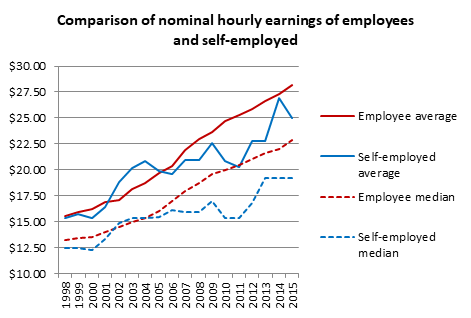 Self-employed people earned less than wage and salary earners per hour comparing both average and median hourly incomes for the whole of each group. Their incomes also increased more slowly. However their ability to spread their incomes among family members and to take income as capital gain (not reported in Statistics New Zealand's survey) are also important factors.
The spread and inequality of earning rates is far greater for self-employed people than employees: the lowest income 10 percent had negative incomes and in 2015, an estimated 41 percent of self-employed were earning less per hour than the minimum wage and 51 percent were earning under the Living Wage. Meanwhile the highest 10 percent had average hourly earning rates double those of the highest 10 percent of employees on average over the 1998-2015 period.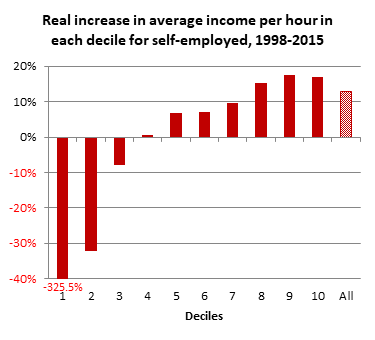 Among self-employed, the higher their earning rates (whether hourly or weekly) the more rapidly they rose over the period. The bottom 30 percent however had falling earning rates in real terms. Their weekly incomes were not moderated as much as employees by the hours they worked, and it is the highest earning self-employed who work the shortest hours (averaging 29 hours per week in 2015). Average hours worked have fallen or remained static for almost all self-employed income groups over the period of study and although on average they still work longer hours than employees, that difference has fallen to 39.3 hours per week for self-employed compared to 36.3 for employees in 2015.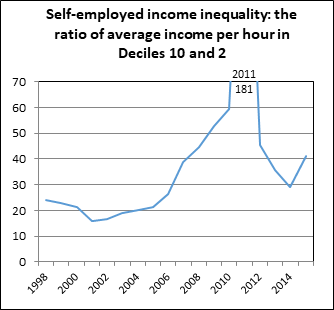 The main differences between the two policy regimes with respect to self-employed incomes were a rise in income inequality under Labour compared to a fall under National (though inequality was by then at a higher level). There is a suggestion of a slower rate of income growth and slower fall in hours worked under National but this difference is unlikely to be statistically significant.
In conclusion
The strong rises of the minimum wage over the period have been effective in protecting the wage rates of the lowest income 10 percent of employees, but not those of the next 50 percent or more in deciles 2 to 6. It is surprising that the minimum wage does not support a greater ripple effect up the wage scale. Such hollowing out of the wage distribution is often explained by technology making middle skill jobs redundant and forcing more people into low skilled, low paid employment. However the evidence for this is mixed in New Zealand. There is a rising proportion of jobs in higher skilled occupations, but there is also evidence of the average skill of workers falling in recent years because of strong growth in the employment of lower skilled workers. The poor wage increases beyond the bottom decile could be because of the weak bargaining power of the majority of workers who do not have coverage of a collective employment agreement. Globalisation is increasingly recognised as another contributor to wage inequality which has some explanatory power for New Zealand. The impact of the minimum wage shows that such effects can be significantly and positively countered by regulatory measures.
The data provides little support for the idea that people have low incomes because they don't work hard enough. The highest income earners among employees worked fewer hours per week on average than the next five deciles and their work hours fell over the period. The highest income earners among self-employed people worked the fewest hours on average of all self-employed deciles, and more only than the lowest employee decile whose members on average worked part time.
Because of the ability of the self-employed to disguise or under-report their income in various ways, further research is needed to understand to what extent the low earning rates they report, and the low rate of increase in earnings, is a reality. Tax authorities and policy makers should be interested too. However, among the self-employed are some with very low incomes, and many of them are likely to have very variable incomes too. Public policy should take an interest in those who are forced into self-employment (often dependent contracting) by their employers, or where small businesses are given special advantages.
The low rates of earning also suggest that very poor labour productivity is widespread among the self-employed, a further concern given it constitutes a sizeable portion of New Zealand's economy.
_____________________
* Dr Bill Rosenberg is the Policy Director and Economist for the New Zealand Council of Trade Unions.