Winston Peters says he wants a high majority of NZ First's board and caucus to approve whichever deal the party accepts; Says internal discussions will carry on till then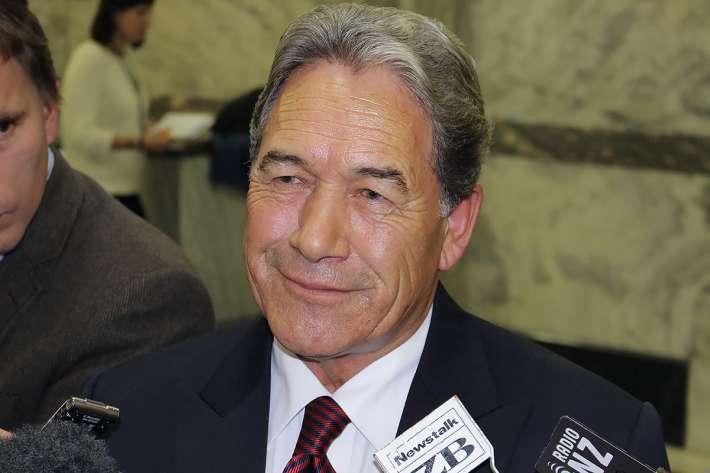 By Alex Tarrant
That 12 October deadline thing fell apart pretty quickly for Winston Peters. We're now staring down a couple of days of internal New Zealand First discussions on whether they should collectively take the blue pill or the red pill.
New Zealand First leader Winston Peters is maintaining that he meant negotiations would end on that day, and that he'd then have discussions with his caucus and board over which deal to accept.
He's not just after a simple majority from these internal deliberations. He says they'll keep at it until they have a high majority. Here's how Newshub reported what he had to say to media on Wednesday evening:
6:30pm: Winston Peters says he will take "both options" to the New Zealand First board on Thursday evening.

He told media he will "put together the full picture for both [National and Labour/Greens] and go to the board with both options."

The New Zealand First leader says he won't let the final decision come down to a vote.

"You don't want to be going to a vote with these matters… you want a serious consensus. If you haven't got a consensus, stay there until you get one. But who wants a 50/50 vote?"

Mr Peters says discussions will continue until a high majority comes to a decision - but can't say how long that will take.

"When we're ready. As fast as we possibly can. I can't answer that question now."
Surprised?
A serious consensus. Stay until you get one. Can't say how long it will take...
Should we be surprised? Keen interest.co.nz readers might remember these few lines from one of our Sunday columns on 27 August:
Another thing that's got a bit of attention is that Peters will make his Kingmaker decision by 12 October, which is the day we get the final election results. I think discussion around this has been a tad on the cute side. Yes, I'm sure it would be preferable, but don't go holding your breath.
New Zealand First was very careful to leave out of its constitution any mention of how the party should go about agreeing to coalition arrangements. While Peters holds a lot of sway – it's not all 'what Winston says, goes'.
There will be two bodies involved in the decision-making process at NZF – the caucus and the party's board. In theory, you'd assume the majority would win over. In practice, the feeling at the top of the party is that you'd want near-full agreement on which way you go – ie 95% of the caucus and board.
And this could certainly drag negotiations out longer than 12 October. I'm not saying it will. Just be prepared for that it might. Particularly now with the increased potential for personality clashes at the top of the party (Shane Jones and Ron Mark), which might take some time to resolve.
So, again, should we be surprised? Not a bit. It still doesn't sound like we'll be waiting six weeks though. By the way, I didn't pluck 95% from thin air. It was the number suggested to me back then. Of course, it takes a brave board or caucus member to vote against the leader, but it still might take a bit of time to get them all on the same page.
Meanwhile, it has become a bit of a game trying to figure out who actually is on the party's board. BusinessDesk's Patrick Smellie tried to get out of party chairman Brent Catchpole who the other board members are. Catchpole apparently told Smellie he'd try and get him the list - which had been removed from the party's website.
We wait with bated breath.