Act Leader David Seymour joins political reporter Jason Walls for a beer at the iconic Backbencher pub discussing his future, his past and, of course, Dancing with the Stars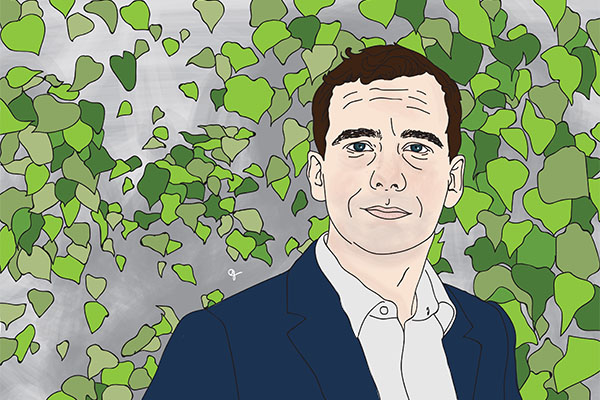 By Jason Walls
With teenage boys, it's always about either girls or cars.
Often, it seems as if there is little else that matters and young men inevitably end up falling in love with at least one of those things.
For Act Leader David Seymour, it was the latter.
But for most teenagers, a yearning for an expensive car does not manifest into a strongly-held libertarian ideology.  
It did for Seymour.
"When I was a teenager, I was very concerned that the world was finite and violent," he tells me, sitting in a table at the famous Backbencher pub across the road from Parliament.
"I was concerned that I wanted a Ferrari but if I wanted to acquire one, it would either be at the expense of other people, or the environment."
This is, as he puts it, at the heart of any libertarian belief – a belief his Act Party holds at the core of its foundations.
"It's a belief that if you're not harming anything else, then you should be able to do whatever you like."
If you were to plot Act on the political spectrum, it would easily be the most right-wing party in New Zealand's Parliament.
It's because of that it often surprises some that the party was born out of Labour, back in the early 90s.
But when you look closer, it makes a bit more sense.
Act, or the Association of Consumers and Taxpayers as it was originally known, was founded by former Finance Minister Roger Douglas – the architect of the biggest economic reforms in New Zealand's modern history.
So significant were the changes, they earned the unofficial, but better known, title of Rogernomics.
The market-led restructuring and deregulation of New Zealand is held up as the gold standard of political policy by most Act supporters.
In 1996, Act – led by former Labour MP Richard Prebble – won 6.1% of the total vote, bringing eight MPs into Parliament. That number climbed to 7% in 2002.
Since then, however, Act's share of the vote has collapsed. Last year, the Party won just 0.5% of the total vote.
How did this happen?
"Basically, because we have been too dispersed in our brand, identity and purpose," Seymour says.
This makes sense when looking at the long list of Act Party policies and the fact that Seymour has a take on everything.
It's because of this, he got a lot of airtime and column inches before the last election. He's good for a soundbite and you always know where he stands on an issue.
Basically, if it's something that involves more Government it's bad and he has no qualms outlining those concerns to media.
Despite this, in 2017 he led his party to the worst election loss in its history.
So, it's time for a reset, Seymour says.
"We have reached the stage where we have tried to court different markets and we have left ourselves without a specific group of people who believe that we represent them. That's a rookie error.
"We're going to relaunch Act as a party with a new, clarified identity and purpose."
That refresh is still underway but there is one area where he has hinted change may be on the way – Epsom.
The electorate is the party's stronghold and winning the seat is the only reason it has remained in Parliament for the last eight years.
Seymour has held the seat since 2014. Before him, John Banks, and Rodney Hide held.
Act has held the seat thanks to a deal with National, who essentially tell their supporters to vote for Act so the right-bloc will have a better showing in Parliament.
But Seymour is mulling a change in strategy.
"What about Epsom," I ask him, as we're brought another round of beers. "Would it be a good idea for you to tell National you're not looking for a deal, that you're looking to do it on your own?"
He takes a gulp and pauses a beat.
"That's a possible strategy," he says. "We could explicitly say that we do not wish to be endorsed."
But he is distracted by another issue.
Cloak and dagger politics
The night before, a story about how National were looking to cut ties with Act in Epsom led one of the TV news bulletins.
The story cited "grumblings" within the National caucus about the deal. Its leader, Simon Bridges, would not give a straight answer, saying only "you'll just have to wait and see."
Seymour has a theory about where these "grumblings" were coming from.
"Potentially, they are anti-euthanasia people [within the National Party.]
Act has a members' bill before Parliament which would give people with a terminal illness or irremediable medical condition the option of requesting assisted dying.
It is highly controversial and has attracted a record number of submissions.
Some of the staunchest opponents of the bill come from within National.
"Someone from the caucus is going out and talking to the media, providing stories that the leader then has to respond to. It's quite extraordinary," Seymour says.
But, he's not deterred. If the bill becomes law, it will be one of the biggest wins for Act in its history.
Will it be enough for his party to win back some support? He does not think so.
"This issue does not seem to shift votes."
He gives the example of the same-sex marriage bill becoming law in 2013.
"Look at Louisa Wall, the Labour MP who was in charge of the bill, it has done nothing for her political career."
Dancing with the Stars
Some 39 minutes into our 45-minute interview, we finally got to the real news – Dancing with the Stars.
Seymour is a contestant on the show and has yet to be voted off.
"It's been a hugely positive thing for me to do," he says. "I think all MPs face a risk of institutionalisation."
He says being on the show helps to avoid that risk – "or at least ameliorate it."
Does he have what it takes to win? He thinks so.
But if not, he's happy just for the experience.
"I think if I succeed for another few terms," he says, before correcting himself to say "rounds" (we're just two beers deep), "that can only be a positive thing."
He's not the first Act MP to put on his dancing shoes and compete on the show.
In 2006, Rodney Hide was a contestant – he was eliminated after dropping his partner.
"Did you ask Rodney about going on the show," I asked, as I drained the last of my beer.
"I haven't talked to Rodney about it," he says after meeting me at the bottom of the glass.
"He might have told me not to do it!"