Infrastructure investment rises with just over half allocated to roading and over three quarters in the North Island. Much of it is front-loaded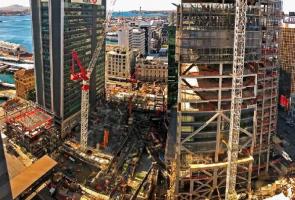 By Brad Olsen*

The latest Infometrics Infrastructure Pipeline Profile shows that average infrastructure investment across the country is expected to be 28% higher over the next 10 years compared to the 2010-2018 period.
A total of $129 billion in capital projects are estimated to be built over the 2019-2029 period.
Higher population growth over recent years and sustained underinvestment in infrastructure have resulted in many infrastructure assets across the country reaching the end of their usable lives. These assets are in need of replacement or upgrades to continue to provide the required level of service to the public. 
North Island takes the lion's share of funding
Looking at spending at a regional level, the North Island is set to receive 77% of the national infrastructure spend over the next ten years, with around $100b in funding expected. The South Island receives the balance of $29b over the period.
This funding profile exactly matches New Zealand's projected population split in 2028. Over the next ten years, the proportion of New Zealanders living in the North Island is expected to marginally increase from 76.5% in 2018 to 77.2% in 2028.
Roading dominates infrastructure assets
Just over half of the $129b infrastructure forecast spending is allocated to roading and other land transport, reiterating the importance of transport linkages across the country. Land transport infrastructure spending is expected to be worth $71.6b over the next ten years (55% of the total), with the next two largest asset types being $17.4b for local council spending excluding roading (14%) and $16.3b for electricity infrastructure (13%).
Infrastructure expectations higher than previously forecast
This refresh of our Infrastructure Pipeline Profile is the biggest update in three years, as a result of new data out to 2028. The Profile builds on data from local councils in their Long-Term Plans and the recent Government Policy Statement on Land Transport. This data extends the coverage of the Profile out by three years, from 2025 to 2028.
Planned infrastructure spending during the seven-year cross over period 2019-2025 is 26% higher in the new update compared to the previous iteration of the Profile. The latest update to the Profile sets infrastructure spending over the 2019-2025 period at $93b, compared to $74b in the previous version of the Profile. The increased funding expected over the next seven years appears to be part of a broader response to invest greater amounts, more quickly, in response to strong population growth and to address concerns about an infrastructure deficit.  
---
Brad Olsen is an economist at Infometrics. This story is a re-post from the original here. It is re-posted with permission.